When it was announced that Donna Murphy would be filling in for Bette Midler on Tuesday evenings in the Tony-winning revival of Hello, Dolly!, the two-time Tony winner described the opportunity as "heavenly." That's the word audiences are surely using when they see Murphy in the role of the meddlesome matchmaker. With few opportunities left to catch the elegant star as Dolly Levi (she will perform on August 12, 19 and 20) before the production takes its final bow on August 25, we jumped at the chance to speak with her about how the loss of her husband, actor Shawn Elliott, informed performance as a Dolly, widow starting her life anew. Murphy also opened up her early days on the New York theater scene, where she keeps her Tony Awards and much more on Show People with Paul Wontorek.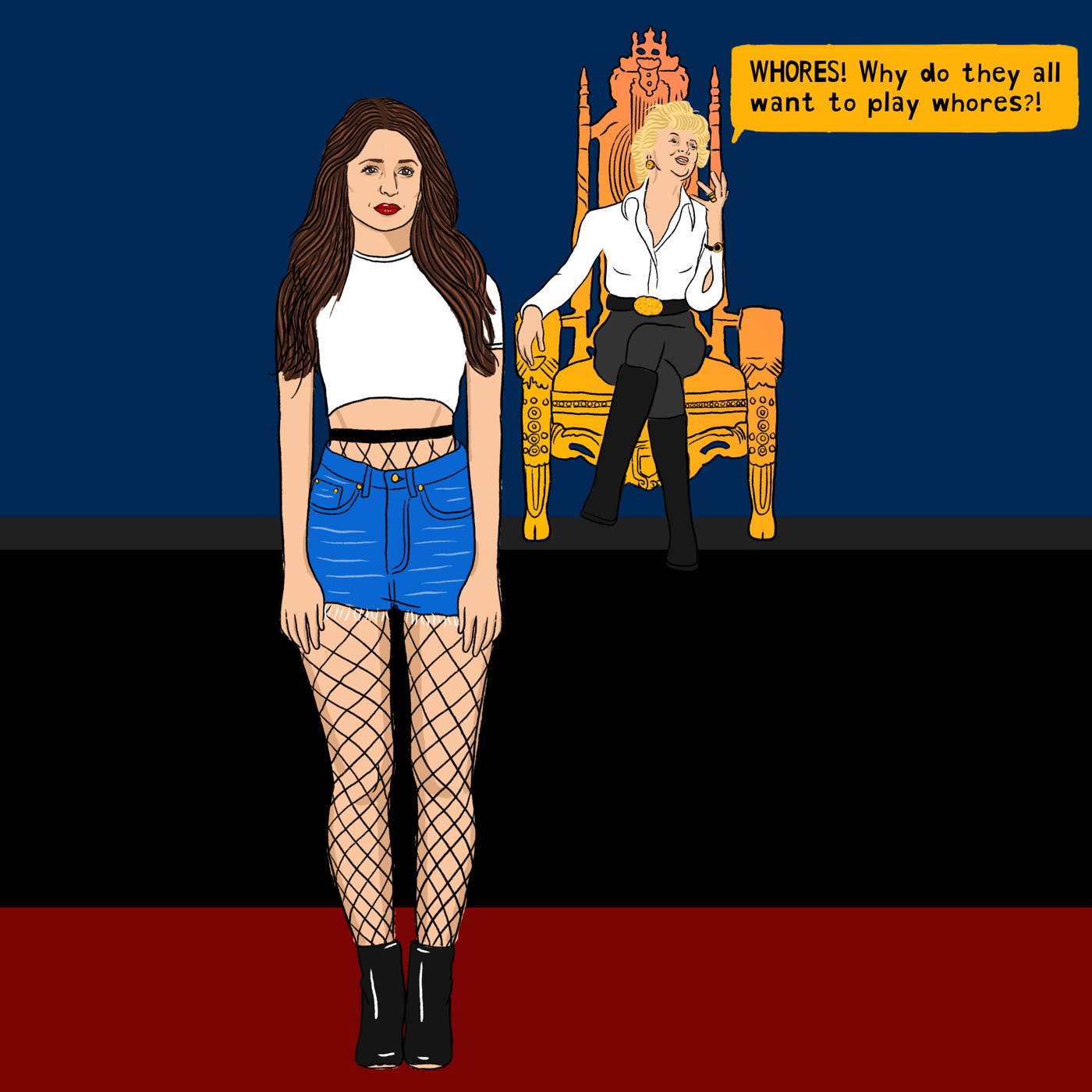 1. SHE BRAVED QUEEN STELLA ADLER'S COURT AT NYU
"My freshman year, I was in class with Stella. She was very tough on her students, especially the women, I felt. I was a perfectionist, and I didn't want to get up there until I thought I was going to slay. In terms of presenting a monologue or doing a scene, I didn't do anything until my sophomore year. It was really an important moment in my life. She didn't like the material that I had chosen. She was mocking me as I was preparing. And I thought, 'If I don't get out of my chair right now and do the work, I'll never get up in this class.' And I did. My scene partner kind of looked across, and he was like, 'I'm not getting up there with you.' He was going to play my father in the scene. So, then I thought, 'OK, Stella's, my father,' and I played the scene with her. I thought, 'It's never going to get any better than this. The best scene partner in the world!' I was Chrissy in David Rabe's In the Boom Boom Room. I had on some skimpy little outfit. Chrissy was a kind of a go-go dancer and a very troubled young woman. I got up and Stella said, 'Whores! Why do they all want to play whores! Where's your Rosalind? Where's your Juliet? Where's the Shaw? Where's the Miller?' I was just like, 'This is what I got, man.' I just played it to her. She became my partner. There was no one that I needed more approval from in that moment. I finished, and she said to the class, 'I have nothing to say. The girl's an actress.'"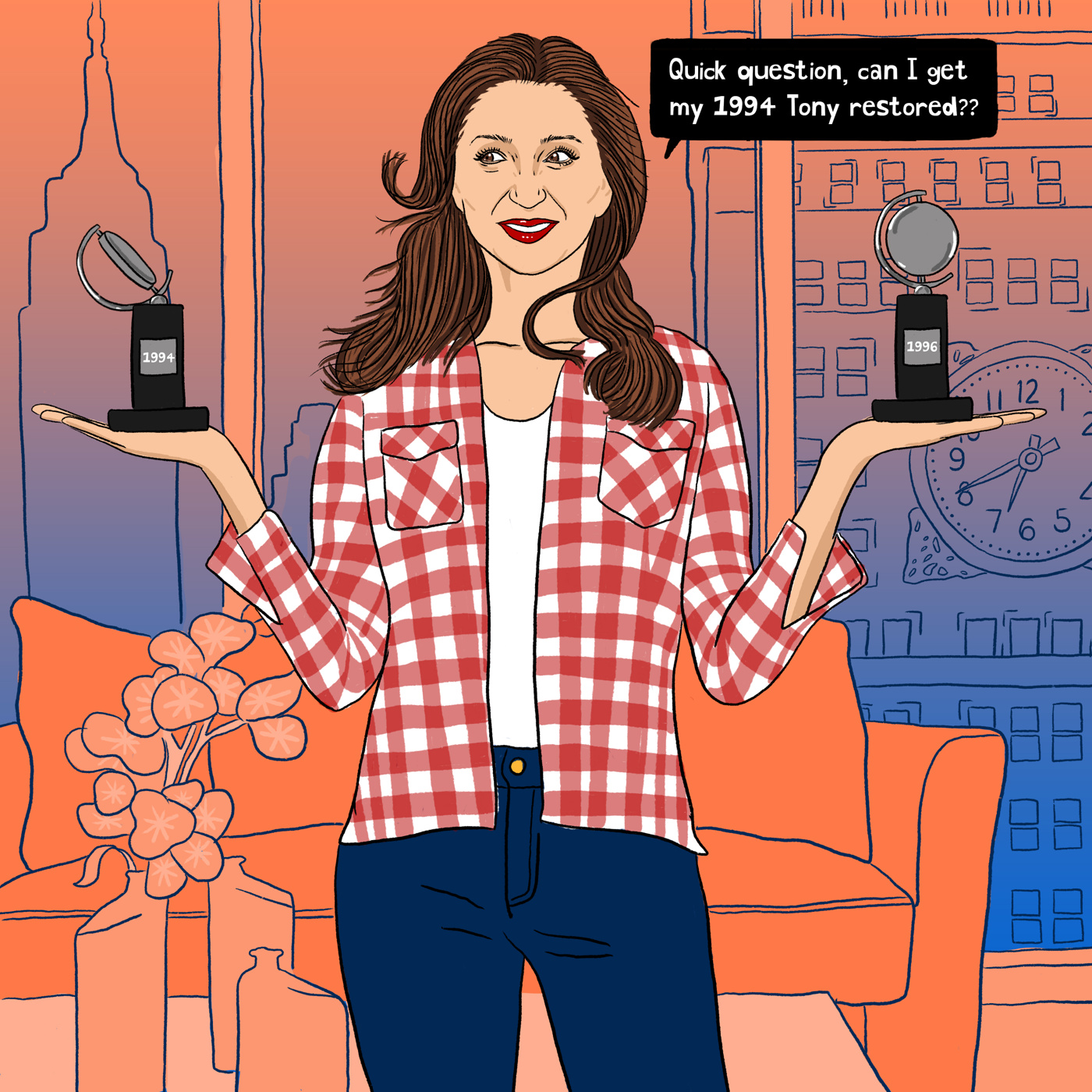 2. HER PASSION TONY NEEDS A TOUCH-UP
"The King and I one is very safe up at my mom's house in Topsfield, Massachusetts. The Passion one—it kind of turned in a funky way. Or maybe somebody in my house was trying to clean it with too abrasive a product. I don't know if I can get a new version of it. It's still beautiful and incredibly meaningful, and it just makes me feel a little old, because it looks like it's aged."
3. DONNA AND DOLLY ARE KINDRED SPIRITS
"When I first read that script and got to the monologue to Ephraim, I just burst into tears. I thought, 'I can't do this because it's too fresh. It's too close.' Shawn really was my partner in everything. I took for granted the conversations that happened while we were brushing our teeth and flossing or cleaning up in the kitchen after our daughter had gone to bed. Doing this show, I have to remind myself: this is Dolly's journey. Dolly is 10 years out from losing her husband. I was months out as I started this process. It was a year out by the time I actually started performances. There are days when it feels like it can't be possible that he's gone; he's very much with me. At the same time, I don't feel like Donna up there, and I don't feel like I'm talking to Shawn. I feel like I'm Dolly, and I've made Ephraim a very specific person. He definitely has some commonalities with my husband. There are parallels, but the story is separate from mine."
---
Other must-read highlights:
ON THE DOLLY! COMPANY
"There's such joy in doing this show and in embodying this woman and connecting with the company and connecting with the audiences. There was a physical ache in missing her that was truly palpable. I love getting to play her so much. I love the opportunity to be on stage again. It's not just fluff. There's really a soulful journey at its center."
ON HER CHILDHOOD
"Both of my parents are from Queens. I lived in Hauppauge, Long Island. I would say, 'Can we please go into New York?' My father would say, 'You're in New York!' I never saw a Broadway show. I remember being thrilled when my parents came home [from seeing one], and they didn't see many. I'm the oldest of seven. We all took care of each other. I was four or five and in charge of whoever was a couple years younger than me. I grew up fast, and I think I figured out pretty quickly: there's always gonna be someone younger, cuter and needier than you. So, get over it. It's funny how that has applied in my later life. Maybe that was a piece of my being drawn to performing. I just loved it."
ON FALLING IN LOVE WITH PERFORMING
"I remember when my parents saw Golden Rainbow. I remember looking through the Playbill. And I went, 'There's a kid in this show! You can be a kid and be on Broadway!' I turned angrily to my mother: 'Mommy, I could be auditioning! Why didn't you tell me there were kids on Broadway?' She says, 'Honey, when you're an adult, you'll figure out if you want to do this.' I'm like, 'I know what I want to do.' My first show was Goldilocks and the Three Bears in kindergarten. I was Goldilocks. At the end of the show, the kindergarten teacher had staged for us to all have a big party on stage. There was some rock 'n' roll, probably The Beatles, playing. We all danced. I remember that the curtain got yanked closed, and somehow, I was in front of the curtain. I didn't know it. The music was still playing. I was dancing. The audience suddenly was laughing louder and clapping louder. I was like, 'This is the greatest feeling. I'm quite embarrassed and delighted at the same time.'"
ON HER SPECIAL SKILL
"I remember saying to my mother when I was three, 'I want singing lessons, Mommy. I want to learn how to sing better.' And my mother looked in the yellow pages for voice lessons. I had voice training as an actress at NYU when I was in the undergrad drama department and studying with Stella Adler. But as a singer, I didn't come into formal study until late. But my mom did get me an accordion teacher. I was four and a half. They found like a child-sized accordion, and I went to a group class at this little like village hall on Vets Highway. It was all adults and this four and a half year old. I was just game, and I built up a little repertoire. Once I started kindergarten, I'd put that accordion in a wagon. I kid you not. I would walk to school, bring the accordion with me and play as people entered the school."
ON HER INSPIRING DRAMA TEACHER
"In sixth grade, I had a fantastic drama teacher. Her name was Judy Kahan Beck Tracy. She passed away recently. She was radical. She just was like, 'Art is the most exciting way of expressing how you feel about anything in the world. And whatever you feel. If there's not a platform that's presenting itself for you to do it, make it happen.'"
ON HER ILLEGAL PRODUCTION OF THE WIZARD OF OZ
"When I moved to Massachusetts, the junior high did plays but not musicals. And I was like, 'What do you mean, you don't do musicals?!' My friend Nancy's dad was the principal of the junior high. She said, 'They don't have it in the budget.' I said, 'What if we made it just a no-brainer financially?' The only way to see The Wizard of Oz at that time was to watch it on TV. I was combing programming for when it was going to be on, and then we recorded the entire thing on however many cassette players. I ordered some version that could be licensed as a straight play version from Samuel French, and then I got the sheet music for all the songs. We wrote our own adaptation that was like a combo platter of all of these things. Totally illegal, but my reasoning was we wouldn't have to pay royalties. This was my very unsophisticated my way of saying, 'We can do this because it will be our version of it.' Somehow, we talked the principal and the arts department into doing this, and they double cast all the parts. I was one of the Dorothys. So many kids got to participate. We worked on that over the course of seventh grade, and by eighth grade, it happened. And from then on, there was a musical at the junior high."
ON HER HAIR AUDITION
"So, I got to NYU a few days before classes started, and I saw somebody in the lobby with this newspaper that said Backstage. And I said, 'Oh, is that like backstage stories?' And they're like, 'No, it's auditions.' So, two days before class started, I went to an open call for the first revival of Hair, and I got typed in. The night before, I braided my then-down-to-my-butt long hair in tiny little braids, and then let it all frizz out and wore my peasant blouse and peasant skirt and went to the audition. I remember I sang "Dream Babies." They let me sing my song all the way through, and I'm like, 'Oh my God. I just sang the whole song!' And afterwards, they asked me to come down and talk to Tom O'Horgan. And Tom said, 'We want you to come back.' And, so, I thought great. They had my contact info, which, by the way, was just the main desk number at the dorm. I didn't get a call back, and I was so bummed. I thought, 'Wow, Broadway is cruel. They lie to you.' But, hey, I got to stand on a Broadway stage and sing a song. And they said, 'Hmm, we might be interested.' That's not too bad for somebody who just came here.'"
ON MAKING BIG DECISIONS
"My parents were heartbroken because I did very well academically. I remember my dad saying, 'You don't have to do this.' And I said, 'Actually I do, Daddy.' Because I learned pretty quickly that if you don't feel like you have to do it, you would not want to. I did They're Playing Our Song, and it was wonderful. But I got bored really fast. I didn't have an agent. So, I went to more open calls. I had this idea that I had to find a way to keep growing. I got a show, Zapata, about the Mexican revolutionary Emiliano Zapata. It was at the Goodspeed Opera House. This sexy devil named Shawn Elliott was the star of the show. I always think about making the choice to leave a Broadway show that was still running successfully. My parents, who were worried about me being in the business in the first place, were like, 'What are you doing?!' But that was the beginning of a different level of taking responsibility for my career. But that thing with my dad really weighed heavy on me for a long time. There was a point where I remember having a meal with him and him saying, 'I get it, honey.'"
ON WATCHING HERSELF ON YOUTUBE
"Every once in awhile, I'm like, 'Oh my God! That existed? That's there?' Other times, I'm like, 'That's enough. Go to bed, Donna!'"
Watch the full episode of Show People with Paul Wontorek below!

Interview has been edited and condensed for clarity.

Did you know Show People is available as a podcast? Listen to your favorite stars talk Broadway and beyond on your way to work, the gym, the theater and more on iTunes and Spotify.