The fall theater scene is kicking into high gear with an exciting crop of plays, revivals and new musicals hitting the stage. The Broadway.com 2018 Fall Preview highlights the stars and shows of the new season.
---
Stephanie J. Block's role in the new bio-musical The Cher Show isn't "Cher," but "Star" and the two-time Tony-nominated favorite is feeling like one, too. Of course, she is playing Cher, the international icon, alongside Teal Wicks ("Lady") and Micaela Diamond ("Babe"), a mammoth task that must weigh heavily on an actress who speaks of battle wounds from making her debut 15 years ago playing another sequined legend, Liza Minnelli. Cher's casual confidence is intimidating, as are her skin-baring Bob Mackie get-ups, and the very fact that she's still hitting the stage herself (she currently has concert dates booked through next May), and everybody knows her. But the minute Block appears in the flashy new show, it's clear she's relishing in the opportunity and living her pop diva life. Who knew that being Cher was so much fun?
Is starring as Cher, one of the greatest stars of all, in The Cher Show making you feel like a star?
You know what? Yes! I never knew I wanted to be a pop goddess until I was a pop goddess. And now there's kind of no going back! I never saw this coming, but stepping into her shoes is really kind of amazing and freeing. And I have embraced a lot of who I am by being Cher, as interesting as that sounds.
You look fantastic. So much glamour. This must be a fun gig, with all the effort put into making you look spectacular!
It's pretty fun. We've got six wigs for me. There are 26 costume changes in the show. And it's exhausting. I know that sounds like, "Oh, poor her!" But you're racing to get off stage and there's a pit crew that comes on. I've done a lot of costume changes before, but nothing rivals what's happening in The Cher Show! And with the way Bob Mackie designs, it's not necessarily quick-change rigged. It's not just Velcro—it's all beaded, beautiful things that have to be handled with care!
What's the scariest thing about playing Cher?
First, it was my body acceptance. That's always been a big thing for me. I knew my body shape would never be the same as this incredible creature that Cher is. I don't know how God made her, but most women are not that! So, having to walk out in front of 2,200 people saying, "Look at all the girls and goods!" and not getting preoccupied by that. Being there as a character, servicing the show, without being worried about, "Is my nipple showing? How does my butt look? How do my abs look?" Because you can get wrapped up in that. I had to release that and just work hard offstage, so I didn't have to think about it onstage. But in saying that, I still beg for Spanx in every costume I have!

---
"My Broadway debut was playing Liza Minnelli and there was Post-Traumatic Stress Disorder after that one!"
---

What was it like getting the call that the creative team was interested in seeing you for this role?
I was doing Falsettos when they asked me to be a part of a reading back in January of 2017. I had a lot on my plate at that time—I had a little baby girl, I was finishing up Falsettos and was lucky enough to be working with my husband, Sebastian Arcelus, in Madam Secretary. There was an overlying fear of, "I don't know this is the right time or that I'm the right person." So, I declined in that moment, but they came back around. And I met with director Jason Moore—we had a really nice bite to eat. And I said, "Can you tell me what you're seeing?" Because my Broadway debut was playing Liza Minnelli [in The Boy from Oz] and there was post-traumatic stress disorder after that one! [Laughs.]
Let's talk about that.
It was complicated. It was difficult to create someone who was still living and present in all our minds. I was in my 20s and was not the woman or artist that I am today. I didn't ask the questions that I needed to ask before jumping in and saying, "Of course I'll play Liza Minnelli!" This time, I wanted to sit down with my director and say, "How do you see this? How do you see me?" And then go from there. And Jason presented a really beautiful, kind of non-linear, way of telling her story that gives the audience a different frame of mind, instead of just sitting down and expecting to see a Cher concert or a Cher impersonator. They change the expectations, I think, in the first couple minutes of our show. And it allows the audience to sit back and let these actresses embrace the role of Cher as actresses, not impersonators. And that was freeing for me and allowed me to say yes, and move forward.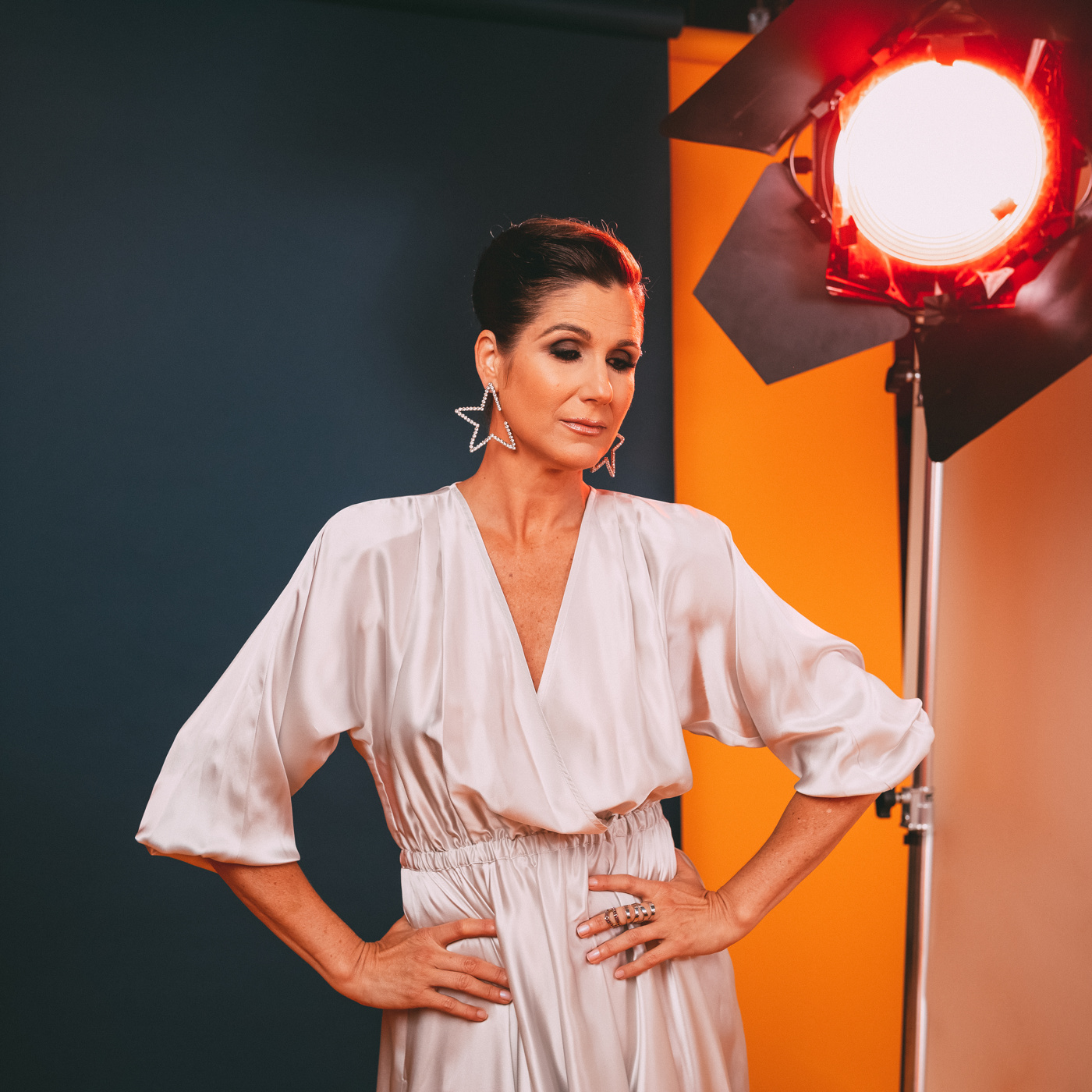 What do you say to Broadway fans who are bemoaning jukebox musicals and scores created from song catalogs? Any thoughts on that, as a real musical theater girl?
Here's the thing: it's not going anywhere. And if the storytelling is done right, it can be a really fulfilling ride. You can't go in with your nose up, saying, "Ugh." Is it Sondheim? No. Can it move you to the same emotional place? Yeah. Not in the same way, but it can take you to the same place if you allow yourself to go on the journey. And, boy, am I allowing myself to go on this journey!
How much did you dig into research on Cher? How important was that?
Really important. My first introduction to her was having seen her Barbie as a young girl. Knowing what Barbie usually looked like, I remember seeing this wonderful, dark raven [haired] Barbie doll, and I saw a little bit of myself in that. And it allowed me to redefine what the world thinks of as beautiful. Then, of course, the movies. Five years ago, as corny as it sounds, I had a dream journal and I wrote down, "Moonstruck the Musical." And now to be here is crazy. Doing homework for this was watching videos of interviews with her, and seeing how relaxed she is in her own skin and how she just plops herself on a couch. I've seen decades of her interviews, from Phil Donahue to Oprah—you can really go down a wormhole of days watching this woman on YouTube! And I have. I've grown to really love and respect her, not just admire her.
You recreate some actual moments, like her Oscar speech, in the show.
Yes, there are moments where I am saying her words verbatim. [Librettist] Rick Elice has done a really beautiful job of, every now and then, dropping in those moments—accepting her Academy Award, Sonny's eulogy and a new moment from her infomercial. The language is true to form, so you have to try to get that singular delivery of hers, where every vowel is a dip thong, and the wonderful meter of her voice. You can literally just pick up and mimic what you've heard on YouTube and deliver it.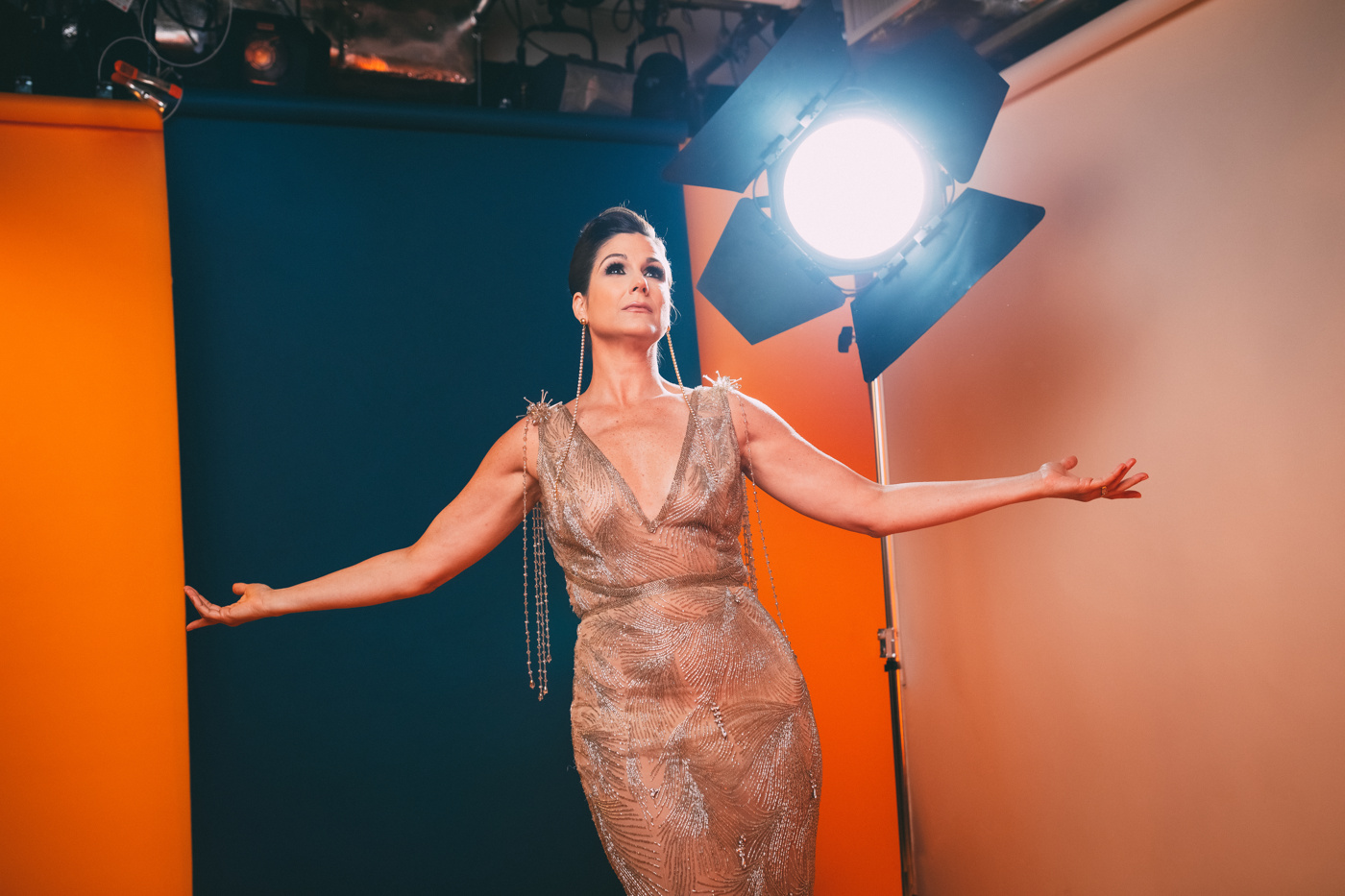 Having seen the show out of town, you do a beautiful job of giving us the Cher physicality.
Thank you.
Obviously, we've all seen drag queens do this our entire lives…
Mm-hmm, mm-hmm.
So, what was it like crafting that in the rehearsal room? Was there a concern about how far you go with it? And were you terrified to have Cher see it?
Yes, it was. Yes to all that. Usually, I go 150 percent and the director has to then pull me back. For this one, I would just incrementally grow a little, feel comfortable, go a little further, grow more comfortable… Doing Cher in front of Cher was petrifying. She wanted to meet all of us before we did our initial presentation for her. And I hid. I went upstairs and I thought, I can't wait to meet her after. I didn't know if my spirit could meet this force of a woman before playing her literally five feet from her face. But I was summoned to come downstairs and I did meet her, and she was gracious and so lovely. I tried not to check in and look at her when I was playing her, but there were moments. She had a beautiful entourage of dear friends and they were grabbing hands, and there were tears being shed. We knew we had touched on something special for her, which meant everything. She has great concern for the loved ones around her—her mother, Sonny [Bono], Chaz [Bono], Elijah Blue [Allman]—so you have to honor the boundaries she's set. It's been interesting to craft not only the character, but the entire piece, knowing that we have to present it to her and that we need her blessing and her OK. Since that initial meeting, we've been close and hugged. And she whispers secrets, and I still can't believe I'm sharing breathing space with Cher.

---
"This sort of collaboration that happens between three women is really powerful. I've fallen in love with them. I'm hoping the audience can feel the respect."
---

Let's talk about the sisterhood with Teal Wicks and Micaela Diamond, who share the onstage Cher responsibility. What's it like to have them there for the journey?
It's great. There is talent dripping from both of them, but if the sisterhood didn't connect backstage, it would bleed onstage. With Micaela—having an 18 year old in the room is something I would suggest for every Broadway show. It's a dose of remembering to be thankful, looking at the project through fresh eyes and constantly reawaking yourself. She's a special one. Really, it's like watching young Liza or young Barbra. You're witnessing something really special with her. And Teal is salt of the earth, can do whatever you need her to do—"whatever you throw at me, I'm going to do it with confidence." And she was the last piece of the pie—she jumped right in with this beautiful confidence. This sort of collaboration that happens between three women is really powerful. I've fallen in love with them. I'm hoping the audience can feel the respect and love and the lifting each other up.
You and Teal—two former Elphabas. What is it with Cher and Elphaba?
What is it with Cher and Elphaba?!
Would Cher have been the ultimate Elphaba?
Yes! Someone did make a meme—is that what it's called?—of her new album cover, making her Elphie and Glinda. [Laughs.] There is something there. There are also a couple ensemble members who have played Elphie. Maybe there's just a thickness and a depth to the score of Wicked that lends itself to the depth and the timbre of Cher.
What specifically should inspire us about Cher's life?
Seeing her entire 60-year journey, it's like, "You win some, you lose some." That is very much what Cher is about. She refers to herself as a bumper car—if something gets in her way, she hits it, backs up and just goes in a different direction! But no mistake is a loss, no mistake makes her a victim. The woman just keeps rising up. And I refuse to refer to her "reinventing" herself or "coming back out" again when she tours. She's been ever-present and that's what's to be admired. She's 72 years old. She doesn't have to hit the stage anymore and she would still be worshipped and adored until she's 300! But she does it. She takes her work as a ministry. I love that she uses that word—ministry!
There are so many amazing songs in the show. What are your top three Cher songs?
"The Way of Love," "If I Could Turn Back Time" and "You Haven't Seen the Last of Me." Those are my top three.
Yas! Burlesque!
Yes! Who knew we were gonna love Burlesque! And then, Christina Aguilera at her top, Cher looking so good, Kristen Bell giving a great performance! Check it out. For younger kids, that's probably their link to Cher, which is so interesting. So now go back and check out Silkwood and Moonstruck. Do a little homework!
If I paid you a lot of money, would you star in the Burlesque musical on Broadway?
Yes, I would.
Let's do this, bitches! [Laughs.] Speaking of the show's tagline, what's been the biggest "Let's do this, bitches" moment in your life?
What a great question! First thing that comes to mind is giving birth because every cuss word comes out. You use ever atom of your being. You hate everyone and love everyone at the same time. And you gotta push out a person from your person! Let's do this, bitches!
I couldn't help but notice when I saw the show out of town that you never appeared in Cher's famed ass-less chaps from the "If I Could Turn Back Time" music video. Was that ever a discussion?
There was no discussion, but we're getting closer to that discussion—and to that image. The sailors with the canon, the ass-less chaps… It's Broadway, bitches. You never know! [Laughs.] I'm doing butt tucks right now!

Photos: Caitlin McNaney | Styling: Carlton Jones | Hair: Matthew Monzon | Makeup: Jay Suarez
"The Cher Show" begins previews on November 1 and opens on December 3 at the Neil Simon Theatre