Work is play for The Other Josh Cohen creators and performers Steve Rosen and David Rossmer. Originally developed at the New York Musical Festival, their comedy about down-on-his-luck Josh Cohen premiered in 2012 at off-Broadway's Soho Playhouse. Since then, the show has gone on to have acclaimed engagements at Millburn, New Jersey'ss Paper Mill Playhouse and Rochester, New York's Geva Theatre Center. The Other Josh Cohen begins performances on October 26 at off-Broadway's Westside Theatre. Broadway.com sat down with the hilarious duo to discuss their close friendship, creative process, the real-life Josh Cohen, a super starry cast album and much more.
How did you guys meet?

Steve Rosen: David and I met at French Woods Summer Camp when I was seven. David had just come from sports camp, so we didn't know if he was one of us yet. We were involved in an improv troupe.

David Rossmer: We met at the audition for the troupe.

Steve: It was the audition! Ah, that's right! So they would have us play traditional improv games. So, David and I were the two people in the story, and the people outside were the ones narrating the story.

David: Yeah, it was the tale of Bill and Bob. So we came into the scene, and they would say, "Bill and Bob enter a bar," "Bill and Bob get into an argument" and finally...

Steve: "Bill throws a drink in Bob's face." David and I both spilled drinks on each other's faces at the same time.

David: Because none of us knew who was Bill and who was Bob.

Steve: Before we met as people, we had met in this improvisation where we were relying on each other.

Did you both always want to be performers?

Steve: For me, that was always the goal. I was in a production of The King and I at French Woods, where I played a slave. All I had to do was wear a grass skirt, bow and then walk off stage. The first time I was ever on stage, I bowed and stood up—on the skirt. It fell down. So, I was seven years old standing in my underpants on stage. The audience started laughing, and I was like, "Yeah, I'm into this."

David: I've always been kind of torn between a million different things: between playing in a band and writing and performing and doing things completely outside of this business. For me, it's been more of a pupu platter of racing around doing a million things and confusing people about what I actually do.

Tell me about Josh Cohen.

David: Basically, this guy's down on his luck. He's broke; he's alone. He's unlucky in love and life. He comes home on Valentine's Day, and there are three letters in his mailbox. The first is a Valentine's Day card from his mother. The second is a bill for something that just got stolen, and the third is a mysterious envelope with no return address. Inside is something that changes his life forever. This is a universal tale about how we all get crapped on and how we all have to stay true to ourselves. If we do that for long enough, our day will come.

Steve: Josh Cohen narrates the story about what happened to him one year ago. So, David plays Josh Cohen today narrating the story of what happened to himself one year ago when he was a little chubbier...

David: And had an unfortunate mustache.

Steve: Unfortunate? I think it looks pretty good!

David: It does. It looks good.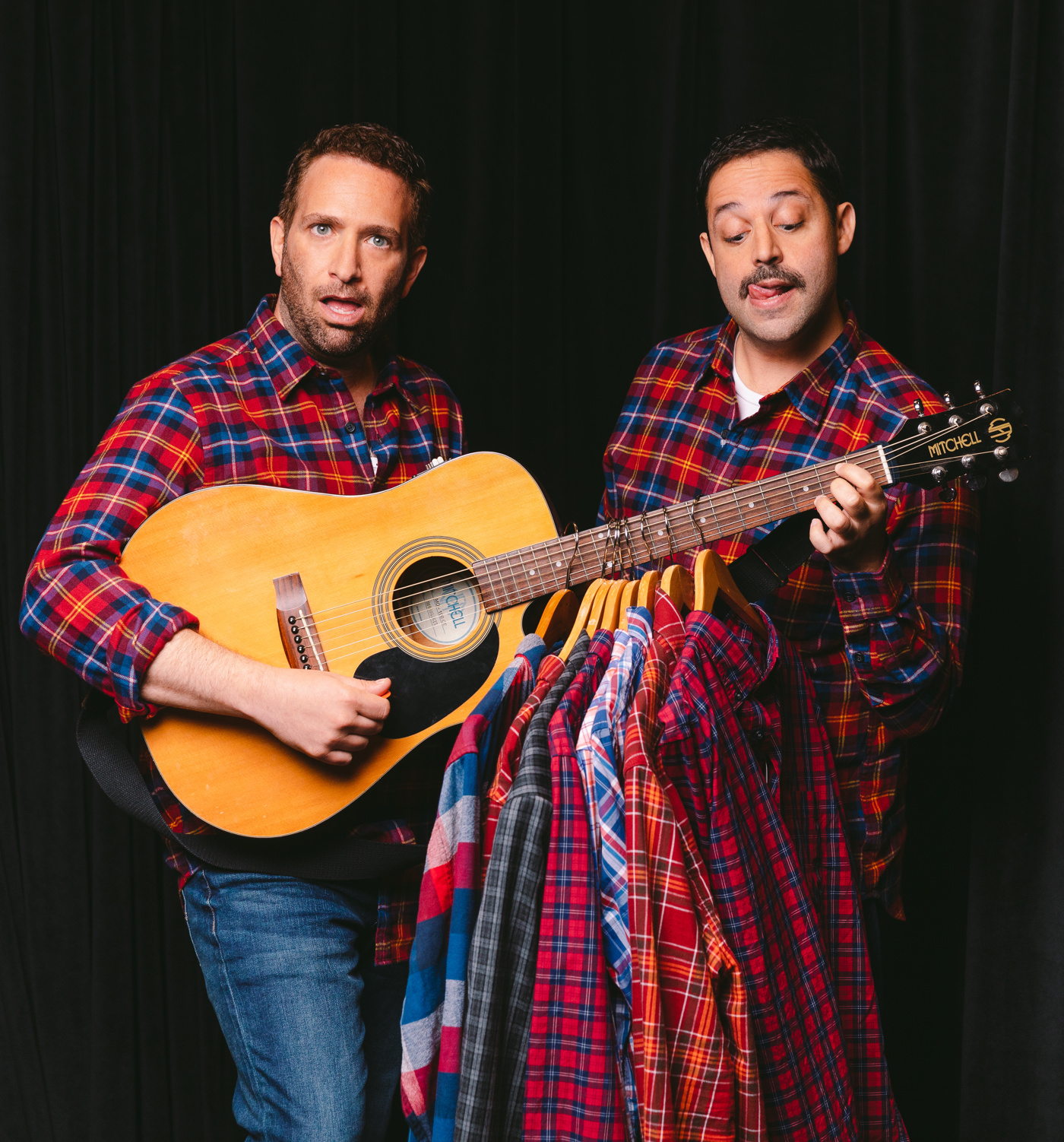 Have you ever met any Josh Cohens in real life?

Steve: Yes!

David: We actually went to camp with a Josh Cohen, and right after we did the first incarnation of this, we got a message from him saying, "Please call me right away." I called him, and he said, "It would have been nice if you told me you were writing a musical about me." I said, "Josh, what do you mean?" He said, "You're writing a show called The Other Josh Cohen." I said, "We were friends, but we don't know you that well. We would never write a show and not tell you." He said, "Oh! Because I'm broke. I'm alone. I'm unlucky in love, and I love Neil Diamond." That's when we realized we had something a little more universal than we thought. And since then, Josh Cohens have come out of the woodwork. There's never a show where people don't bring a Josh Cohen or Josh Cohens don't come together. They're going to try and get the most Josh Cohens in one room to come see the show and set the Guinness Book of World Records for most Josh Cohens in the same place.

What has playing this character taught you?

David: I think that it's a real case of life imitating art and then art influencing life and then art and life going bowling and grabbing a drink.

Steve: I was going to say the exact same thing, the bowling thing especially.

David: Let it be said that I am an above average bowler.

Steve: It's on the record now!

Can you take me through your creative process?

Steve: We usually talk about our days and our lives, and oftentimes, ideas will come out of just that. We'll piggyback off of each other finding something like, "Oh, I relate to that because I've had this in my life," and sometimes, it will just start flowing.

David: We play off each other a lot. He may run to the piano and say, "I have an idea for a melody." I may run to the guitar and say, "I have an idea for a chorus." By the time the song is done, it sounds nothing like what we started with. It's just that kind of environment. We trust each other, and so it's easy to play.

You've been performing this show for about six years now at various theaters. Tell me about its evolution.

David: It's like doing Passover at different people's houses. It's the same book, but everything tastes a little different.

Steve: It's actually one of the most amazing feelings in the world to get to revisit one project on different occasions because every time you do it, you learn something new about the piece and about yourself and about how to tell the story in the best way. I truly feel like all of the times since we've written the show, we now have the show at the best place it's ever been. We're so excited to share it with people.

How has it been working with Hunter Foster as a director?

Steve: He's a snazzy dresser, and he has got great hair.

David: He does! I think it's because he uses dry shampoo.

Steve: He told me about the dry shampoo, too, and that I have to use it! Hunter Foster is wonderful. He's an actor that also directs. He's such an intelligent guy who thinks so much about what we're creating. He's got such good ideas.

David: We're feel like we're in such good hands. He's such a joy to have in the room and so collaborative. He knows when to play. He knows when to tell us what to do. He knows when to raise red flags, and he knows when to just be boisterous and have a good time.

You have this star-studded cast recording coming out. Tell me about that.

David: A lot of that stems from the good will we've built through the years with Don't Quit Your Night Job and just working with great people. We wanted to make a kind of concept album to introduce the music to the world. We've been asked after every production, "Where can I buy the music? Where can I get the songs?" Because Steve and I do so much in it, we thought, "Wouldn't it be nice to fill it out with some of our fancy friends who have all supported and loved the show through the years?" Tthat's how we got Sutton Foster, James Roday, Kelli O'Hara, Chita Rivera...

Steve: Hank Azaria, Lindsay Mendez, Caissie Levy, James Monroe Iglehart, Jimmy Simpson...It's an embarrassment of friends who have done very well for themselves who wanted to participate.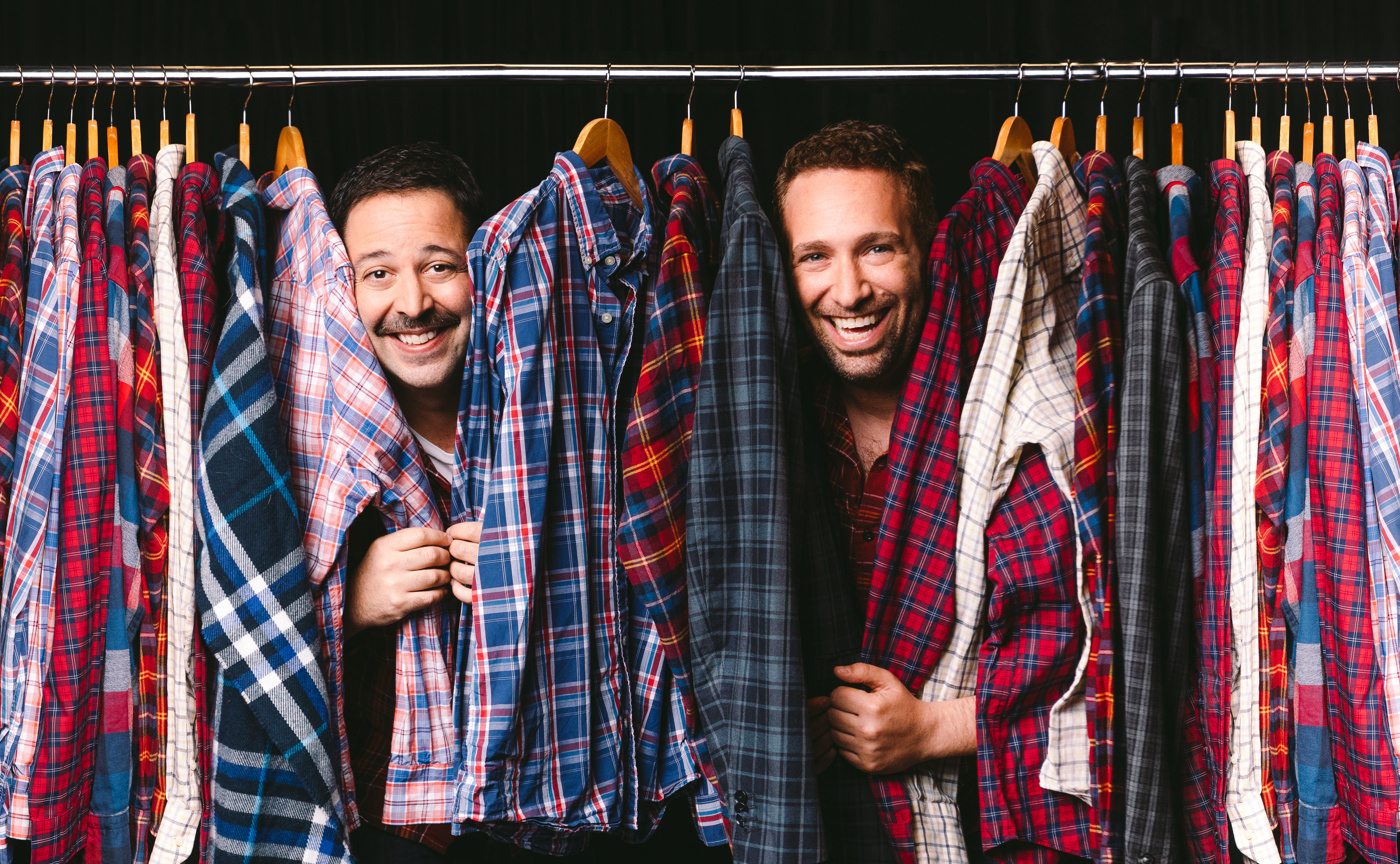 What have you learned about each other over the years as creators?

Steve: It's fun to grow with another person. We've spent most of our adult life as very close friends creating things.

David: We're like the odd couple. Our significant others always joke that we have home spouses and work spouses. We sometimes spend more time with each other than at home. If you're not working with people you like, then what's the point?

David, can you tell me a secret about Steve?

David: Steve likes cats.

Steve: The musical! I love Cats.

David: Recently, Steve watched our cat while my wife and I were away. I think he secretly wants to keep the cat. Catnapping!

Steve: All right, I have a secret about Dave: David doesn't know that I recently stole his cat.

David: Ha!

Steve: I went to the pet store and got him one that looks identical, but it has a terrible attitude. David has a secondhand cat. The other secret is that David also likes Cats.

David: It's true. I can't help it. It's like my favorite musical.

Steve: We have walked from my apartment up to the Upper West Side singing the score from Cats in order from the beginning.

David: Every word!

Are there any other dream projects you would like to do together?

David: The Other Josh Cohen has always been a project that people have said could extend out to the movies and to television.Right now, Steve and I are working on a top secret project where we're adapting some movie properties for Broadway, which we'll be excited to talk about in the near future. We also have a deal to shop around an original TV project of ours, which is so wholly different. That's what's fun. We never do the same thing twice. The next thing you see coming from of us will probably surprise you.

Steve: Literally anything we write together is a dream project. Getting to go to work every day with someone you consider your best friend and getting to call it your job—that's a dream.
Grooming by Morgan Blaul