Finty Williams & Chris Larkin in "Pack of Lies"
(Photo: Nobby Clark)
Finty Williams and Chris Larkin are terrific English actors in their own right but share the fact of having a parent who is a Tony and Oscar-winning British legend—two women, in their 80s, who are themselves great lifelong friends. Williams is the only child of Dame Judi Dench and the late Michael Williams, while Larkin is the older of two sons born to Dame Maggie Smith and her late husband, Robert Stephens. (Larkin took his surname upon discovering another Chris Stephens in Equity, the actors' union.) The two are currently starring opposite one another for the first time onstage in the Menier Chocolate Factory revival of Hugh Whitemore's 1983 play Pack of Lies, a spy drama in which they play husband and wife and in which Dench appeared first time out. So, what better time for their first-ever joint print interview, an animated discussion that took place in the Menier auditorium one recent evening prior to show time. Below are excerpts from their warm and lively conversation.

Is this really the first time you've appeared together onstage?

Chris Larkin: We've done radio plays together, where we're always playing very young people—which is interesting now that I'm in my sixth decade. I can put on a very young voice when I want to!

Finty Williams: Yes, we've done that I think four times or so—but we've never till now been in the same play.

What did you think when each of you discovered who your co-star was to be?

Chris: I knew Finty had been cast when I got the call.

Finty: Yes, I was cast and then very wonderfully about three weeks later I got a text from Chris saying, "I'm playing your husband."

Chris: I think you heard from me before you heard from the theater actually, because we're mates on Facebook: ah, the joys of social media!

Finty: The thing about Pack of Lies is that my parents had played husband and wife in the very same play on the West End in 1983, when I was 11, and because I remembered my father being in it much more than my mother, I was quite anxious about who was going to do that part, so I was very relieved and delighted when I heard it was Chris.

When the offer came, Chris, was it a no-brainer?

Chris: Well, I suppose if it had been a terrible play, I might have gone, "Oh, you know, I'm really busy washing my hair for two months," but in fact it's a really good play. And being with Finty meant that you get a nice head start in the rehearsal room. You don't have to go, "Oh hello, very nice to meet you," or anything like that. It was easy to slip into a rhythm.

Finty: One of the things when you've known one another a long time is that you can access an onstage relationship very easily.

Chris: Absolutely. One of the strengths of the play, I think, is that we make a very good old married couple. It's so not a glamorous thing, this play—it's not like Private Lives [a onetime stage vehicle for his parents], where we could all be frightfully arch and sexy. We're just this boring, loving couple but at the same time there's something infinitely touching about watching two people completely at ease with one another in a really humdrum relationship—which is the joy of the play for me.

Finty: And I am going to say this because I want it written in black and white. I've worked with a couple of people in my career that have stopped me dead in my tracks because they make it look so effortless and so extraordinary. One of them is Ben Daniels and the other is Chris Larkin.

Chris: I return that, darling, straight back.

Finty: He blows me out of the water, and I just wanted to say that.

What do you recall, Finty, from the original West End production of this play, for which your mum won an Olivier Award?

Finty: I remember that it took place in a two-story house because it was the first set I had ever seen with stairs. Otherwise, I really was so young, but I do remember my father delivering the husband's last speech and finding it heart-breaking.

Can you each recall a first memory of your mothers onstage?

Finty: It was the summer of 1976 and [Dench] was doing the Scottish play [Macbeth] at Stratford-upon-Avon, and I remember thinking that I didn't like my mother's shoes! That same season I remember seeing her and dad and Roger Rees and Nick Grace in The Comedy of Errors and my dad at the end coming to get me out of the audience and running onstage with me in his arms: I was four and wearing a tartan dress and that was the first time I ever went on stage.

Chris: I remember going with my brother [Toby Stephens, also an actor] to see mum play the title role in Peter Pan [the J. M. Barrie play, not the musical] at the Coliseum, with Dave Allen as Captain Hook. That was during the so-called "winter of discontent" in the early 1970s and I remember mum saying it was freezing because there were power cuts and they had turned off all the heating.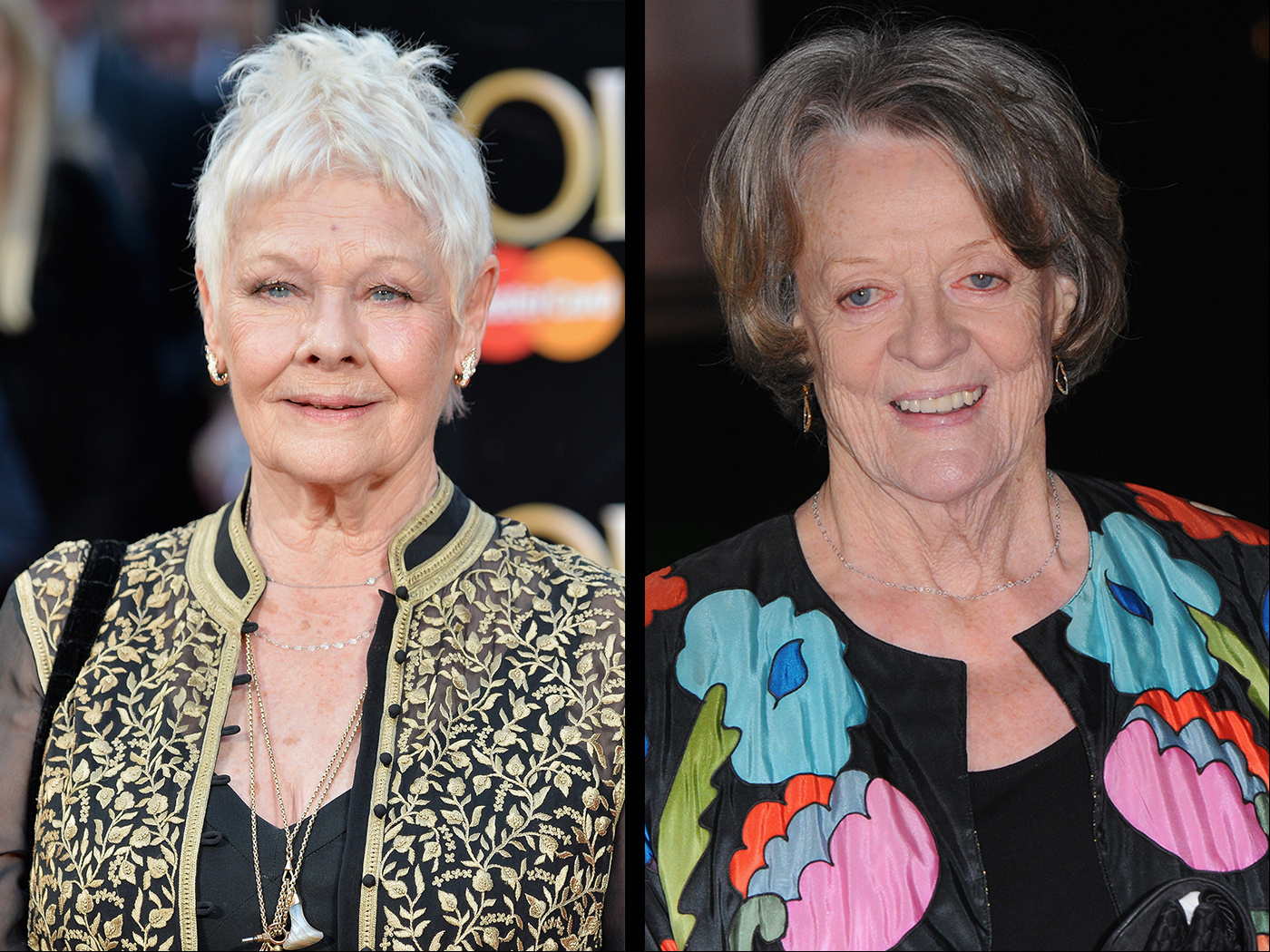 Judi Dench and Maggie Smith (Photos: Getty Images)

Do you recall your parents in their famous Private Lives? [Larkin's parents divorced soon after, and Dame Maggie went on to marry the writer Beverley Cross, who died in 1998.]

Chris: I was really young but do remember seeing it and thinking it was just a bunch of people in nice outfits drinking champagne and being rather waspish with each other, and I kind of feel the same way about that play to this day. I have to say fair enough to Toby [who starred with Anna Chancellor in a 2013 West End revival of Private Lives] that his was the only production of it I have ever liked. I'm not a huge Coward fan; I like this sort of stuff [i.e. Pack of Lies] far more.

Did it feel inevitable for you both to enter the family profession?

Chris: I got into acting comparatively late, funnily enough, and only enrolled at [prestigious drama academy] LAMDA when I was 22 or 23: Toby is younger than I am but was the year ahead of me at drama school and I remember mum being rather arch and saying to me, "Oh, I rather thought you might give acting a go." Before that, I had worked stage crews and the like: I remember catching the chandelier on the first night of The Phantom of the Opera in 1986.

Finty: I actually wanted to be a dancer, though I doubt anyone now would pay to see me in a leotard [laughs]! I actually think earlier on that my decision to act caused me quite a bit of—not damage, that sounds ridiculous, but shall we say heartache.

Didn't people warn you about the invidiousness of comparison?

Finty: No, that was never said, and I wish somebody had; I wish someone had said to me, "Are you sure about this?" On this play, I thought, 'We open on October 1st and on October 2nd, very possibly I will decide to go off and do something else'. It's all to do with how much in this profession you are allowed by certain people from a certain profession [namely, the critics] to be your own person: I thought, If I do this role and people say, "Well, she's not as good as her mother," that will be too much of a cost for me.

But that hasn't happened with Pack of Lies, has it?

Finty: No it hasn't, which is wonderful. I did fear that it might be: "Let's put her up against a wall and machine gun her."

How do you feel about acting alongside your mothers?

Chris: I've tried to avoid it but have done it twice—onstage in [Edward Albee's] The Lady from Dubuque and in the film Tea with Mussolini. I remember mum during the Albee play telling me off for arguing with the director.

Finty: I'd love to do a play with ma but I don't know whether that's like literally filling in your own grave and putting the gravestone on top.

With partners and children of your own, do you both feel as if you have reached a good place in your lives, onstage and off?

Chris: Yes I do but what's most amazing is to watch the next generation. I've got a daughter who's 12, and she's about to play Yente in a school production of Fiddler on the Roof—she's the smallest kid in the school and she's playing an old lady! And then there's my 10-year-old son, Nat, who's a real performer.

Finty: I just take work a day at a time and hope that people believe in you and your ability, even if you don't quite believe in it yourself. I'm living in south London with Joe [her partner, the actor Joseph Timms] and Sammy [her son] and two cats, and when this play ends, I'll be off to Stratford to wave a flag for Joe in A Christmas Carol [opening at the RSC in December]. Oh, and I imagine I'll be helping mum rehearse her lines for Cats [the forthcoming film, starring Dench as Old Deutoronomy], so it's all very happy and lovely. As far as life goes, yeah, bring it on!