The West Side Story revival is about to open on Broadway and it promises to be entirely different from the versions that have come before it. For one, the show is no longer set in 1957. It's been fast forwarded to today, with smartphones and mini dresses. And for the first time ever on Broadway, the show is not using director Jerome Robbins' original choreography. Gone are the finger snaps, and in its place are new movements created by Belgian choreographer Anne Teresa De Keersmaeker, who is making her Broadway debut with West Side Story. The revival's director, Ivo van Hove (who won a Tony Award for A View From the Bridge), has also made cuts to the book and score.
All of these changes may seem like a radical departure from the show, but is it really? Below, Broadway.com takes a deep dive into the production history of the seminal musical, and how when it comes to West Side Story, reinvention is nothing new.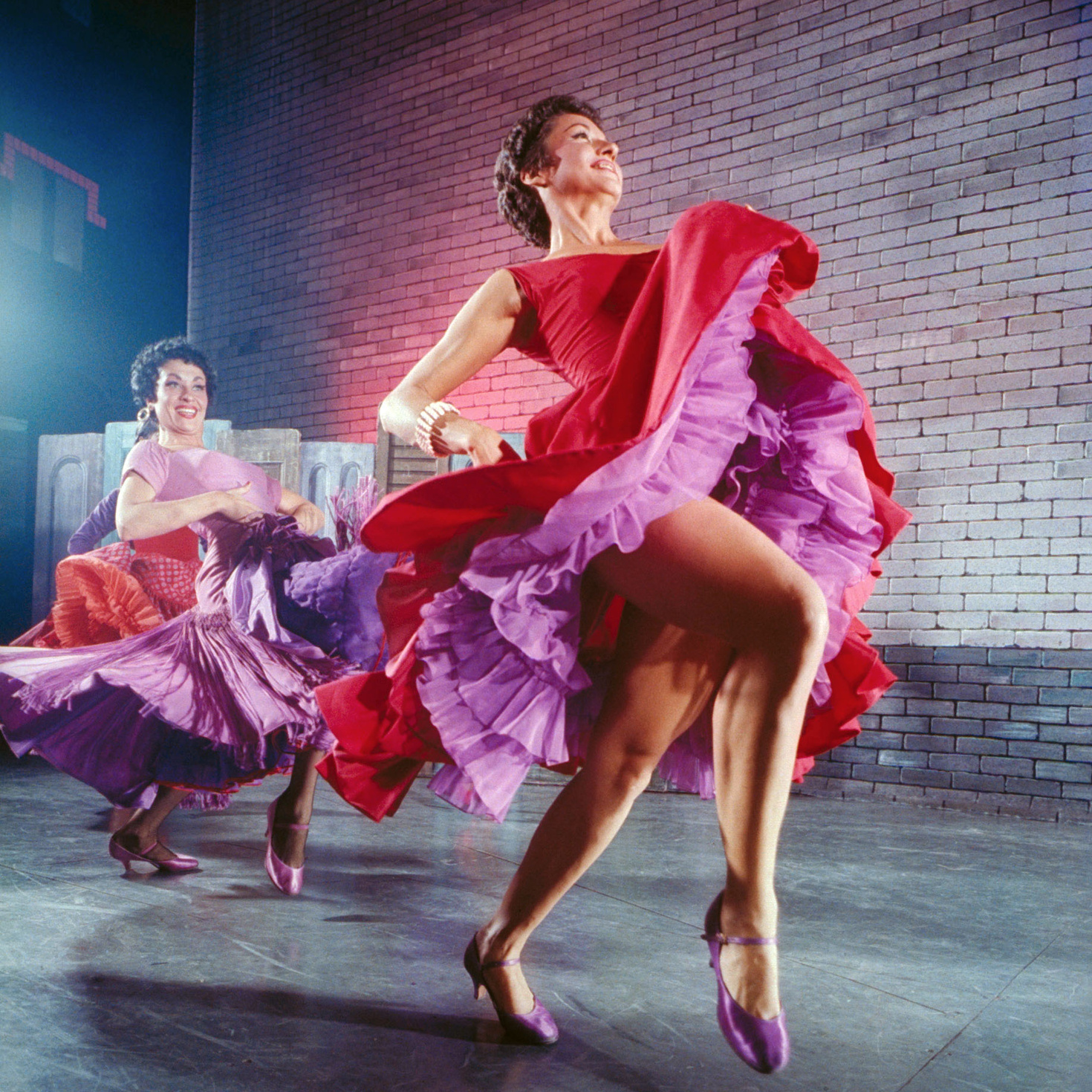 From the East Side to the West Side
The idea for West Side Story first came from choreographer Jerome Robbins, who in 1948 had an idea to modernize Shakespeare's Romeo and Juliet using warring Jewish and Catholic street gangs as the Capulets and Montagues. He took the idea to composer Leonard Bernstein and playwright Arthur Laurents. Bernstein loved it, since he always considered Romeo and Juliet an "out and out plea for racial tolerance," as he wrote in his personal copy of the play. But Laurents identified a snag: East Side Story, as it was called then, was too similar to the 1922 play Abie's Irish Rose, a romantic comedy about Irish Catholics and Jews by Anne Nichols that played on Broadway for five years.
The idea was shelved until 1955 when, while hanging out by the pool in a Beverly Hills Hotel in Los Angeles, Laurents and Bernstein spotted a Los Angeles Times article about a 20-year-old Chicano man who died in a gang conflict. East Side Story then became West Side Story—at the time, the upper west side of Manhattan was a poor immigrant neighborhood and the site of multiple gang conflicts. The religious struggle was turned into a racial one, between a white gang and a Puerto Rican one, with the lovers Tony and Maria caught in the center. Stephen Sondheim was then brought in to write lyrics for West Side Story, making it his first Broadway musical.
Robbins choreographed and directed the original production, and he was focused on making it real and gritty. A student of Method acting, Robbins, "said the actors playing the Sharks and the Jets shouldn't socialise, in order to make things much more tense when they meet on stage for the dancehall competition," said Chita Rivera, who played Anita, the girlfriend of Maria's brother, Bernardo. "So we rehearsed in different rooms—Jerry had the Jets in one and [co-choreographer] Peter Gennaro had the Sharks in another."
In addition, Robbins also used different dance vocabularies for the characters. While the male gang members were characterized by jazz vocabulary—long extensions and frenetic movements—to symbolize their violent energy, the female characters were more playful and elegant, with ballet and, in the case of the Shark girls, flamenco movements. Robbins actually went to a high school dance in Spanish Harlem for inspiration. "They do dances I've never seen before," he wrote in a letter to ballet dancer Tanaquil Le Clercq. "After starting with your partner for about two bars, you leave and separate and never touch or make contact again for the rest of the dance," which is reminiscent of the dance off at the gym between the two factions.
But to Laurents, what made West Side Story revolutionary for its time wasn't just its individual artistic elements. "Many said West Side Story forever changed the American musical...because of its use of dance and music," he wrote in his book On Directing. "To me, it used those elements better than they had ever been used before; but what it really changed, what its real contributions to American musical theatre was, was it showed that any subject—murder, attempted rape, bigotry—could be the subject of a popular musical."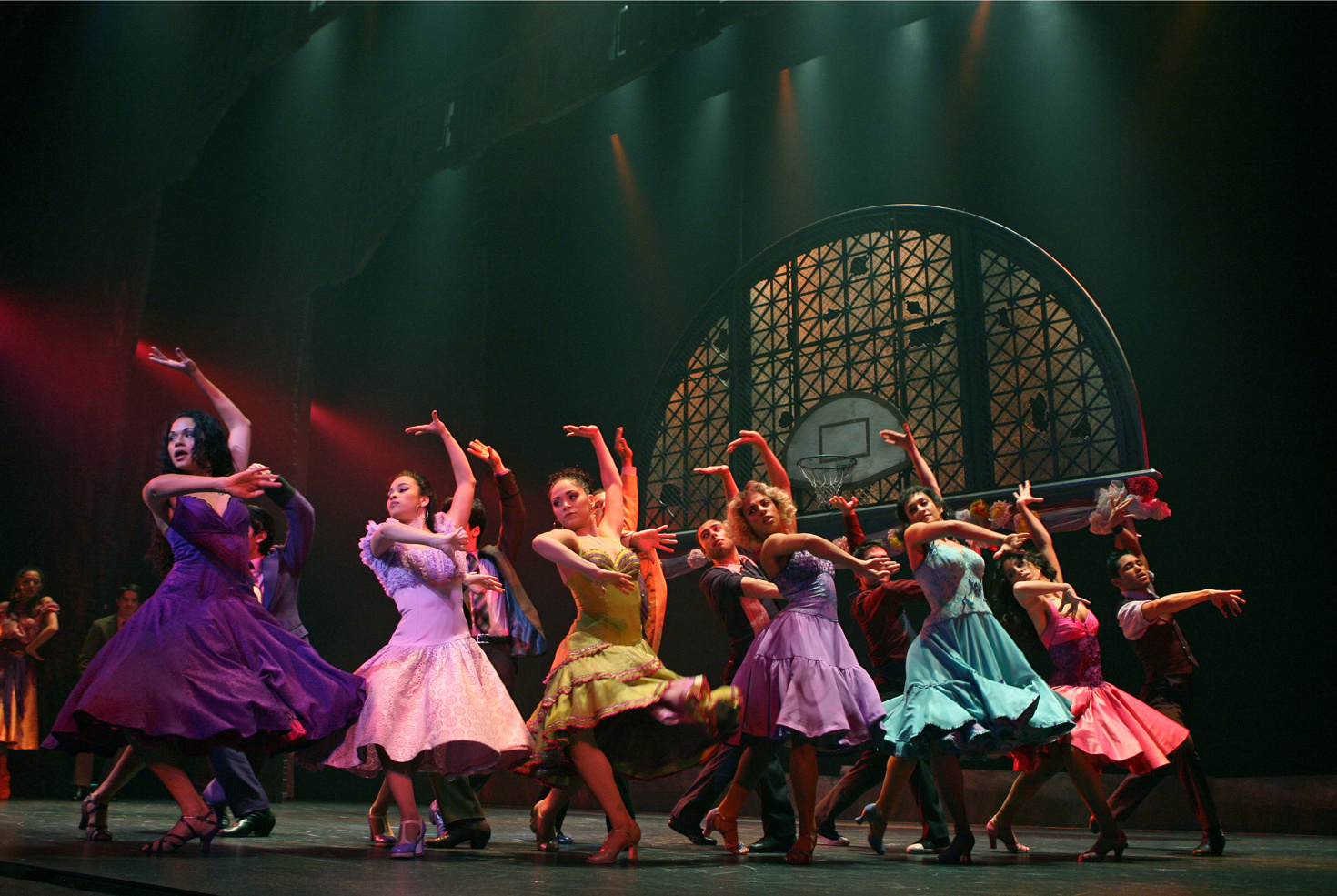 No Replicas, Only Reimaginings
Despite, or maybe because of, its heavy subject matter West Side Story was a hit with both audiences and critics. It won two Tony Awards in 1958: for choreography and scenic design; it then ran for 732 performances on Broadway. The 1961 movie version, co-directed and choreographed by Robbins, won 10 Academy Awards, including Best Picture. West Side Story subsequently had a return engagement on Broadway in 1960 and a limited run in 1964.
It received a new production in 1980, directed by Robbins. That revival was less rapturously received; it closed within a year. To Laurents, the 1980 version "largely replicated the original, but it was bland," he wrote in On Directing. "What was most needed for any new production was a fresh, original look at the show." (Laurents also hated the film version of West Side Story, telling the Washington Post, "I thought the whole thing was terrible.")
One way to freshen it up was to change the language. According to the Washington Post, for the 2009 Broadway revival, the director, Laurents decided to have the Puerto Rican characters speak in Spanish, in order to make them more sympathetic. Because while the Jets had multiple songs in the show, the Sharks don't get any songs (though the movie version did add them to the "America" number, which in the show only features the Sharks girls).
Lin-Manuel Miranda, who had exploded onto Broadway with In the Heights, was hired to translate the English lyrics for the Sharks' songs into Spanish. He admitted at the time that he had mixed feelings about West Side Story. "I think West Side Story for the Latino community has been our greatest blessing and our greatest curse," said Miranda. "As a piece of art, I think it's just about as good as it gets. It also represented our foot in the door as an artistic community on Broadway. At the same time, because it's just about the only representation of Latinos on Broadway and it's about gangs, that's where it gets tricky."
That choice of letting the Sharks sing Spanish on stage accomplished two things: It let Latinos into the creative process for the first time on the show and it gave the Sharks a personality that went beyond being the rivals of the Jets. Karen Olivo, who played Anita in that production, said that West Side Story always felt "one-sided" to her. When seeing the Shark actors sing and speak in Spanish, Olivo said, "all these other colors came out and I got to see who they really were." The 2009 revival ran for 748 performances, longer than the original production, and earned one Tony Award, for Olivo's performance.
A New "America"
Laurents set the stage for West Side Story to be reconceived. Now van Hove is taking it one step further with a video-heavy vision for today's audiences. The musical is now set in 2020, with the cast dressed in today's clothes and dancing to De Keersmaeker's bold, contemporary moves. And the Shark boys now get to sing more, as this West Side Story uses the film version of the song "America." According to his book Finishing the Hat, Sondheim prefers the film lyrics, which insults America's racial prejudice, while the stage lyrics primarily lampoons Puerto Rico. Their "America" also fulfills Sondheim's original intent, to "be an argument between Bernardo and Anita, partly to enrich their relationship by adding some contention to it." Sondheim, the only member of the original creative team still alive, has given the van Hove treatment his blessing. And since he famously never liked the lyrics for Maria's solo song "I Feel Pretty," Sondheim seemingly had no problem with the number getting cut.
In this new version, the Sharks are of mostly Latino descent, while the Jets are black, white and mixed raced. Dancer Patricia Delgado and Tony-winning choreographer Sergio Trujillo have also been brought in to help De Keersmaeker create choreography for the Sharks that contains more Afro-Caribbean influences; the Jets' movement contains house and hip-hop influences. According to this version's Maria, Shereen Pimentel, the Sharks are no longer meant to just represent Puerto Rico. "We broadened the scope to Hispanic people because Puerto Rico is a part of America," she explains to Broadway.com. "As we explored the Jets and the Sharks, we looked at the fact that it's supposed to be an anthology of America."
And so what is America today? According to this new West Side Story, it's a place where outsiders are still welcomed with walls. And within an inhuman system with no safety net, the poor and disenfranchised are made to fight each other, even though they have more in common than they do different. "They're both immigrants. And they're both asking for recognition. And they're both facing poverty," De Keersmaeker told Bloomberg recently.
So this new version may seem like a departure from the original, but from the decision to have different types of dance influences, to humanizing people who are on the fringes of society, and to have it be a commentary on America—that's all West Side Story, then and now.