Leslie Uggams & Ethel Waters
(Photo by Michael Loccisano/Getty Images; Graphic by Ryan Casey)
In honor of Black History Month, Broadway.com asked actors, directors and playwrights to tell us about black theater-makers who inspired them. Stars jumped at the chance to honor those who came before them, and in the process, taught us about the fundamental contributions of black artists to the American theater. To read the other entries in this series, click here.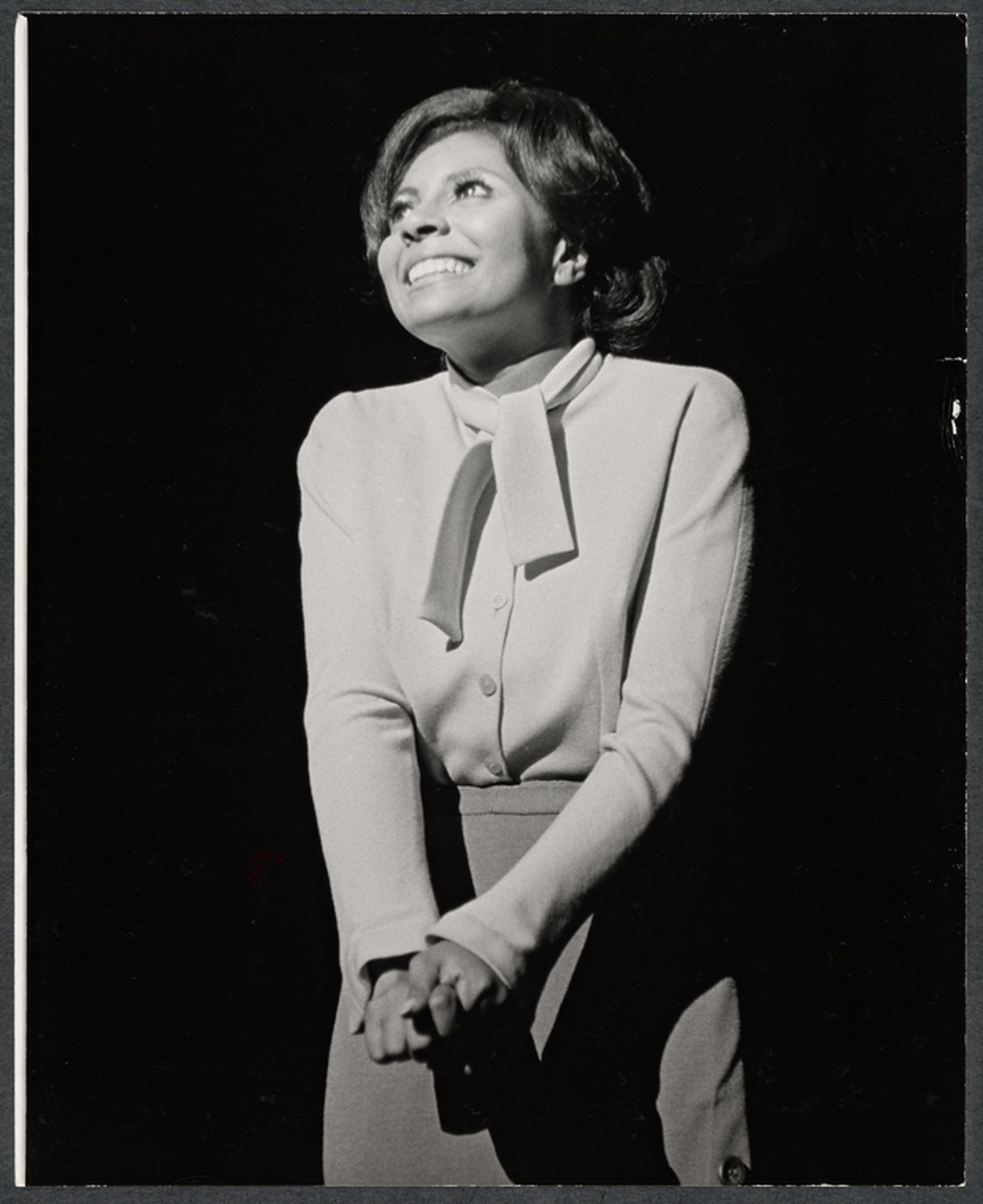 Leslie Uggams is a Tony-winning actress who has appeared in eight Broadway shows. She made her debut in 1967 as the star of Hallelujah, Baby!, winning a Tony. She was nominated again in 2001 for King Hedley II. On television, she is remembered most for her role in the original Roots (1977) series and, recently, her recurring role on Fox's Empire (2016). In April, she will star in the Phylicia Rashad-directed production of Blue at the Apollo Theater, which opens on May 10. When asked which black theater artist inspired her, Uggams listed a few of her early influences, namely her aunt, Eloise Uggams, Ethel Waters and the first Broadway production of A Raisin in the Sun.
Eloise Uggams was a singer and actor who appeared in a number of Broadway and vaudeville shows from the 1920s through the 1950s. She performed in Blackbirds of 1928 (1928), The Pirate (1942), Run, Little Chillun (1943), and the 1943 and 1944 productions of Porgy and Bess on Broadway. In 1952, she joined the touring production of Porgy and Bess, traveling with the show again to Broadway in 1953 and continuing with the production until its tour ended in 1956. In 1931, she appeared alongside Ethel Waters in Rhapsody in Black on Broadway.
Ethel Waters was a seminal black actor and blues singer of the 20th century. She began her career on the vaudeville circuit, performing the blues alongside Bessie Smith. After she moved to Harlem in 1919, Waters became a central figure of the Harlem Renaissance. She appeared in 13 Broadway productions, including The Member of the Wedding (1950). She was the second African American to be nominated for an Academy Award and the first black artist to star in her own television show, The Ethel Waters Show, and the first black woman to be nominated for a Primetime Emmy Award.
A Raisin in the Sun is Lorraine Hansberry's landmark play of African-American life in the 1940s. About a working-class family in south Chicago who attempts to improve their financial circumstances after the death of their father, Hansberry based the play off of Langston Hughes' Harlem Renaissance poem, "Harlem." It debuted on Broadway in 1959 and has received a revival in 2004 and 2014.
---
"I was hooked! To see a musical with mostly black actors, even at 10 I knew that was special."
---
Uggams on Eloise, Waters and A Raisin in the Sun: "My Aunt Eloise Uggams was my first inspiration. She performed on Broadway, and when I was 10 years old, I saw her in Porgy and Bess, the first Broadway show I ever attended. Leontyne Price was Bess, and I had never heard a voice like that in my life. I was hooked! To see a musical with mostly black actors, even at 10 I knew that was special. Ethel Waters was also a mentor. I played her niece on her TV show Beulah, and she took me under her wing. She brought my mother and me to see her in The Member of the Wedding with Julie Harris. That really solidified theater as a part of my existence at an early age."
"Then came opening night of Lorraine Hansberry's A Raisin in the Sun. I was in the second row watching Ruby Dee, Louis Gossett, Sidney Poitier, Claudia McNeil and Diana Sands give extraordinary life to a play written by a black woman. Even for a family like mine, which never had enough money to even consider walking into a bank for a loan, the play was aspirational. Who didn't dream of owning a home one day? All of these great role models before I even turned 20—what a blessing!"