Are you planning a trip to New York City and looking to buy tickets for an unforgettable Broadway experience? With over 20 years of online ticketing experience, Broadway.com makes purchasing tickets to Broadway shows easy, secure and reliable.
Let's walk through buying tickets together to highlight the ease of use, security, and helpful features.
As always, whether you purchase online via our website or app or by talking to one of our customer representatives at 1-800-BROADWAY, all tickets are 100% guaranteed and supported by our terrific customer service team. Now, let's find those Broadway tickets.
Selecting a Broadway Show
First, we need to decide which show or shows we want to see. To help you find the perfect show, we've listed the Best Shows to See this September, Best Selling Shows, and Best Shows for Kids.
If you'd prefer to browse all Broadway shows, head to our Broadway Shows section to browse shows by category, like Musicals, Plays, Tony Award Winners, Stars on Stage, and many more.
Of course, you're interested in learning more about the Broadway show you're excited to see. Visit the show's page to learn about all the essential information you need to help make a decision. You'll find information like show runtime, intermission, age restrictions, frequently asked questions, critic reviews, cast and creative, theater information, and more.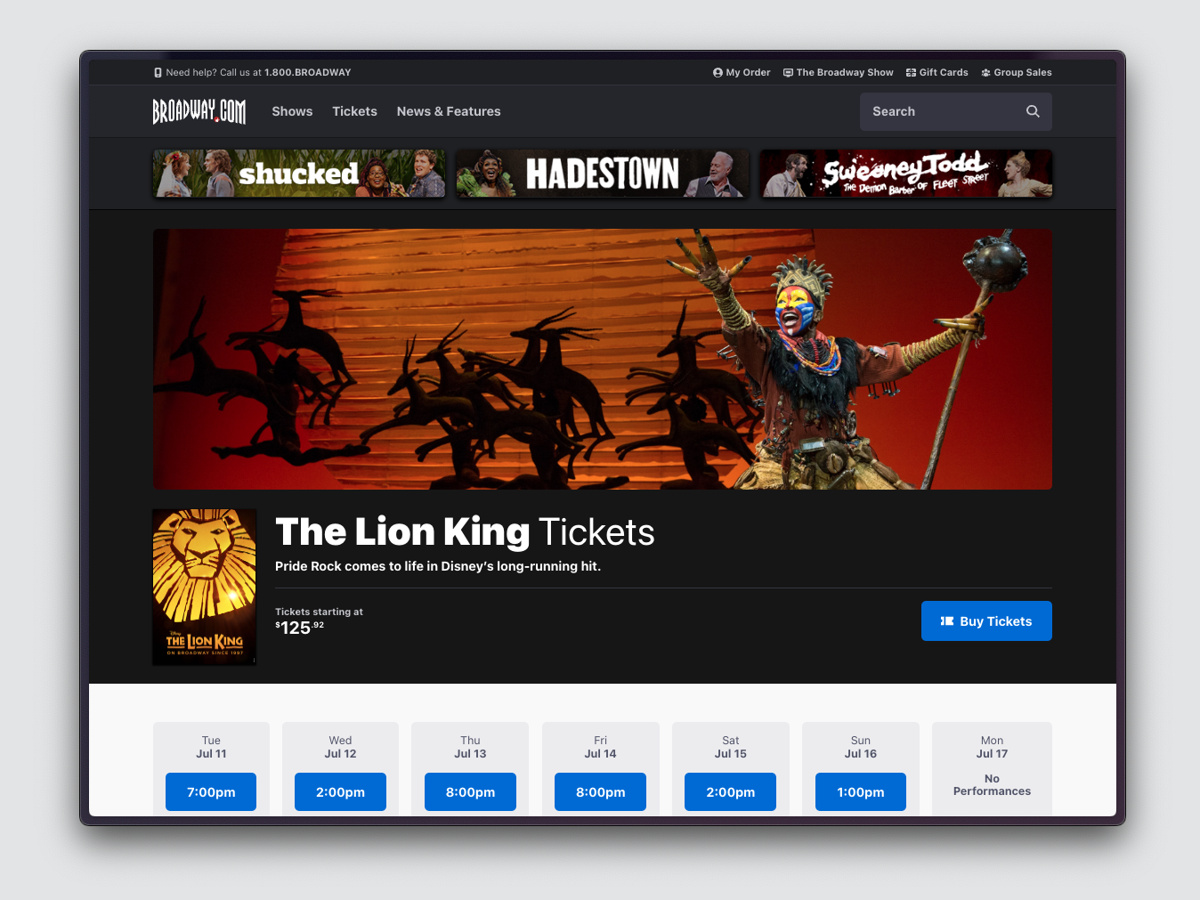 Also, check out the show's trailer to get a glimpse of the action before buying tickets. Below is The Lion King on Broadway trailer, as an example.
Find Broadway Shows by Date
Now that you've identified the show or shows you want to see, we need to find a performance date and time next. Every show has a calendar of performances. You can view the current week's performances on the show page or the show's full calendar on the show's calendar page.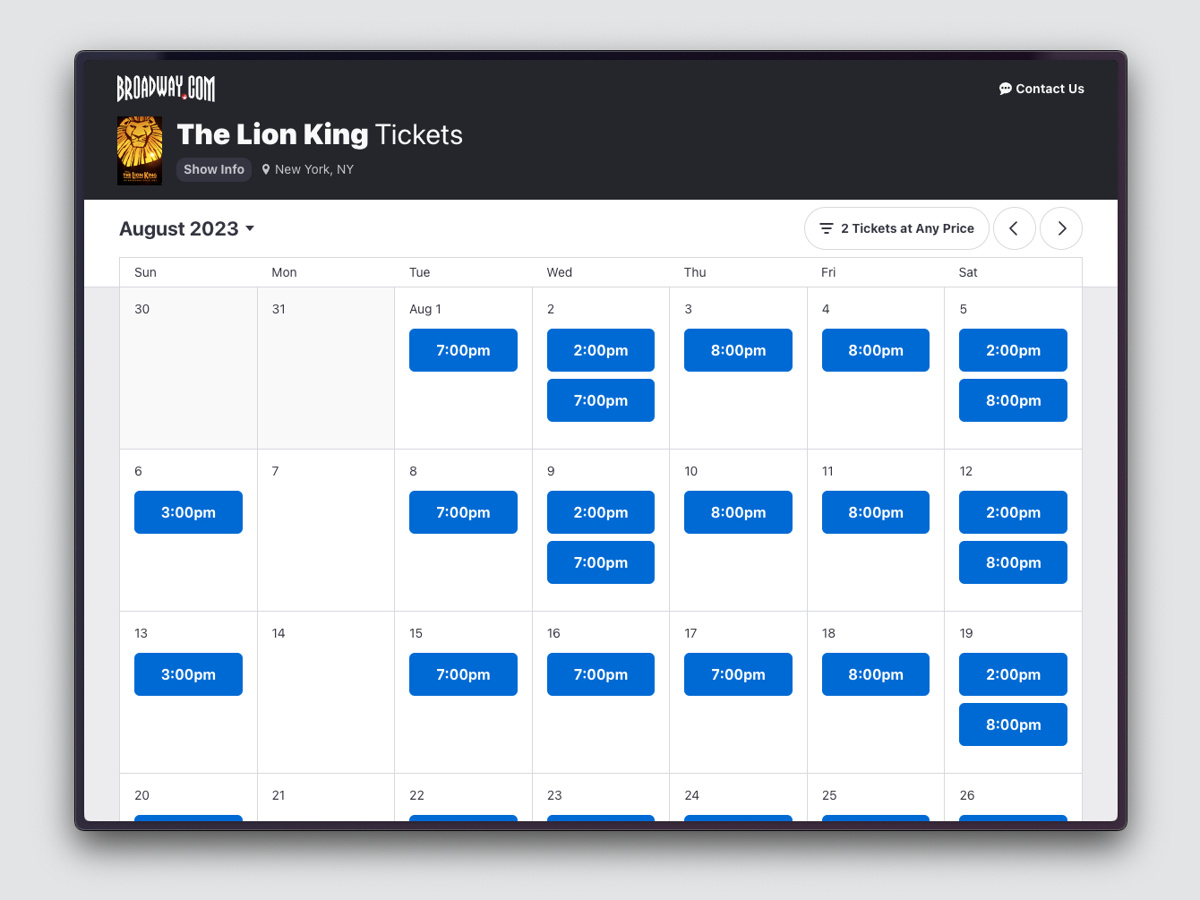 You may be looking to explore a variety of shows and possible performance dates. Our Broadway Tickets by Date feature is super helpful in assisting customers filter shows by date, ticket price, category, and ticket quantity over one or more dates.
Customers often use this feature to find the Broadway show they want for the dates they plan to visit New York City.
Select Your Broadway Show Seats
You're almost done! You've found the show and the performance you want to see. The next step is to select your seats. You can check out How to Choose a Seat in a Broadway Theater for some helpful information about the different theater sections and sizes of theaters.
Important to note: all seats sold on Broadway.com are together, and we do not sell seats with obstructed views.
The dynamic seating chart is a popular feature of the Broadway.com checkout experience, including the View From Seat feature, where you have an interactive 3D view of the venue from the seat. (Please note, not all venues have the View From Seat feature yet, we're actively working on rolling it out to more venues.)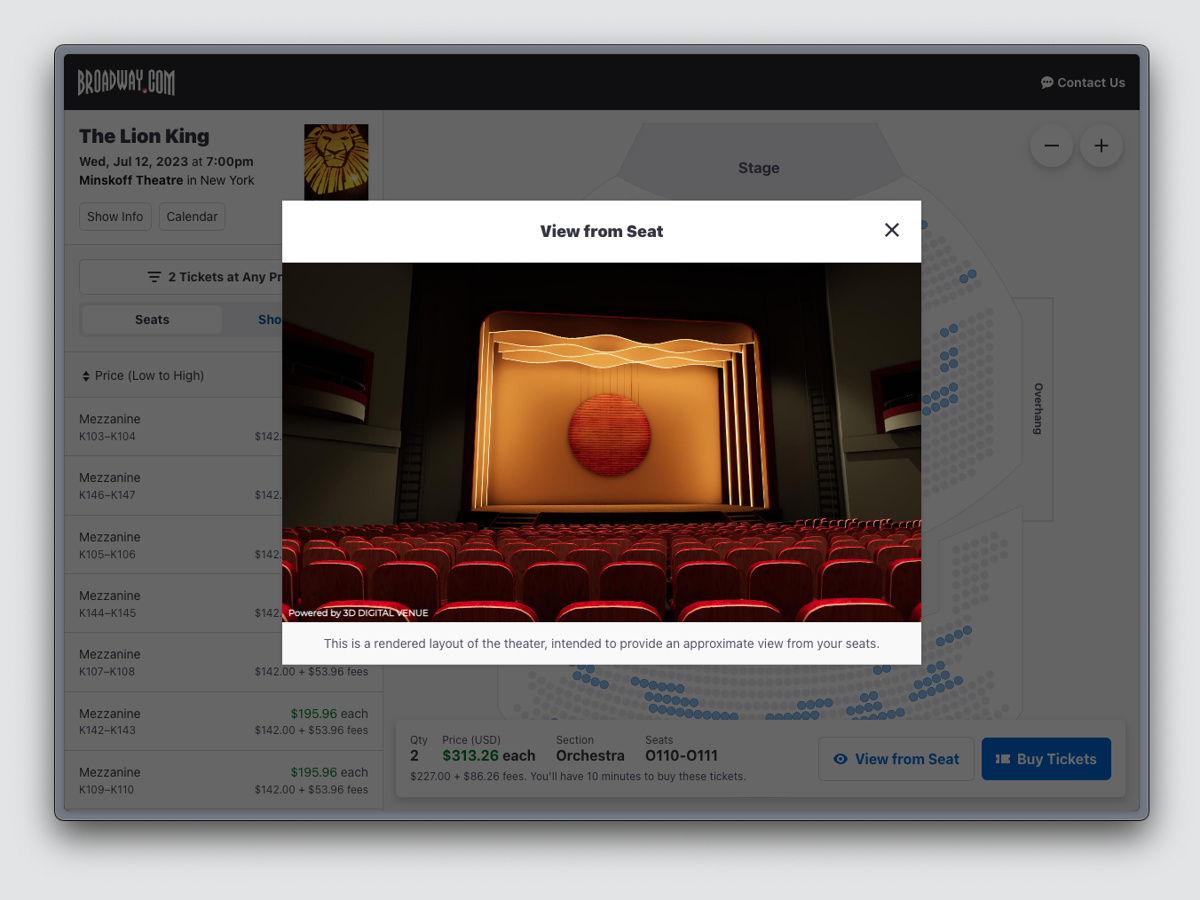 When viewing the seating chart, you can filter by quantity and price. Need help to find the seats you want on a specific date? You can also easily view additional performance times by selecting the Show Times tab.
Once you've found the seats you want, select "Buy Tickets" and continue to the Delivery & Contact Information screen.
Delivery & Contact Information
You've acquired your seats, great! Now we need some additional information to help ensure we can securely deliver your tickets and contact you in case of any urgent updates to your order.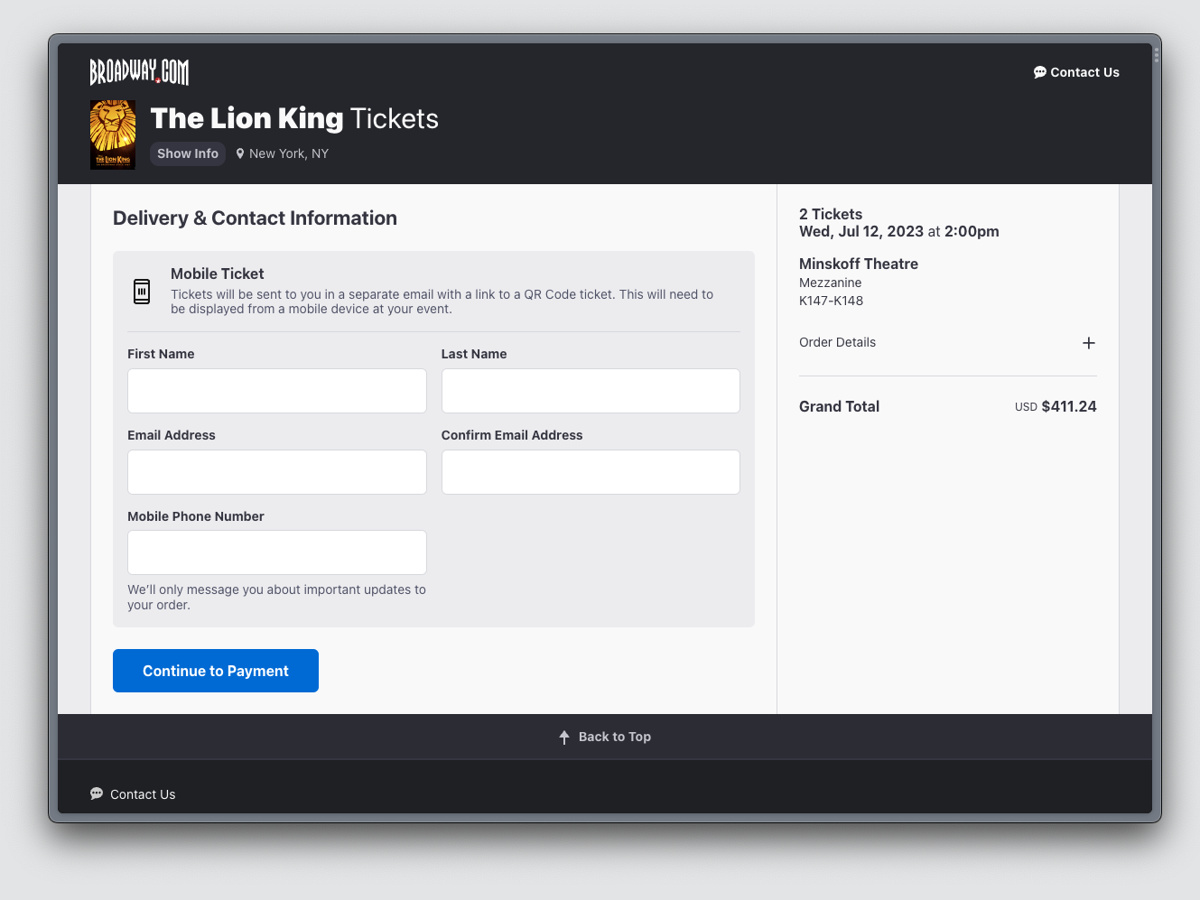 All tickets are delivered electronically via email. Your tickets will be accessible via a link to a QR Code ticket or attached to your email as a PDF. You can also access your tickets directly via our secure Order Management section. We review this in more detail later.
Payment Options
And finally, your payment information. Your order is secure with Broadway.com. We accept various payment options, including PayPal, ApplePay, GooglePay, Mastercard, Visa, AMEX, Discover, Diners Club, JCB, and Union Pay. Did you receive a Broadway.com Gift Certificate? You can use the gift certificate to pay for your tickets as well.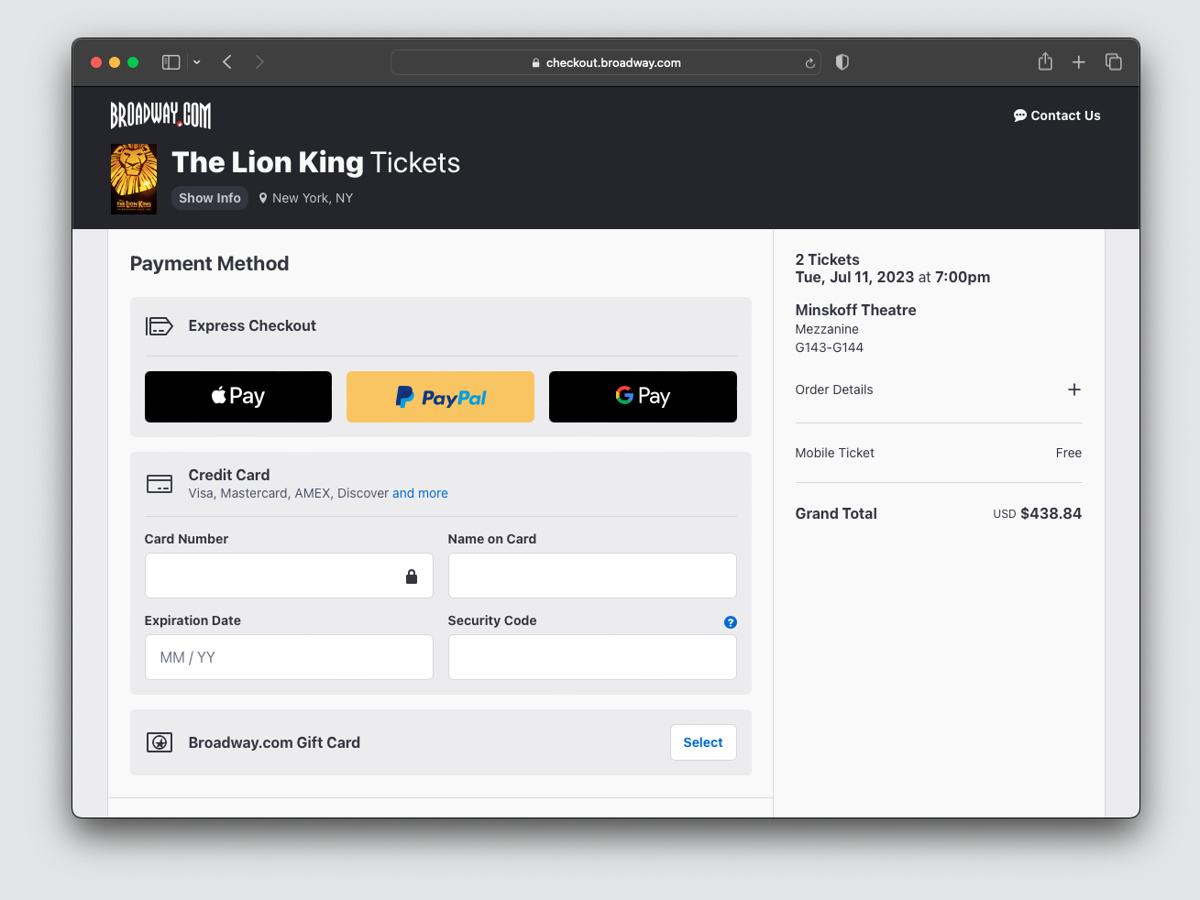 Once you choose your payment and submit your order, you'll view a confirmation page that confirms your order. Success!
Shortly after, check your email inbox, where you should also receive a confirmation order email.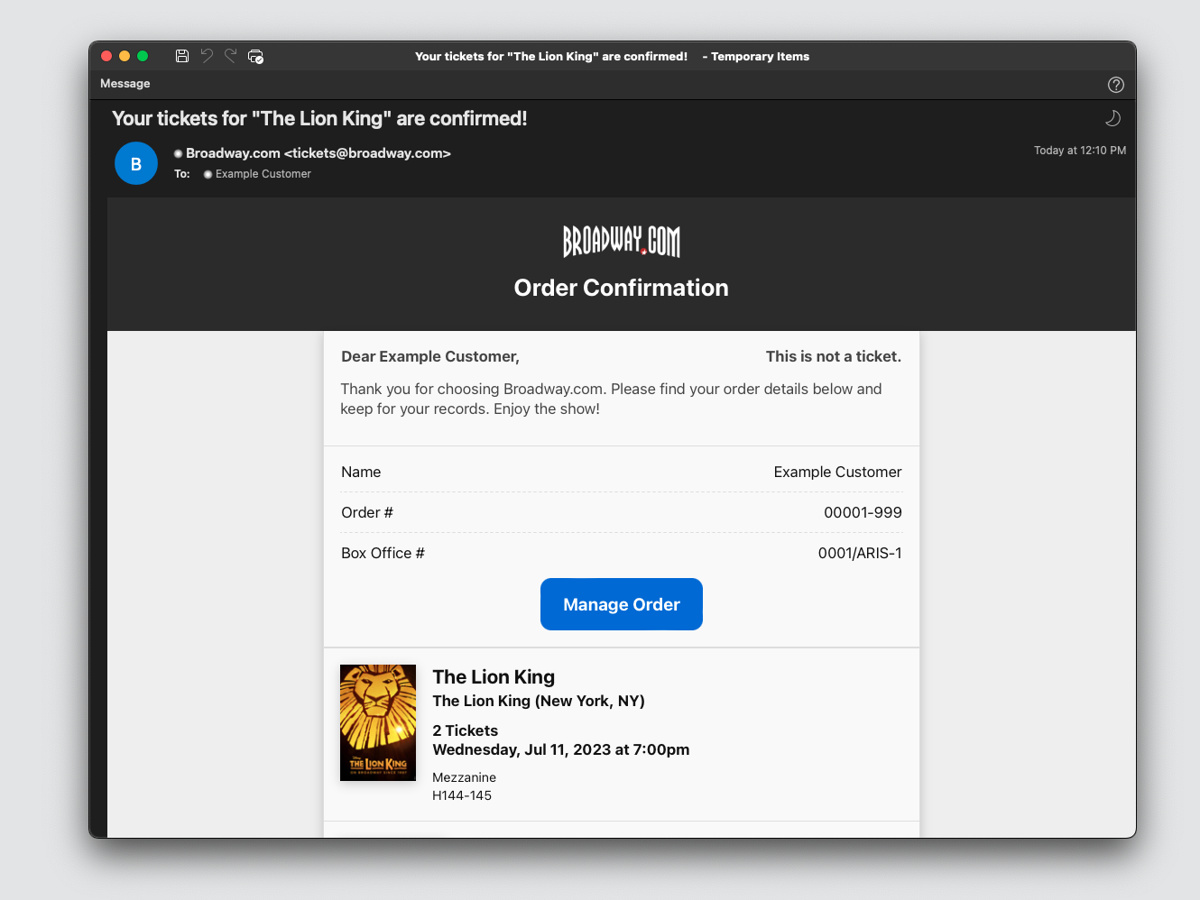 Terrific, you're going to a Broadway show!
Manage Your Broadway Ticket Order
After receiving confirmation, you can then manage your order by using our Order Management feature, also called My Order in the header and footer of the website.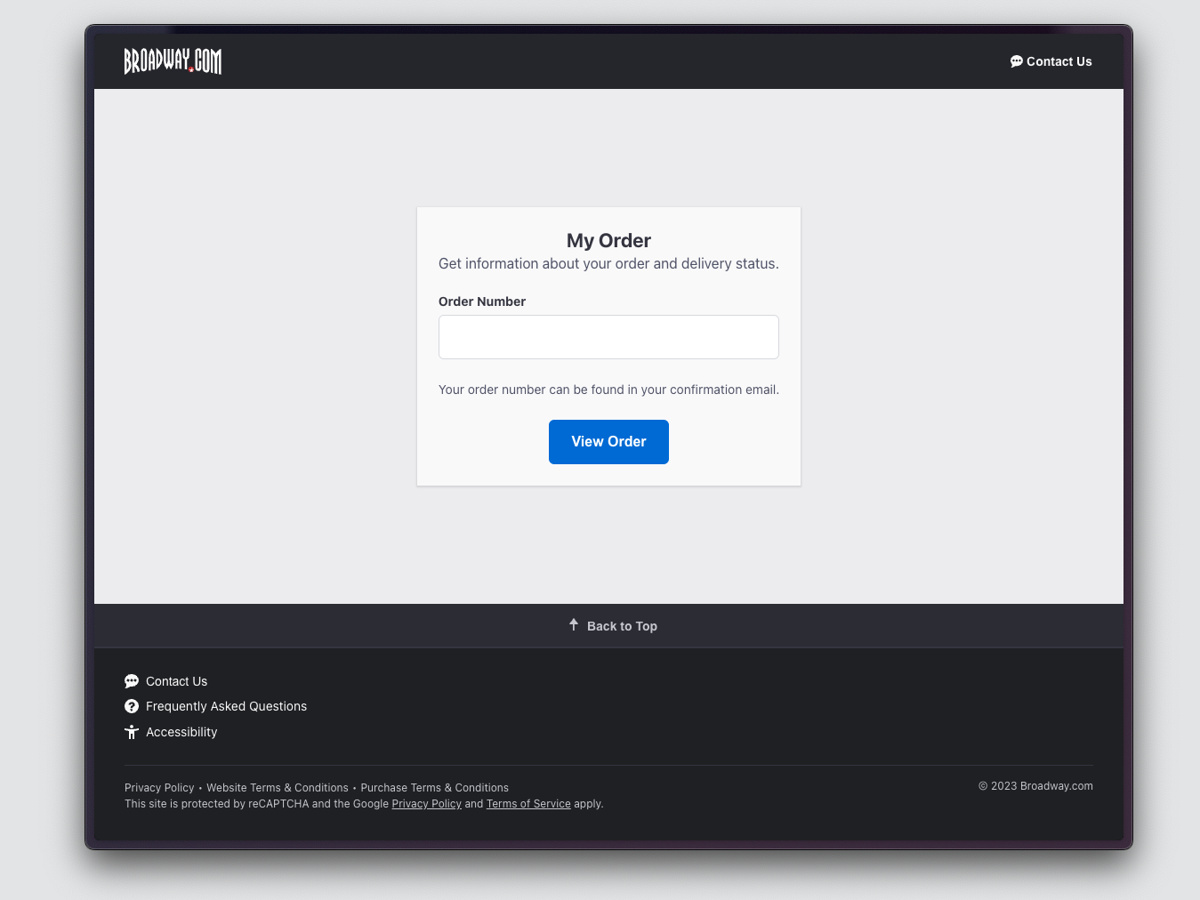 Here you can log in to our secure Order Management section of the site to view the status of your order, view tickets, make updates to your order, and contact customer service.
Enjoy the Show!
And that's it! You secured your tickets; now you can relax and prepare to enjoy a fantastic Broadway experience.
Friendly reminder, whether you purchase online via our website or app or by talking to one of our customer representatives at 1-800-BROADWAY, all tickets are 100% guaranteed and supported by our terrific customer service team. Thank you for being a Broadway.com customer. Enjoy the show!