Broadway couple Audra McDonald and Will Swenson are readying to head down the aisle, and life has been quite different for the pair since Swenson finished his Broadway run as a drag queen Priscilla Queen of the Desert. The Porgy and Bess star recently stopped by Broadway.com's Show People with Paul Wontorek and revealed her home life with Swenson is going splendidly now that he's no longer dousing himself in glitter every night.

"It's growing back," the five-time Tony winner said of Swenson's body hair, which was on full display during his Tony-nominated turn in Hair. "He had a couple weeks off and we were up at the house. He was chopping wood and growing out his beard, growing out his legs and his chest hair. For me it's like, 'Ooooo this [is a] man! I've got a man!'" McDonald said with a laugh. "Not that I didn't before, but I had a man who sometimes was more clean shaven than I was. Now I've got this manly man around the house chopping things up and working on the house. It's great and he loves it."

Swenson isn't the only furry member of McDonald's family: The couple is busy training their new rescue puppy, Georgia. "She's very difficult, but we love her," McDonald said of the frequently misbehaving dog. "We sent her to this boarder to train her for two weeks. She came back and we thought, 'Oh she'll be so well behaved!' Not only did she come back unchanged, the woman gave us back our money [and said sorry]."

The couple however has a last resort plan to finally get their puppy under control: Georgia is set to train with the New Skete monks of Cambridge, New York. For over 40 years the religious group has "nurtured their deep love for and spiritual connection with dogs, and developed their expertise in dog training and breeding," according to their official website. "Georgia's going to go be with Jesus for a little bit!" McDonald said with a laugh. "We're saying, 'Georgia got into divinity school!' We're so excited. If Jesus can't fix Georgia, then nobody can."

See McDonald in her Tony-winning star turn in Porgy and Bess at Broadway's Richard Rodgers Theatre, and check back on Broadway.com on July 26 for her full Show People interview.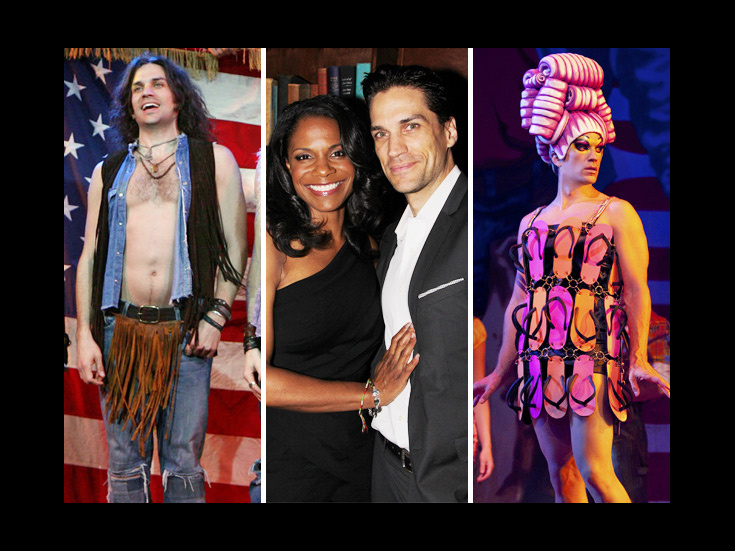 Audra McDonald & Will Swenson flanked by production shots of Swenson in 'Hair' & 'Priscilla Queen of the Desert'