Debra Winger reigned as one of the biggest movie stars of the 1980s, but she has zero interest in rehashing her brilliant career. A decade ago, the three-time Oscar nominee lent her name to the documentary Searching for Debra Winger, which explored the role of women in the entertainment industry, but she insists that she never took a "break" from Hollywood, choosing instead to concentrate on writing, stage acting and raising two sons (Noah Hutton, a 25-year-old director born during her marriage to actor Timothy Hutton; and Babe Howard, her 15-year-old son with actor Arliss Howard, her husband of almost 16 years.) Winger is now co-starring with Patti LuPone in the world premiere of David Mamet's The Anarchist, and the plainspoken actress recently chatted with Broadway.com about her Main Stem debut, career regrets (too few to mention) and dream roles.

Welcome to Broadway! How are you enjoying your debut so far?
Well, I always wanted to be shot out of a cannon and land in a bucket [laughs]. That's what it feels like most nights: a very small bucket.

What was it about The Anarchist that lured you to Broadway?
I was attracted to the play, and the play happened to be on Broadway. For me, it's always the text, so I looked at these words. And when you get an offer from Dave Mamet, and it's Broadway, and it's this play and you're gonna work with someone like Patti LuPone, if you say "no," you pretty much have to face the fact that you don't want to do this anymore.

The offer was too good to pass up.
Yeah, I really had to say "OK," because most material makes me feel ambivalent at best.
This play touched you?
It intrigued me. "Touched" might be the wrong word for it, but it sparked whatever it is that makes you want to understand something deeply. I really believe that the theater is one of the last refuges for polemics. I think we've lost news; we've lost television as a place that delivers true argument or dialogue. Liberal stations and conservative stations—it's all defined and predigested. So to have polemics in the theater is sort of taking it back to the Greeks, you know? And this is a kind of tragedy, in my eyes, as opposed to a drama.
You and Patti LuPone are on opposite ends of the spectrum as a parole officer and a '60s radical serving a life sentence.
Each night is an incredible dance that feels different; that's the nature of the piece. And if we succeed, Patti and I, in delivering David's argument, [audiences] leave not with an opinion, but with a bigger question. That's what I'm shooting for, not "I think she should be paroled" or "I think she should be in prison." The bigger question is something called "indeterminate sentence," and the case that comes to mind is Judy Clark, who is in the Bedford [correctional] facility for the [1981] Nyack robbery she drove a car for. She's never been sent in front of a parole board, which sounds totally un-American. [In The Anarchist], you come to the theater and see two people bringing up issues that I hope people want to know more about when they leave.

What's it been like to work with Patti?
It's been a dance, and we're in it together. They refer to things like this as "two-handers." It's exactly that. You can't do anything without the other person.

And David Mamet, who is also directing the play?
It's going to be strange when he leaves. We've been a threesome for so long now. This is all new to me, the Broadway system, but I know he's about to leave, and that will be sad for me. I am a "directed" actor, so I go for that response first. It's been a great working relationship.

Did your husband, Arliss Howard, inspire you to perform on stage or offer any advice?
Well, he made it possible. I don't think I ever would've believed I could do this without him. That goes for having my child [15-year-old son Babe], as well. It was kind of like when I was giving birth and screaming, "I can't do this," and he would yell back, "You're doing it." It's sort of the same as that [laughs].

What did you discover about yourself during your decade-long break from Hollywood?
When people refer to it as a "break from Hollywood," that's really an outside perspective. You didn't see me in a movie so you think of it as a break from Hollywood, but my life was ongoing. I taught at Harvard; I wrote a book; I had a life. I wasn't sitting around thinking, "Gee, why did I leave Hollywood?" I simply wasn't interested in what was being made and what was being offered to me. When they called to offer me this play, I was at a residency painting and writing, so I really don't think about [acting] that much unless I read something and want to say those words. That was always true: I did films where I wanted to say those words.

Did Rachel Getting Married reignite your passion for film acting?
No, because I worked seven days on that film. It was a scene shy of a cameo [laughs]. I love [director Jonathan] Demme, and I loved doing that character, but I barely got my teeth sunk in and it was over. For me, showing up to do a few scenes is probably not the way I'm gonna go. That's certainly a choice one could make, to do small, plum roles. But for me, for what I put into it, in the end it's not worth it.

The 2001 documentary Searching for Debra Winger focused on women's opportunities in Hollywood. Do you think the theater is better at embracing female actresses of all ages and types?
I don't have a vast knowledge of [theater]. But I think the American cinema—and I specify American cinema—does not exactly have an [abundance] of lovely roles. It's a youth-oriented market, don't you agree? So, I think the question answers itself. Was it always this way? I don't think so. If you look back in the '40s, women worked into their 40s and 50s comfortably, and they weren't just playing the mother of a kid who sees a dinosaur [laughs], or the aunt of a superhero, or whatever. There are obviously things bubbling around, and it's different in independent films. But still, rarely is the woman carrying the film.

Do you ever watch your movies like Terms of Endearment or An Officer and a Gentleman when they air on TV?
No. First of all, I don't watch TV as a rule; if I turn it on, it's to watch something [specific]. But I do know that they're like wallpaper. You're too young to remember this, but when VHS first came out, they used to have a tape that was just fish swimming, so your TV was like an aquarium. [Those movies] are like the aquarium to me.

Do you have any regrets in your career?
No. I don't know what regret looks like, because how would I be here today, doing this [play], with the family I have and all the beautiful moments in my life without everything being exactly as it was? I think I could have been more graceful with some of the aspects of my [career] coming up. But I was pretty young, and I didn't have very good life coaching up till then. I was learning on my feet, and I asked for forgiveness from those I may have harmed.

Are there any stage roles you aspire to tackle? Maybe Tennessee Williams?
Yeah, I have a secret/not-so-secret desire to do Night of the Iguana before it's too late [laughs]. I love the interplay between the Ava Gardner role and the Richard Burton role in that movie. And I would love to be able to do some theater with my husband. We've worked together at the A.R.T., but never in New York.

Any immediate plans after the limited run of The Anarchist?
That's another thing about my overall philosophy: There's not a long-range plan. There never has been, and there probably never will be. There is always the intention to stay awake and to be ready. I think if one is ready in life, everything can happen.

See Debra Winger in The Anarchist at the Golden Theatre.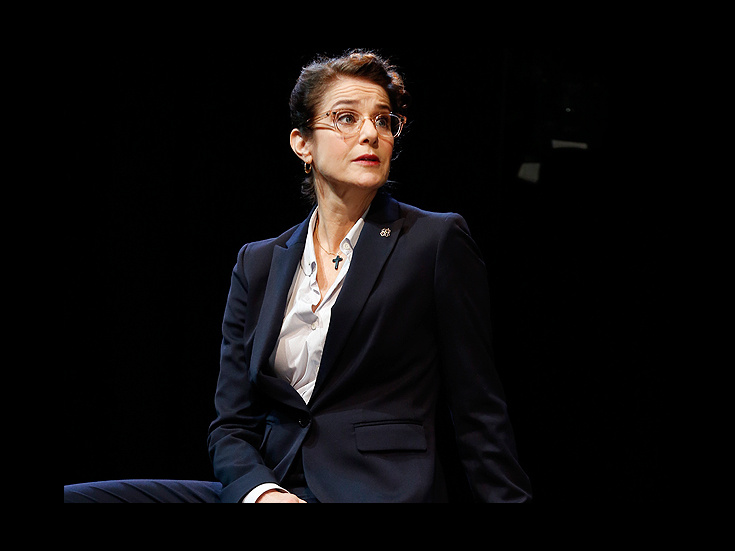 Debra Winger in 'The Anarchist'