It's rare to find a Syrian actor in a starring role in London's West End, but the collective thrill surrounding the New York-bound production of The Jungle involves a multi-national, multi-ethnic cast headed by U.K.-based Ammar Haj Ahmad. This portrait by writers Joe Murphy and Joe Robertson of life in the recent migrant and refugee encampment (the "jungle" of the title) in the northern French port town of Calais casts 36-year-old Ahmad as Safi, who functions as our guide and chronicler throughout the production at the Playhouse Theatre. Ahmad joined Broadway.com for an illuminating and eloquent chat not long after opening night about what this play means to him.

How do you feel to have gotten this production to the West End, after various workshops and then a sell-out run during the winter at the Young Vic?
When I think about what has happened, of course I'm amazed. We built this show sensitively and with care and it meant so much to those of us working on it that we sort of knew it would do something to the people experiencing it. I'm always amazed how art can affect us all—the art of storytelling and story-making and its impact on society.

Can you and your castmates sense from the immersive nature of what co-directors Stephen Daldry and Justin Martin have come up with just how much of an impact the play is having nightly?
The thing about The Jungle is that it has become this experience that we do together—actors and audience—so it's really incredible to see people when they leave at a loss for words. They leave with so much emotion, and their body language is way stronger than any words.

Do you feel that especially acutely, given that your character gets the closing speech?
Yes, I've got that last monologue as Safi when I stand and talk to people and sometimes I am restraining my tears while watching other people's tears. It's not a moment you can manipulate, and you can't be strategic about it. It's about being aware that this play is bigger than us as individuals or as groups.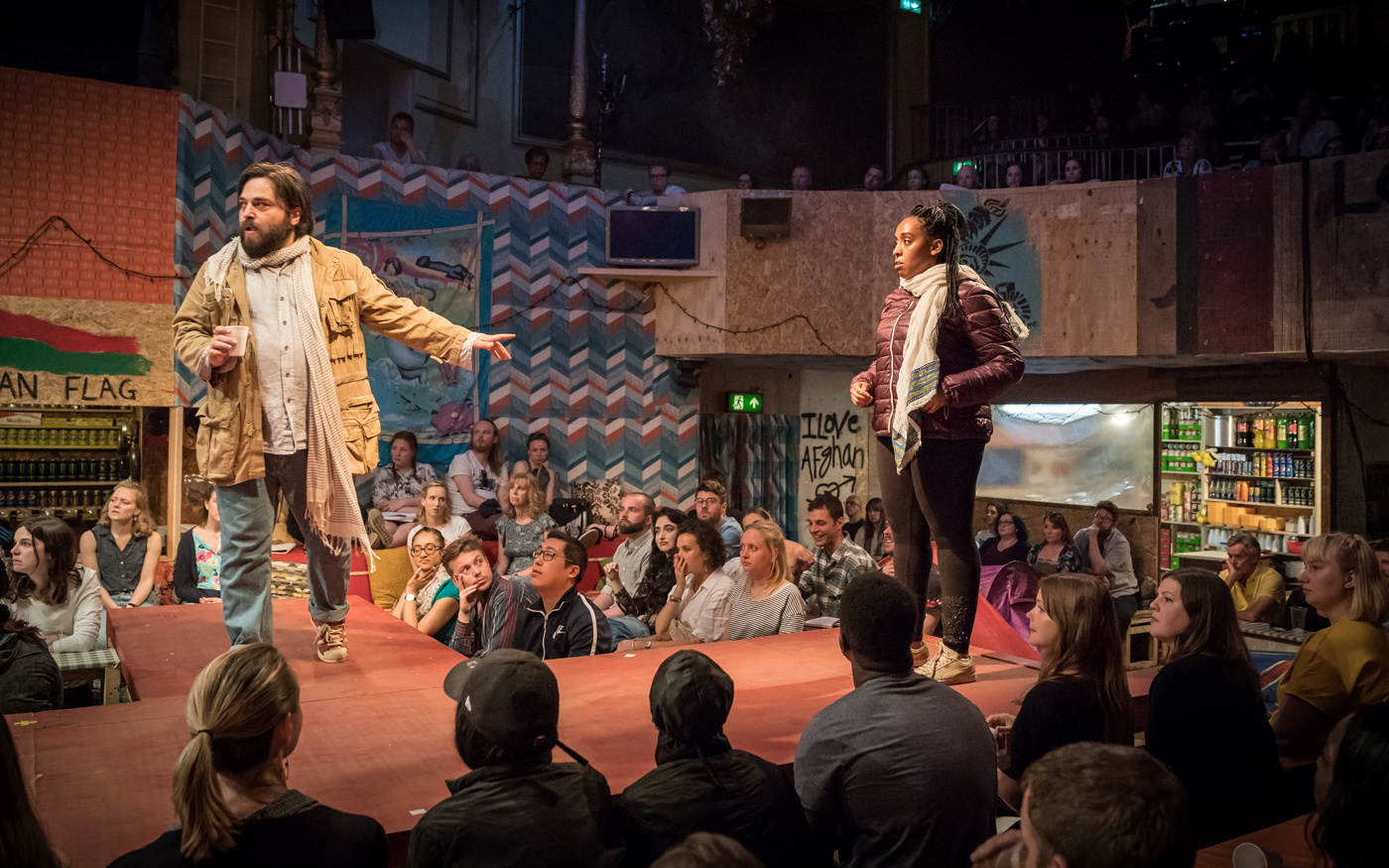 How do you and your castmates keep up the necessary intensity eight shows a week?
The commitment comes from the story itself. Sometimes, I get ill or my voice may be a little bit tired but that's fine. What it does to me to do a play like The Jungle is that just as I need to sleep when I get home, so that I can also wake up and think, "Oh my God, this experience is so humbling; I need to get back to the theater today and do the same thing."

Is there a sense that the cast, which includes (among many others) the British actors Dominic Rowan and Alex Lawther alongside a Sudanese musician (Mohamed Sarrar) and Iranian Kung Fu Master (Yasin Moradi), are all working as one?
Very much so. We've learned on this play the importance of being committed to the story and to the other actors and to the audience. If the sense of community is not there on this stage, the play fails; the audience comes to watch a group of actors and finds that they are living with a community.
What can you tell us about the evolution of your character, Safi, who is the one to take us into the bustling, sometimes bruising landscape of the Calais encampment which designer Miriam Buether [a 2018 Tony nominee for Three Tall Women] has re-created for London audiences?
Well, he's one of the camp's residents, to start with. I have a very, very early draft of the play where he was based on a real character but then as new drafts came to the table, the character became closer to me—even though I myself was never in the Jungle.

Was it a careful and deliberate process from page to stage?
There were eight workshops and I was part of every single one; six of these were a week and two were just one or two days. But I think all of us, at whatever point we joined, felt the excitement first off of working with a great man, Stephen Daldry. He was really able to bring us all to the same place every day and with one aim only—to tell this story.

Had you arrived in London before this encampment was even built?
Yes, I am a Syrian refugee and have been in England seven years, during which time I was invited to go to the Jungle but said no. I don't have to have been there to feel as if I know Safi thoroughly from the inside: he's the narrator who tells us what happens and he is in a way the most generous person in the camp, but he also knows that with love can come abandonment; I understand his arc.

Were you surprised that two Englishmen [the play's co-writers Joe Murphy and Joe Robertson] wanted to immerse themselves in the life of the Jungle so as to tell its story?
There have been people who've said, "Oh, two white male graduates from Oxford are writing a play about the Jungle??" But when Joe and Joe went to Calais, they made a theater [Good Chance] in order to help those people who had arrived to tell their stories and so that they could breathe. What they did was open a space for others to feel safe, and that in itself is remarkable. At the same time, you're never going to please everyone. I had someone come to me and say, "A Syrian narrator is not exotic for us; I'd rather have a black African male narrator"—to which I could only reply, "You go make a play, and I'll be happy to come and watch it."

The Jungle is going to New York towards the end of the year to St. Ann's Warehouse in Brooklyn: How do you feel about that?
All of us—all of us—want to go to New York and share this. Safi's performance is to do completely with love and really giving hugs to the audience and inviting the audience to open their hearts, and that's what the play needs to do in America: it's a play that reflects love and life, life and love.

Are there concerns that the Trump travel ban will make it difficult to retain the current cast for the New York run?
That's the funny thing: As a Syrian being in the Middle East, as soon as I was a kid I thought to myself, "If I have a passport someday, I would love to go to America." And if I now find myself in a position where an immigration officer doesn't want me in, that's maybe going to be the saddest day of my life.

Are you finding joy in the meanwhile in the play's continued success in London?
It wasn't long ago that I had never even heard of the West End and didn't know who [producer] Sonia Friedman was. Those times have changed and what more can I tell you? I don't have the words to thank the people who came together to make this play.