Only hours after The Band's Visit won 10 Tony Awards, including Best Musical, the production announced a new leading man in the role of Tewfiq. Of course, he wasn't that new, Sasson Gabay had starred in the 2007 international hit film on which the musical is based. On June 26, the Israeli actor took over the role from Tony winner Tony Shalhoub in the acclaimed musical, and has been conducting the show, so to speak, as the gruff police band leader since. "Now I've made it a full circle with this part," he tells Broadway.com. "And here I am. I wouldn't believe it." Even more full circle: His youngest of five children is about to enter into the Israel Defense Forces, and he plans to join its military police band, playing the bass.
Sailing in on Radio Waves
When Gabay was just three years old, his family fled from Baghdad to Israel as part of the 1951 emigration [Operation Ezra and Nehemiah] of the Jewish people. "I don't have memories from there, only stories of my family," he says. Gabay's oldest brother died earlier this year, and he says he regrets not being able to travel back to Iraq with him, since he was the only sibling old enough to remember their original home. Gabay was the only one of the four children who became interested in theater, and growing up in the city of Haifa, his curiosity about performance piqued while listening to plays on the radio. "I didn't have enough money to to to buy tickets to a theater," he says. "I think this was my first encounter with drama, because as a kid, you listen and your imagination is working."

Theater of War
As a teenager, Gabay put on small sketches, so when he was drafted into the army at 18, he thought he would try to complete his service in the military's entertainment group. They rejected him, and he ended up working in the investigation and military police unit. When he finished his service, he went to study theater and psychology at Tel Aviv University. "I wasn't sure that I was good enough to be an actor," he says. "Now I'm on Broadway! What can you say?" Gabay later served as a reservemen in the entertainment group of the Israel Defense Forces during the invasion of Lebanon in 1982. "They don't like you. They come and go. They leave. They want to sleep," he remembers of the audience of combat soldiers. "If you can make it with the army, you can make it anywhere."
"The Dream Dreamt Me"
Gabay has appeared in major films—like Rambo, TV series like House of Saddam and Polishuk and in Israeli theater such as Oliver! and Peter Pan—but, he says, making his Broadway debut hadn't been on long-term goal. "Every actor has dreams inside. We dream many things, some of them too much, some of them stupid," he says. "Maximum, I thought about West End in London. I didn't dream about Broadway. But the dream dreamt me." One day, he would like to approach some classic works on the American stage like Who's Afraid of Virginia Woolf, which he lead an Israeli production of as George. "That could be a one wonderful play to do," he says. "Death of a Salesman... A lot of modern, classical drama that I would love to approach here."
Source Material
Now that Gabay, an original star of The Band's Visit movie, is on hand at the musical, cast members might use him as a resource. "I was amazed by the way I was received," he says. "They looked at me with appreciation because all of them saw the film, I can imagine. And they looked at me as somebody who who knows the origin of the of the play that they are they're doing." He also brings his knowlege of the Middle East to the show. "I came to something that I knew, that I feel," he says. While practicing the Arabic accent of Tewfiq, a character from Egypt, he got some familial inspiration: "I was hearing my late father speaking English in an Arabic accent. And I took this and I brought it to the part. This combination of things made me feel close to the man and know him."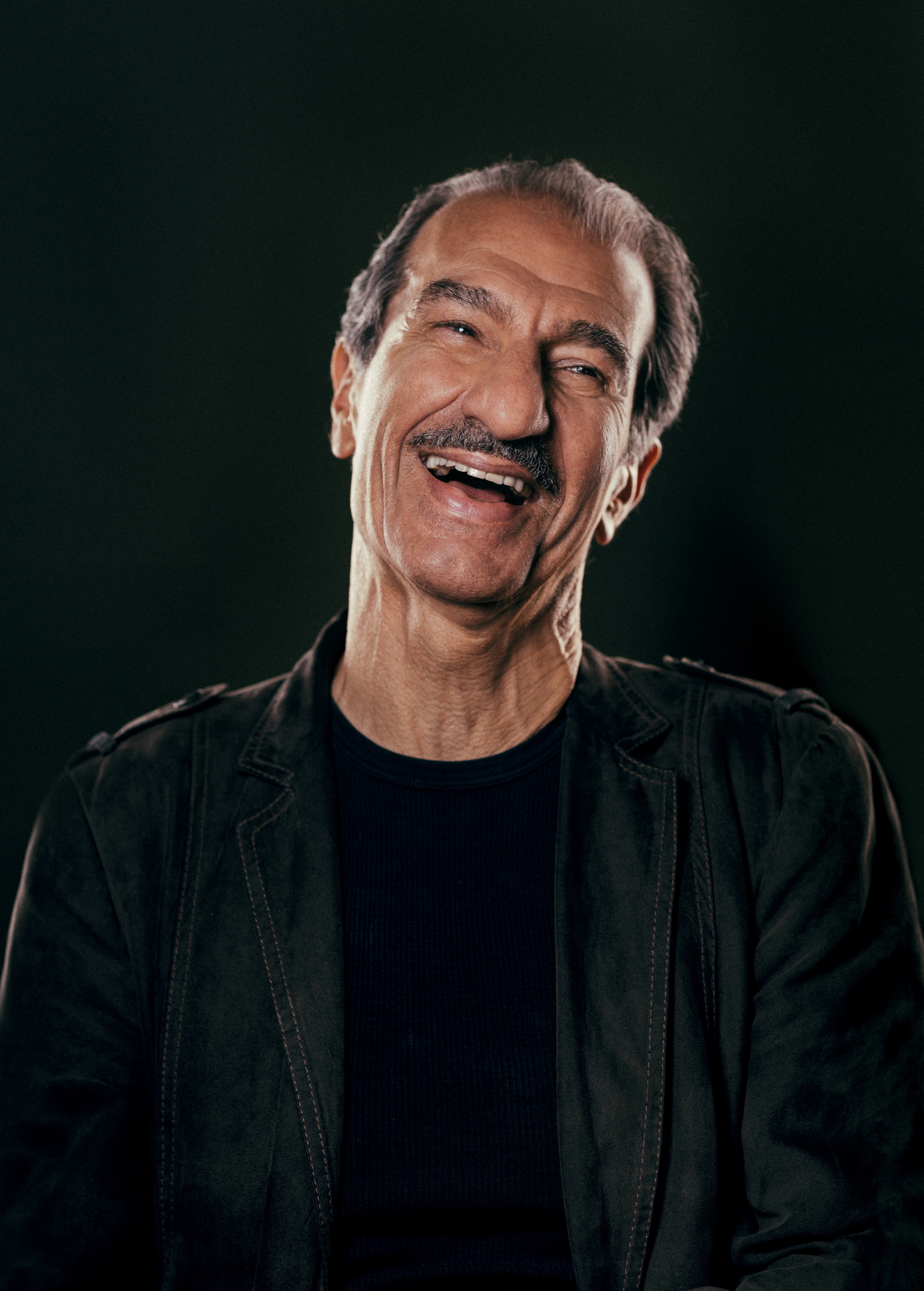 Tewfiq Take Two
Donning the blues of Tewfiq over a decade later reminds Gabay of how much his career, and himself, have changed. "Tewfiq was with me, as a matter of fact, because it's one of the parts that was very dear to me," he says. "Meeting him again, it's like meeting an old friend that you haven't seen for years, but you still love him and still you know him." So, then, how does that change the way Gabay approaches the role on stage? "I got matured," he explains, "so he's got more weight of years, more burden of experience. I went through things in the years since I've done Tewfiq in film, so he is more dramatic in a way. In the film itself, the character has suffered a tragedy in his life, and it's a burden on his shoulders, and all his life is dictated by it."

Coming to America
Gabay has been to the United States only as a visitor, and his year-long contract with the show will be his first extended stay. His wife works as children's book author and stays with him in the city on and off, but otherwise he's here alone. "The work is very essential in my life at the moment," he says. "And I am lucky to be surrounded by this wonderful cast." While he's well-known in Israel, he has enjoyed relative anonymity in the States. "There's some quiet. There's some good things in it. I can go around mostly unnoticed, which is very nice," he says, though he notes he's still recognizable to some. "The Israeli people who meet me in the street are jumping at me, so I'm not totally a loner, but I feel OK with it."