The fall theater scene is kicking into high gear with an exciting crop of plays, revivals and new musicals hitting the stage. The Broadway.com 2018 Fall Preview highlights the stars and shows of the new season.
---
This time last year, Michael Urie, Jack DiFalco and Ward Horton were days away from beginning performances in what would become an acclaimed off-Broadway production of Torch Song, a fresh adaptation of Tony-winning scribe and original star Harvey Fierstein's Torch Song Trilogy. That Second Stage production starring Urie and Oscar winner Mercedes Ruehl arrives on Broadway at the Hayes Theater this fall. Urie stars as Arnold Beckoff, a gay torch singer on a quest for love, purpose and family in 1979 New York City. Horton plays his on-again-off-again bisexual lover Ed, who struggles with coming to terms with his sexuality. DiFalco portrays David, a gay teenager Arnold takes in as his own nonbiological son. Though the family these men come to form shocked Torch Song's original audiences in the 1980s, their dynamic is one audiences of today know well. The three talents came together to talk about forming their offstage family, Harvey Fierstein's prophecy and why Torch Song's message still matters in 2018.
This production was so well-received off-Broadway. How does it feel to be getting back into rehearsals with each other?
Ward Horton: It's like that feeling of having an audition, walking out of the room once you've let it all go, walking to the subway and before you get in you're like, "Oh, my god! That's what that means!"
Michael Urie: Yeah! There's so many times I think, "What was I thinking? I did that wrong for three months!"
Ward: Having some distance from it, allows you to discover new things.
Michael: We also know each other better. It's a play about people who know each other really, really well. We didn't know each other when we started. So to go back, and to rediscover rhythms now, knowing each other so much more intimately, I think the play will be deeper, and our individual relationships on stage will be deeper.
Jack DiFalco: I concur.
Can you guys tell me about when you first met, and what that was like for you?
Jack: So I first met Michael in the audition room.
Michael: But you didn't remember me.
Jack: I didn't know who he was. I thought I was reading with somebody who was just, you know, there to read with me.
Michael: Some random guy.
Jack: The first day of rehearsals, I said, "Hey, good to meet you." He goes, "We already met."
Michael: You were like, "Congratulations! You got it!" I'm like, "No, you got it." I had it! [Laughs] But, you know, you had a lot going on. It was the final callback with Harvey Fierstein in the room.
Jack: Were you in the room when I had the whole conversation about Subway with Harvey?
Michael: Subway sandwiches?
Jack: Yeah. I vividly remember having a 10-minute conversation with Harvey about Subway sandwiches and how much we love them.
Michael: Well, they're delicious. What's your favorite Subway sandwich?
Jack: Ooh, anything with cheese and maybe a little bit of chicken and bacon.
Michael: Oh, chicken bacon ranch?
Jack: There it is!
Michael: That's my favorite. Send them to our green room, please! At the Hayes Theater on 44th street!
Ward, what do you remember about meeting the guys?
Ward: It was a nerve-racking experience! It's actually kind of a funny story about me getting the role.
Michael: Oh, that was very cool! You have to understand—this role of Ed is such a specific kind of a guy, that, in many ways, we don't have anymore. He is a product of his time and place, and so it was really hard to find somebody who was all of those things.
Ward: He's like Arnold: looking for love and looking for a family. He, unfortunately, is getting in his own way. He's in this on again off again relationship with, really, the love of his life Arnold, but as a gay man back in the 70s, it's really hard for him to come to grips with that.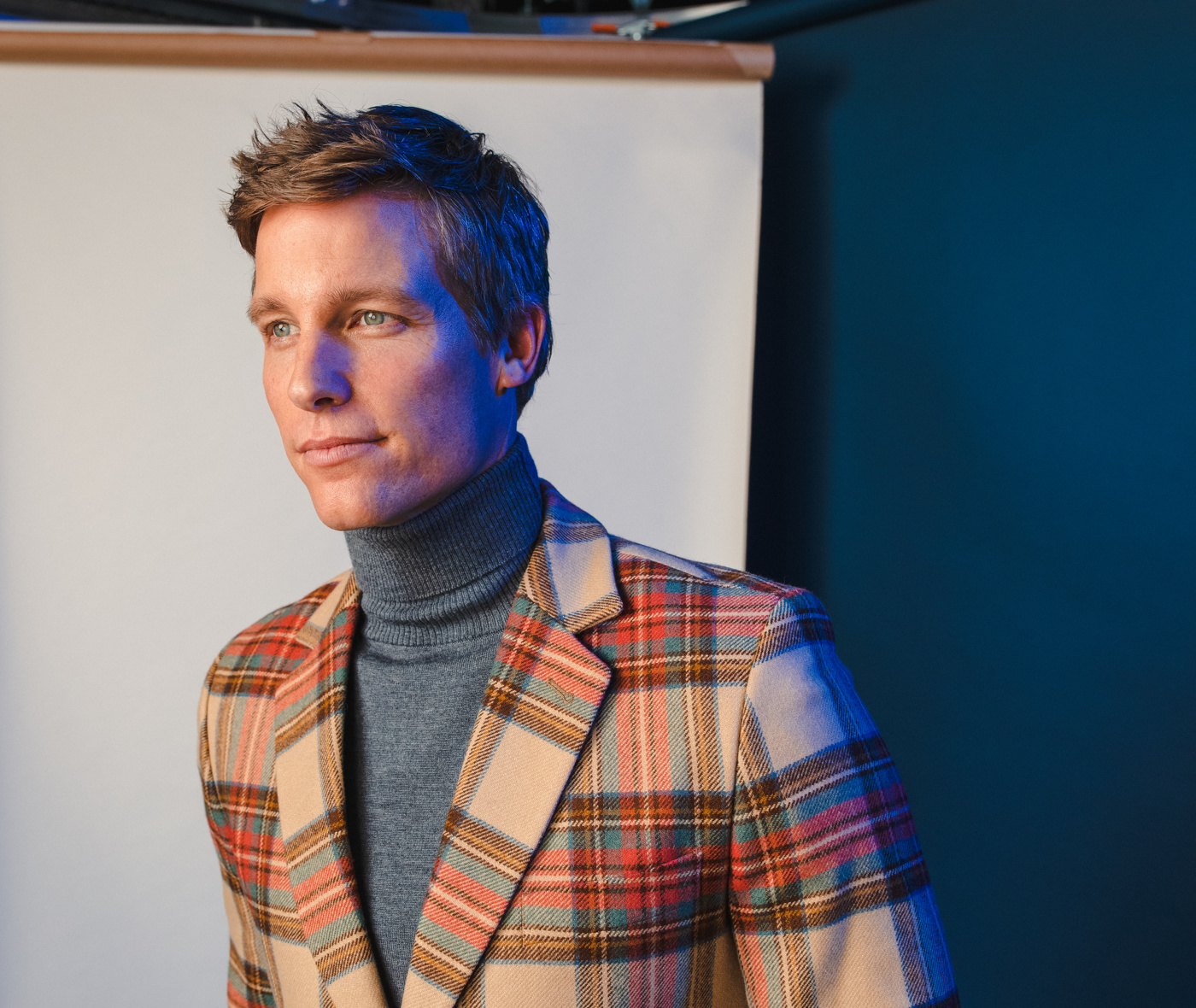 Michael: There was always something missing when great actors would come in and read for Ed. When Ward came in, it was so clearly perfect. The air changed. I didn't know him, and neither did Harvey. He left the room, and we all agreed immediately. Moises Kaufman said, "I want to tell him right now." I was like, "Hold on a second. This happens?!" Because this is the kind of thing you hear about when you're an actor in show business: "They gave me the role in the room," or "They followed me into the parking lot, and I got the job!" That never happens!
Ward: Moises says, "Ward, could I speak with you for a moment? Grab your bag." And I'm like, "This is over. He's going to say thank you for coming in." He offers it to me in the hall because he didn't want to do it there in front of the other people. So that was that.
Michael: And on the other hand, the role of David—he was a character that didn't really exist at the time. Harvey created this character, but he wasn't somebody that we knew. Whereas, I think there were lots of people like Ed in the 70s and early 80s when Harvey wrote the play. Now, we've come to a place in the LGBTQ community where there are lots of characters like David, who are young, strong, street smart, out kids. We saw a wide variety of different kinds of Davids. We play father and son, but we're not biologically related. So it didn't really matter if we looked alike or seemed alike, but they needed some kind of spark between us. Jack was the guy. We also needed somebody who is funny and a good actor. We do eight shows a week. You have to have chops! And so when that guy passed, Jack got the job.
Jack: Stop! [Laughs] But yeah, David's unapologetic about being himself.
That's an interesting point that there are more young people like David now. The family dynamic between Arnold, Ed and David does feel very modern. Can you speak to that?
Ward: Harvey took a lot of heat from the LGBTQ community when he first wrote Torch Song Trilogy. The gay community felt like he was trying to fight for them to be like heterosexuals. But that's not what he was doing. He was fighting for them to have the choice.
Jack: He foresaw gay adoption, which is just something that was never thought about! People didn't think, "Oh, a gay family can raise a kid. A gay family, that's the right place for a kid."
---
"The gay community felt like Harvey Fierstein was trying to fight for them to be like heterosexuals. But that's not what he was doing. He was fighting for them to have the choice."
---
Michael: That's the stuff that was like science fiction to people. When audiences looked at it in the early 80s, the idea that a gay man could adopt a son and raise that son with another man was ludicrous. Now, today, when audiences watch our version of the play, that is not shocking. It's when mom comes in and starts to tell Arnold that he is unnatural, that he doesn't deserve any of these things, that his lifestyle is disgusting. The audience, every night, gasps. It's shocking to them that anybody would say this. But that was normal to audiences in the 1980s productions, because that was the way that people talked about it. There was a woman who came backstage during the run at Second Stage. I don't know who she was. I don't know how she got there! But she said she was a psychiatrist during the time when the play takes place. And she said, "We said those things. We spoke that way."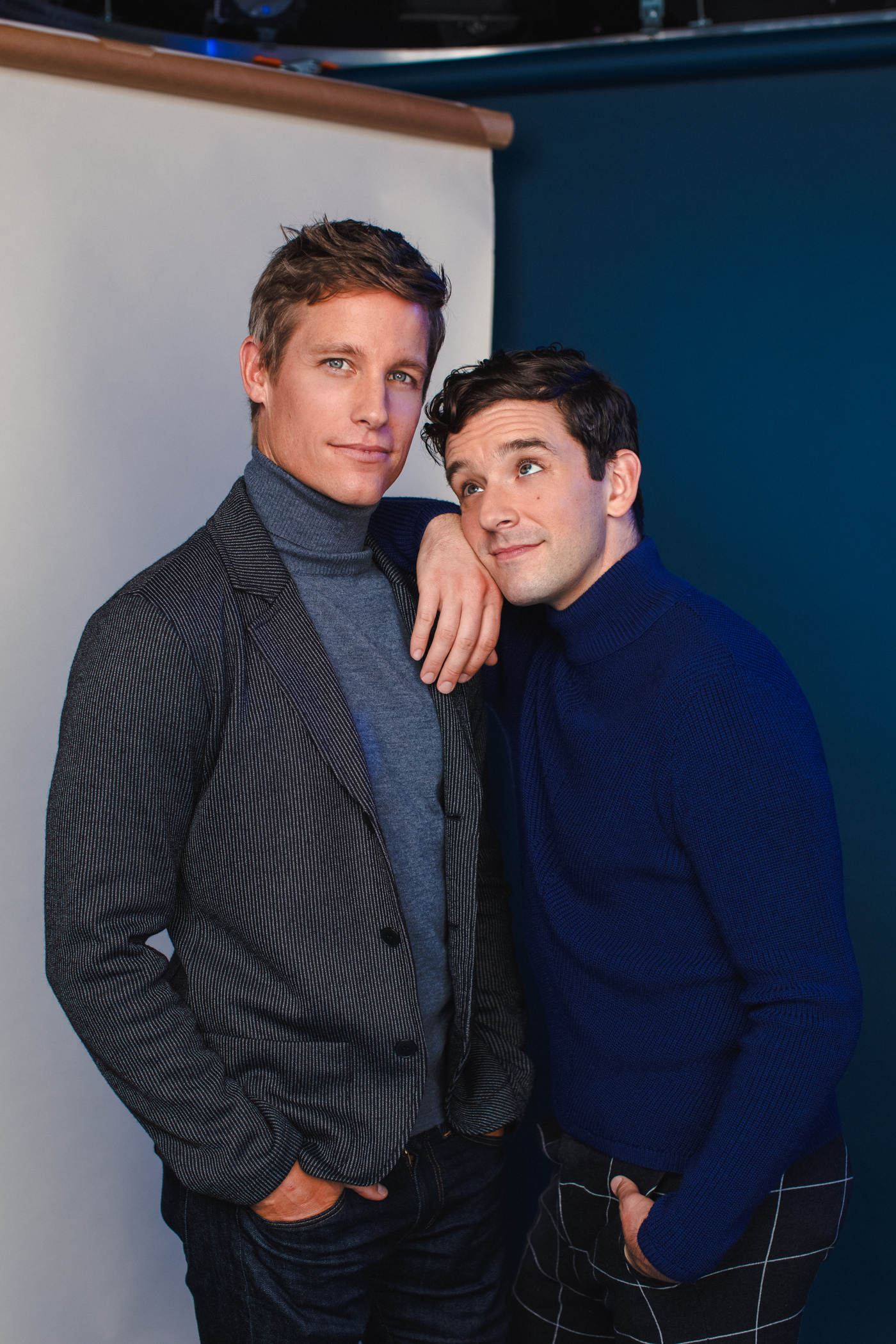 Ward: There's a line in the play where Arnold says, "Ma, David is gay." And her response is the biggest laugh of the entire night: "But he's only been here six months!" I actually was watching an old interview with Harvey. They had a little clip of that line back at La Mama. It didn't get the same kind of laugh because that's how people thought back then.
---
"When audiences looked at it in the early 80s, the idea that a gay man could raise that son with another man was ludicrous."
---
Speaking of Harvey, what has it been like to have him in the rehearsal room on this journey to Broadway?
Michael: Working with Harvey has been not only delightful because he is a truly mensch-y guy, but also, I feel inspired by what he has done, not only as as a creator, but as a writer, an actor and an advocate. Torch Song, La Cage aux Folles, Casa Valentina and Kinky Boots—he's helped to tell these stories to a mainstream audience. It's given me hope in the ways in which we can tell stories.
Ward: He really was a prophet. He foresaw something that was impossible at the time. He talks about the fact that what Broadway allows you to do is create, let you physically see, what can happen. People can sometimes imagine something, but they don't know what it's going to look like. He was able to do that. He was able to put that out there for people to see, to visualize.
Jack: One of the things that I love about Harvey is how he approached this whole topic with humor. He brought people together in a theater, and now everyone's laughing together and enjoying this family that's on stage that they've never seen before. And they're learning from it.
Michael: Right. At the end they're in love. They're in love with this family.
Jack: It's hard not to fall in love with them.

Photos: Caitlin McNaney | Makeup: Morgan Blaul | Styling: Carlton Jones | Wardrobe: Agnes B

"Torch Song" begins previews on October 9 and opens on November 1 at the Hayes Theater