Although it wrapped up a record-breaking run at the Old Globe Theatre on October 21, The Heart of Rock & Roll is definitely still beating. Chart-topper Huey Lewis, and show conceiver/producer Tyler Mitchell confirmed to Broadway.com that the jukebox musical is moving forward with a Broadway bow.
The Heart of Rock & Roll premiered at the Old Globe, where it received strong reviews and broke the record for highest gross per performance at the popular San Diego theater, a launching pad for many Broadway hits. In addition, the show was named the fourth-highest-grossing show in the history of the venue. "We've had an unbelievable run in San Diego," said Mitchell, confirming plans for a January 2019 New York City workshop of the musical. "We wanted to go in and put on the best show we possibly could and we did. Now we want to bring the show to New York, take it to Broadway."
"Who doesn't want to bring their show to Broadway?" added Lewis.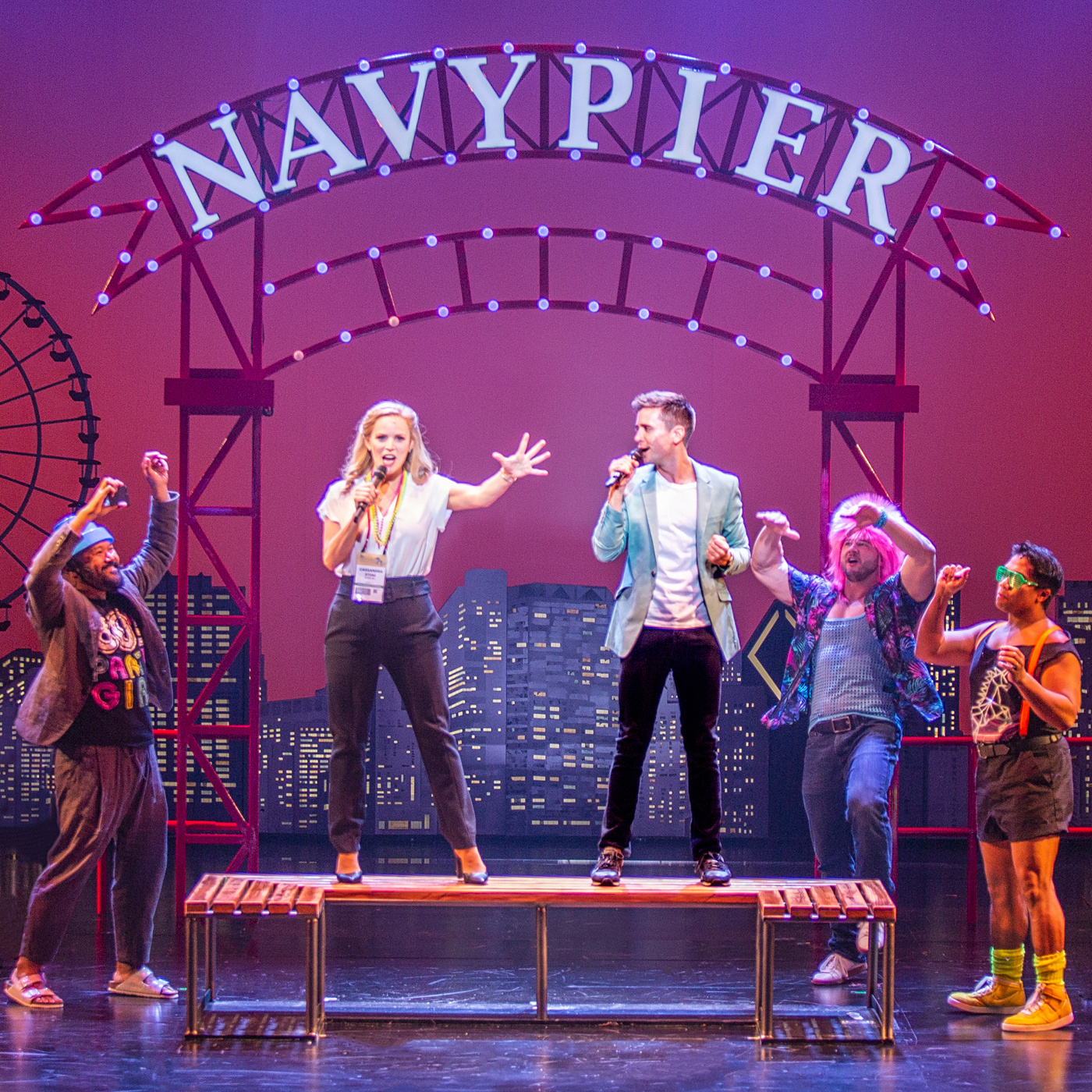 The Heart of Rock & Roll is a new musical comedy inspired by the music of Huey Lewis and the News, featuring hits like "The Power of Love," "If This Is It," "Hip to Be Square," "Working for a Living" and the hit title song. With a book by Jonathan Abrams based on a story by Abrams and Mitchell, the show tells the original story of Bobby (The Book of Mormon's Matt Doyle in the premiere), who trades in dreams of rock stardom for a suburban corporate job at a box factory, where he falls for his very unavailable boss Cassandra (Wicked and Miss Saigon vet Katie Rose Clarke).
Directed by Gordon Greenberg (Broadway's Holiday Inn) with choreography by Lorin Latarro (Waitress), the Old Globe premiere also featured Tony nominee John Dossett, Patrice Covington, Paige Faure, F. Michael Haynie, Orville Mendoza, Lucas Papaelias, Zachary Noah Piser and Billy Harrington Tighe.
For Lewis, the Old Globe production was the culmination of a long development period. "Putting together a musical is like a Rubik's Cube," he says. "It's been an eight-year process. This is the first time we truly realized this show. It was amazing to watch it grow up. Now I know we can make it even better."
With Beautiful: The Carole King Musical, Head Over Heels, Summer: The Donna Summer Musical and The Cher Show on the boards and Moulin Rouge! The Musical, Ain't Too Proud: The Life and Times of The Temptations and Tina: The Tina Turner Musical on their way, Broadway musicals featuring chart-topping hits are all the rage. Lewis isn't a stranger to Broadway—he played Billy Flynn in Chicago for stints in 2005 and 2006—and has long considered creating a show of his songs.

"Several hundred people told me to do a musical," he joked. "Tyler and Jon brought this script to me and it felt like the place to start. It has nothing to do with my story, but what I think is neat is the personality of my characters is the same as the music."
Mitchell thinks the message of Lewis' catalog is connecting with audiences. "So many of the songs are about hard work—honest working people," he said. "They're incredibly grounded."
"Some of them are even funny," added Lewis, with a laugh.
"People can relate to the music," Mitchell continued. "It's fun rock and roll—and yes, it's funny—and the songs touch you. It's a combination of all the emotions. And it's about having to do what you really believe in and that story is striking a chord."
Watch a video trailer of The Heart of Rock & Roll below!