Though Michael Urie is probably best known for playing Marc St. James on Ugly Betty, he has a long list of stage credits. Now, the talented actor is reprising his role as Arnold Beckoff in Harvey Fierstein's Torch Song on Broadway after an acclaimed off-Broadway run at Second Stage last year. The role was originated and immortalized by scribe Fierstein, who played it off-Broadway in the late 1970s, in its Tony winning Broadway incarnation in 1982 and in the 1988 film. Urie is putting a fresh spin on the part, and he stopped by Show People with Paul Wontorek to talk about making the role his own, his take on the great Patti LuPone cell phone snatch of 2015 and much more.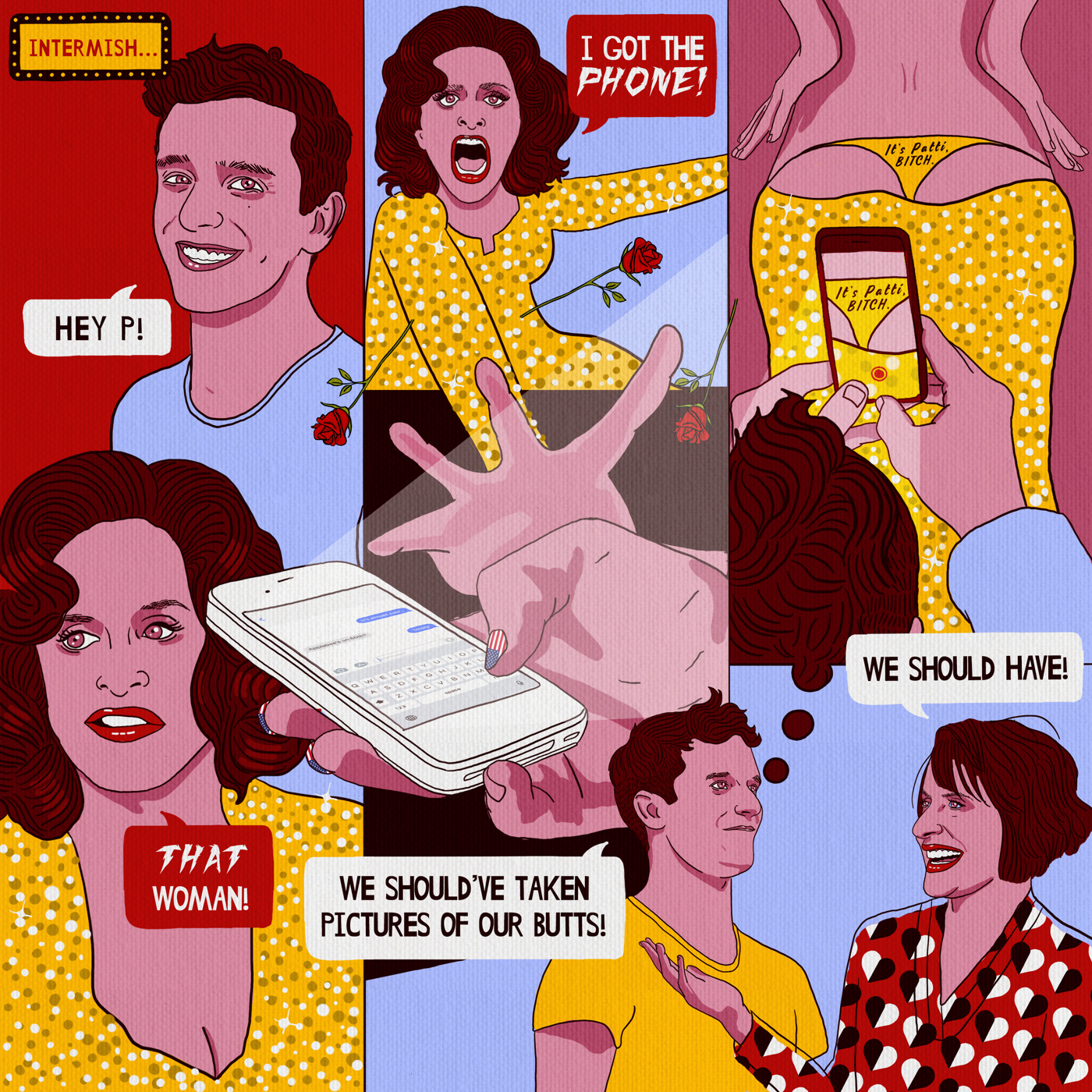 1. HE HAD A CHEEKY SUGGESTION FOR PATTI LUPONE DURING SHOWS FOR DAYS
"There was this woman—and I couldn't see her in the first act, but everybody else saw her. She was texting. Everyone was so mad at intermission. I heard about it from other people, and then I went and checked [in with Patti]. I was like, 'Hey, P. I heard that someone's texting.' And she's like, 'That WOMAN!' And then, the second act started, and I saw her. I was like, 'That woman came back, and she's still texting!' At the end of that scene, Patti had this grand exit. That night, she let the exit go. She went right up to that woman, grabbed the phone and ran offstage! She got offstage, and she goes, 'I got the phone! What do I do now?' They ended up giving it back to the woman, but I think we should have taken pictures of our asses. I still regret that we didn't keep it and take pictures of our asses with it. When I told Patti that, she was like, 'Oooooh! We should have!'"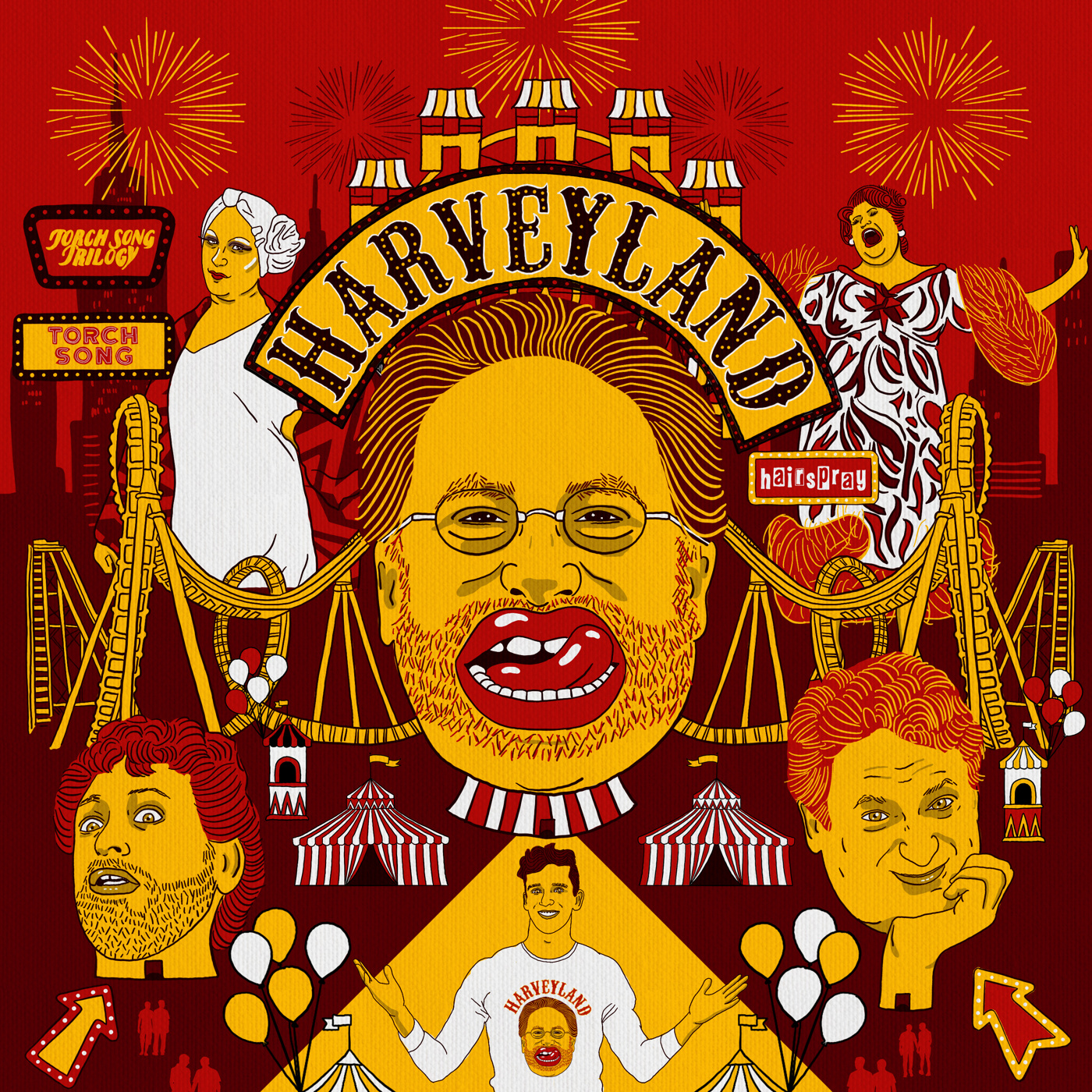 2. TAKING ON TORCH SONG HAS LANDED HIM IN HARVEYLAND—AND HE LOVES IT
"Harvey Fierstein is a huge part of my life. We text. What's great about Harvey is not only did he write the play, but he's an actor. He understands what it's like to play a show over and over and over and over and over again. Torch Song totally launched him. He became what he is and what we know now."
3. HE'S COMMITTED TO A LIFE IN THE THEATER
"I hope to be on stage as long as I can. I did Hamlet in Washington with the Shakespeare Theater, and this wonderful actor named Keith Baxter played the ghost of Hamlet's father, the Player King and the Grave Digger. He's 84, 85. To watch people of that age on stage is so thrilling because of all of the experience they've got. Keith Baxter worked with Orson Welles and John Gielgud. I want to be that. I want to be the guy who's 85 years old and a young actor says, 'You know, he worked with Patti LuPone and Mercedes Ruehl. Can you believe that? And now he's here. He's still doing it!' I'm going to do crossword puzzles and keep my brain sharp and eat vegetables and stay strong. Of course, I want to be on TV again and in movies. But I never want to not be on stage."
Other must-read highlights:
ON HIS EARLY DIRECTING DREAMS
"I directed The Fantasticks in high school. Before I decided I wanted to be an actor, I thought I was going to be a director. I directed a bunch of plays in high school, and The Fantasticks was the biggest hit! I was extremely proud and thrilled to do it. What a wonderful show! My first trip to New York, I got to see it off-Broadway at the Sullivan Street Playhouse after I had directed it. And I had some notes. [Laughs.]"
ON MERCEDES RUEHL
"She's a real force. She loves talking about acting. She loves actors. She loves the work. She's probably the most spontaneous actor I've ever worked with. It's the same performance, but it's deeply nuanced and alive. It's dream casting. She's just flawless. We adore her. I'm obsessed with her. She made us margaritas last night in the green room—and they were very strong."
ON TORCH SONG'S OFFSTAGE FAMILY
"It's really like family. We all did it off-Broadway, and now we're all doing it on Broadway. We knew, basically, when we finished or shortly after that, we were going to get to go to Broadway. So we've been in touch. So often you do a play, and then the play ends and you sort of lose touch with people, even if you love them. Because we knew, we stayed in touch, and we saw each other. Mercedes and Roxanna [Hope Radja] came down and saw Hamlet [in Washington, D.C.]. And Michael Rosen, Jack [DiFalco] and I went and spent a weekend at Ward [Horton]'s house. We became family. So, when we started rehearsal again, it was so different because we really knew each other intimately. When we rehearsed it last year, we were pretending to be family, and now we really are. It makes a huge difference."
ON HIS TORCH SONG AUDITION
"My audition was to read the whole play for Harvey with a cast of actors playing the other roles. Which is a gift. Because if I have to go in with sides and audition, that's a nightmare anyway. I'm not very good at that. I probably would have, screwed it up, and so, getting to read the whole play, I did screw it up, over and over again. But I also got things right! I was able to play the whole arc of the character for him. We got to the end, and I thought, 'Oh, I got it.' I knew that I could do it. I could play this role. Harvey gave me a big hug, and he said, [Harvey impression] 'You just wanna wear a dress!'"
ON BECOMING ARNOLD BECKOFF
"Anybody who understands what it means to play a role like this understands that you can't just do Harvey. You couldn't just hire someone to do Carol Channing in Hello, Dolly! or do Barbra Streisand in Funny Girl. I've known this play since I was in high school, and I never saw myself as Arnold. It wasn't until [director] Moisés Kaufman and Richie Jackson, our producer, coincidentally, separately approached me about doing this that I thought, 'Am I Arnold? Could I play Arnold?' Because I always thought it was Harvey. It's got to be Harvey. And if it's not Harvey, then it's going to be someone like Harvey. I just didn't really think about it until it came up. And then I thought, 'My gosh, I guess it could be me.'"
Watch the full episode of Show People with Paul Wontorek below!

Interview has been edited and condensed for clarity.

Did you know Show People is available as a podcast? Listen to your favorite stars talk Broadway and beyond on your way to work, the gym, the theater and more on iTunes and Spotify.