Cynthia Erivo
(Photos by Emilio Madrid and Matthew Murphy; Design by Ryan Casey)
Cynthia Erivo, who scored two Oscar nominations for her starring role in Harriet, will become the youngest and fastest EGOT winner ever if she succeeds at the Academy Awards. Erivo earned the Best Actress in a Musical Tony Award in 2016 for The Color Purple. This week, Broadway.com is taking a look at the stage careers of a few of this year's nominees, including Adam Driver, Jonathan Pryce, Scarlett Johansson, Al Pacino and Antonio Banderas. Some started off in theater, others were film stars first, and a few regularly travel between stage and screen. For more on this year's theater-friendly Oscar nominees, look here.
Keep reading to learn more about Erivo's rise to fame.
The Color Purple (2016)
Erivo was born in London and graduated from the Royal Academy of Dramatic Art in 2010. From there, she entered the industry with a bang; her first major gig was the U.K. tour of Sister Act, as lead and undercover nun Deloris Van Cartier. But it was her 2013 West End turn as Celie in The Color Purple that rocketed Erivo to stardom. Celie is a black woman who survives a stepfather who rapes her and a husband who abuses her.
The Color Purple transferred to Broadway in 2015, with Erivo making her Broadway debut alongside Jennifer Hudson and Danielle Brooks. That show earned Erivo a basket of awards; she won a Tony for Best Actress in a Musical, the Grammy Award for Best Musical Theater Album and the Daytime Emmy Award for Outstanding Musical Performance in a Daytime Program (the latter two she shared with the cast of the show).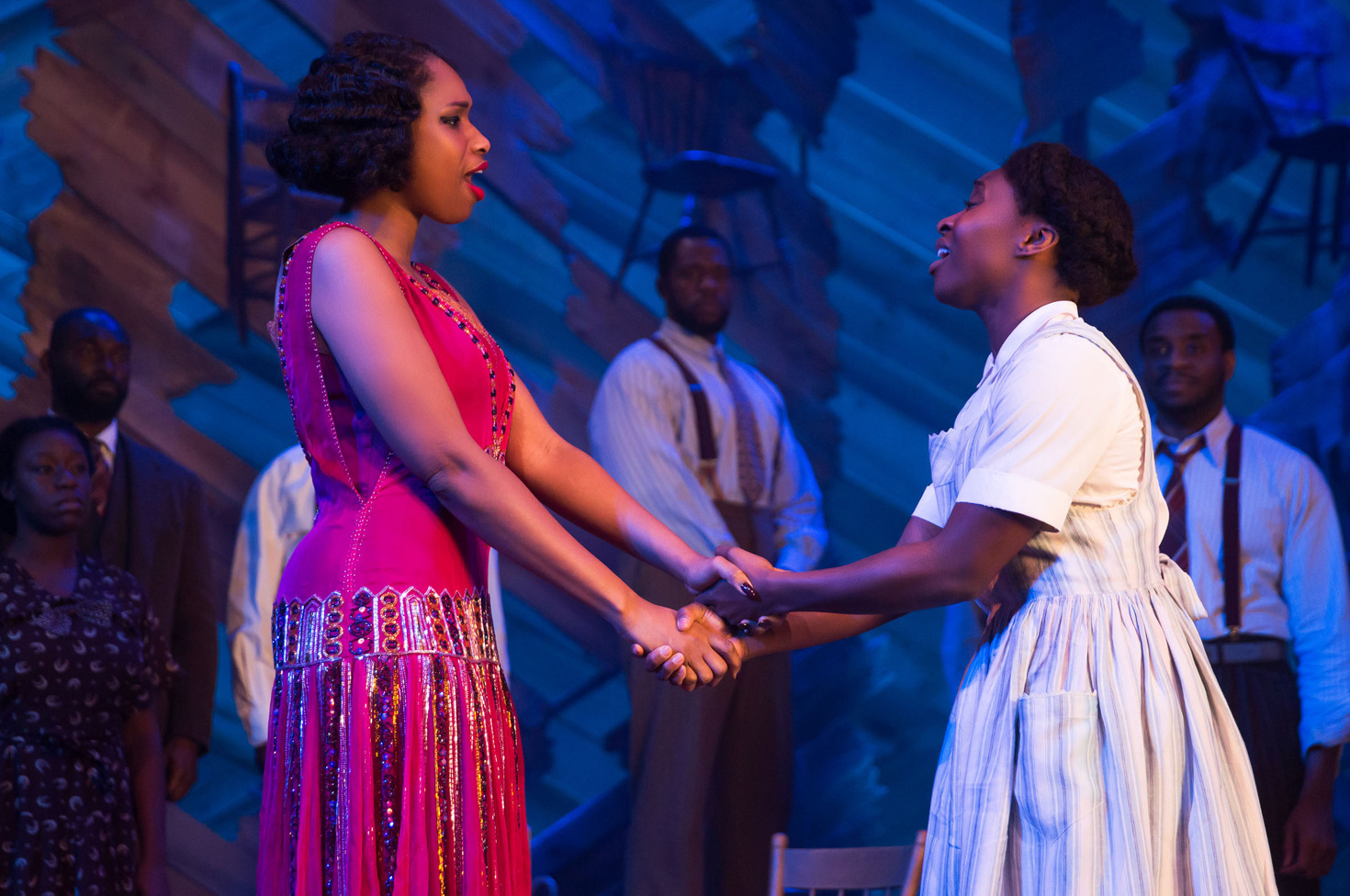 In a 2016 Show People interview with Paul Wontorek, Erivo said that playing Celie—and singing the show-stopping number "I'm Here"—"is like an out of body experience," adding, "I want to make sure that in the moment I'm telling the truth, and if just hearing 'I'm beautiful, I'm here' can help someone, then fabulous. I'm doing my job."
The Color Purple remains Erivo's only Broadway credit. But that show propelled her to a film career that includes Steve McQueen's Widows (2018) and Harriet (2019). Erivo received a Best Actress nomination for playing Harriet Tubman in Harriet, as well as an additional nomination for co-writing the original song "Stand Up" for the film.
"To receive two Oscar nominations for a film paying tribute to Harriet Tubman, a person whose heart and spirit are the embodiment of courage, makes this morning's news beyond anything I could have ever imagined. This is more than a dream come true," she said in a press statement released to Broadway.com. Notably, Erivo was the only black actor nominated for an Oscar this year, something she is well aware of. "It's not enough that I'm the only one," she told the New York Times on January 13, adding, "far too much work was done this year by incredible women and men of color that should be celebrated."
We're looking forward to seeing her perform "Stand Up" during the Oscars telecast on February 9, and crossing fingers that Erivo comes back to Broadway soon (perhaps a revival of The Last Five Years with Joshua Henry?).