Claire Moore was Sarah Brightman's replacement more than three decades ago as Christine Daaé in the West End's The Phantom of the Opera and has rarely been long absent from the London stage in the years since. Having been in shows as varied as Follies both at the National Theatre and in an intimate pub theater off-West End, Moore is now part of the star-packed revival at the Prince Edward Theatre of Mary Poppins. Director Richard Eyre's production casts Moore as the evil nanny Miss Andrew—who is not to be confused with a certain, similarly named musical theater legend, as the delightful Moore explained in conversation with Broadway.com.
This production has become such a West End and touring fixture that I wonder whether you've ever been in it before?
I did the initial demo recording of [the song] "Practically Perfect," but it's taken me until I'm 60 to get into the show itself!
Does this feel like a date with destiny?
It does in a way. Part of the reason I really wanted to do it is that there is a whole other generation of little people in my family—including a great-niece and a great-nephew, who are five and seven—who can come see me being horrible! That's true, of course, of my children, too, except that they are 22 and soon to be 25!
What can you tell us about Miss Andrew—a character whom some playgoers may not know?
Unless you read the Pamela Travers books, you wouldn't know of her existence. She only appears briefly in the second book, and I think they felt with the show that [she] was a way of linking back to the novels—that it would be good to bring Miss Andrew back because she really is responsible for why this family is dysfunctional and why George Banks is so out of touch with his emotions.
Did you seen the original West End production of Mary Poppins with Rosemary Ashe in this role in 2004?
Yes, and I remember her being brilliant, and, of course, I remember Rosie from the days of Phantom [in which she played Carlotta]. I didn't choose to be different to Rosie just to be different, but I wanted to find my own way in [to the role], and Richard [Eyre, the director] was so encouraging about that.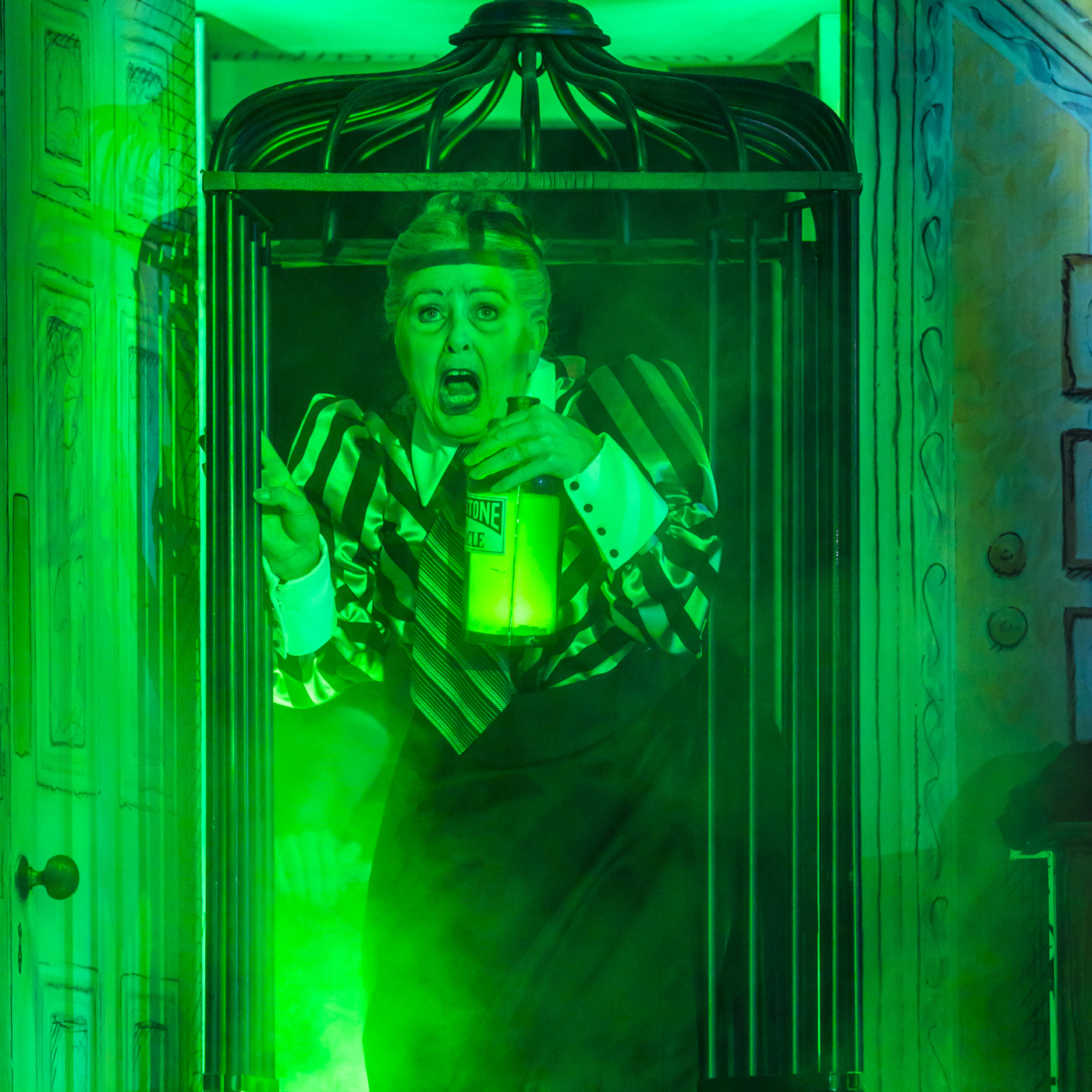 What is your particular take on the character?
I feel as if she's very much a Dickensian woman stuck in the Victorian era when brimstone and treacle was a thing, which is also the name of her big song . I see her as this Squeers sort of character out of Nicholas Nickleby: she's a cruel woman but, of course, she has a back story.
Did you have a prior awareness of her character from years ago?
Mary Poppins was the first film I went to see and I just loved it, but I hadn't clocked Miss Andrew at all. Some people think she's Miss Andrews and that she has been put in as some weird homage to Julie Andrews: what, by creating this gorgon monster? I wasn't really aware of her until I came to see the musical 15 years ago. She's only really in a chapter of the book because Mary sorts her out.
How does it feel to have a role that saves its delights for the second act?
I do dip into a few other cameo parts in the first act, which makes me feel very connected to the company, and then I get this gorgeous 10 minutes in the second act. As Miss Andrew, you're not on for long but when you are on, you have to earn your money! The feeling with her seems to be that if there's a high note, let's put a top B-flat in it, thanks very much. But I thought if Rosie can do it, I'll have a crack.
How do you manage the physical illusions between your Miss Andrew and Zizi Strallen's Mary?
Yes, so much of which involves a levitating bottle! We had a lot of fun working that out and really that girl [Strallen] is amazing. The other night as I was going into my cage, I trod on the back of my huge skirt and had to keep going or I would have got flattened when the door closes. I ended up doing the last bit [of the scene] with my legs in the air!
Will you have lasting memories of stopping the show nightly last year singing "Broadway Baby," when Dominic Cooke's production of Follies returned to the National?
On every level that was brilliant. I got to work with Jo Riding [as Sally], who's such a great friend of mine and was brilliant, and Stephen Sondheim came and was so deeply moved by what he saw. He was so lovely with all of us and was only sad that he wasn't able to share it with Jim [Goldman, the book writer]. He said it was the production that they had always had in their head.
But presumably no one, least of all you, could have envisaged the pub theater Follies in which you played Sally in Clapham, south London , in 2006?
That really was extraordinary. I couldn't imagine how Robert McWhir [the director] could possibly make it work. I said to myself, if he thinks I can do it, let me be part of this.
How do you like working with so many children in Mary Poppins?
All five sets of them! I like being on stage with kids. They're so real and we've had a lot of fun. And, you know, they're the ones who have to look after me because I'm the one at every performance who gets booed!
Because you play a mean character?
Yes, the audience boo me when I come on for my bow and I scold them and then give them a big beam and hope they like me! Right after me comes Petula Clark for her bow, so why hang around?
Does this production further a lifelong relationship with producer Cameron Mackintosh?
Cameron has always been amazing to me. He gave me my first break in Little Shop of Horrors understudying Ellen Greene on the West End and then taking over from her and then I went to the National for a year and came back to the West End to do Phantom. Even now when I walk past Her Majesty's [home to Phantom], it's such an evocative memory. I still have 100% emotional recall of my time as the second Christine Daaé: I could never and can't really believe my luck.