Jon Robyns is no stranger to Les Misérables, the musical phenomenon now in its fourth decade on the London stage. The 37-year-old Englishman played Marius over 10 years ago in the West End and then Enjolras on tour. This month, Robyns graduates to the defining role of Jean Valjean, in the process making history as the first inhabitant of that role at the West End's newly christened and revamped Sondheim Theatre (formerly the Queen's) and as co-directed afresh by James Powell and Laurence Connor. So, there was plenty to discuss when Broadway.com phoned for a chat.
How does it feel to be at the helm of this revamped Les Miz, which replaces the John Caird-Trevor Nunn production that had been running in London since 1985?
That is the most exciting thing about it! Obviously, if I had been Jean Valjean in the previous incarnation, that would have been special, but this does feel as if we've launched Les Miz again for the first time in 35 years—not just the production, but the theater itself, the advertising, the press—everything about this feels like a new show. Les Miz casts, for instance, don't get preview periods, but we had three and a half weeks of previews. This has felt like a brand-new West End show.
As someone who knows the previous production from the inside, were you surprised by the need for a refreshed Les Miz?
There was nothing wrong with the original production, but in a sense, it doesn't matter with Les Miz what type of production it is because what's on the page will always be incredibly good; it will always be genius. That said, the differences with our show are there to be seen: it feels as if it comes from a much more modern sensibility—it's more psychologically introspective and the orchestrations are a lot more modern than before: there were lots of synths at the time and there are none now.
What do you think was the governing aim behind these changes?
The driving force has been about how we can make the story as clear as possible. For people who've seen the show a lot, they know where it's going, but at the same time [the story] takes place over 35 or 40 years and a lot of the characters' names are not instantly accessible, so making it as clear as possible was the remit.
Do you miss the turntable?
I was talking to Killian Donnelly, who played Valjean at the Queen's and did the U.K. tour of the new production and he said, "I used to walk here and now I don't have to walk." When I was Marius, I did trip on the revolve a couple of times, so I can't say personally that I miss it. It was a wonderful narrative tool in that it literally moved the story along, but scenery and lighting can do that, too.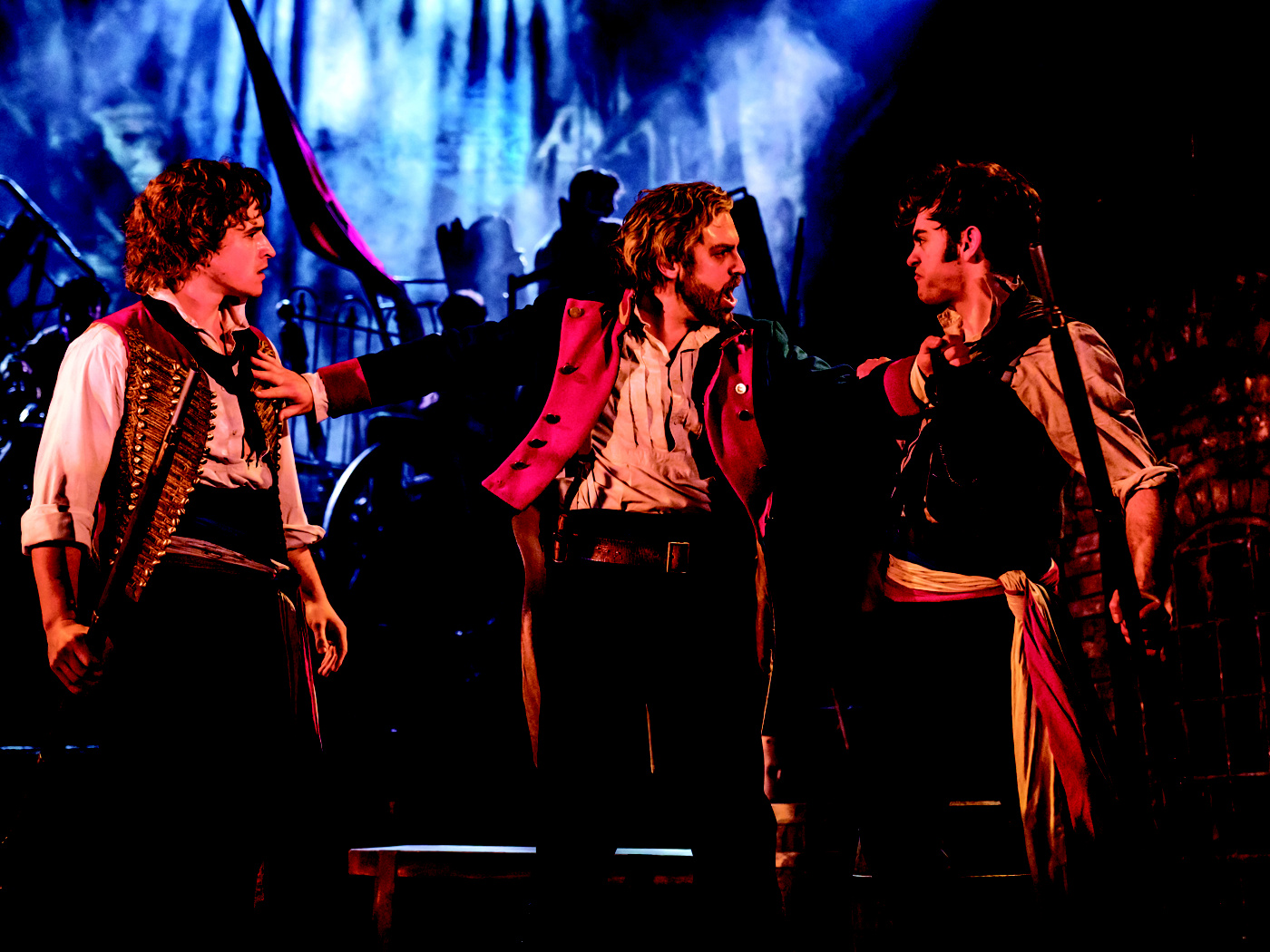 How are you taking to the beard that would seem to be a requirement for this role?
I'm enjoying it because it's winter and my chin is warm! I was looking forward to growing it also because as King George [in Hamilton], you have to look divine in a way, so I had to wet-shave my face every day, which was a real pain. Now I've got the beard and my wife likes the look of it but not the feel of it.
Given the new lease on life provided by this fresh iteration, what do you think the future holds for Les Miz?
When you think that I am one of the third generation of Jean Valjeans, that just speaks to something special about a show that has every reason to continue on indefinitely. There's no reason that the 19-year-old who is in drama training now, as I once was, won't be playing this part himself when he's 40: it's a testament to how brilliantly the show is written.
Isn't it special, though, to have had so direct an involvement from Cameron Mackintosh, the producer, whose love for Les Miz continues unabated over time?
I really feel we are very lucky in that respect to have had the man who was so hands on with the show years ago still be very hands on with this: I don't know how many more creations of Les Miz [Cameron] will be involved with, so that feels like a very lucky thing. Then again, Cameron's mother is 101, so who's to say?
Is there a WhatsApp group for all the Valjeans?
If so, it could be the grumpiest WhatsApp group you've ever known [laughs]! I did speak to some previous Valjeans I've admired to steal their all their ideas, and I also found myself at the end of the staged concert of Les Miz as one of five Valjeans along with Killian and Alfie Boe and John Owen Jones and Dean Chisnall. Apart from Alfie, the other four were sat backstage playing a board game for three hours talking about the part and the show: it was very surreal.
Are you a producer's dream, given your ability to commit to shows over a long run?
Well, I suppose if you put it that way! It's true that I've spent three-plus years on Les Miz , though broken up over time, and I was with Spamalot for three years pretty much consecutively. Most of the shows I've done have been relatively long contracts—the shortest, I think, was a month—but that feels to me like a skill in itself: long runs take a certain mentality.
How does it feel to step into Jean Valjean having not long finished a takeover run as King George on the West End in Hamilton?
From eight minutes in that and now to this was a real gear change, sure. But I knew it was coming for a long time. I had five weeks rehearsals to get into the swing of this. At first it was a bit of a shock but now that everything's calmed down, I feel as if I've got into a routine.
Aren't you ever tempted to try and locate some King George-style laughs in this?
I was desperate to get one in and think I've managed to crowbar in half a titter. More than that isn't really my function in this story.
Do you sometimes think you'd like to take a break from the whole musicals whirligig and do a straight play?
I would love to. But I have to say that there's no difference conceptually to me in doing a play or a musical except that with one you have to sing, so I don't know if I would feel different [in a play]. It certainly doesn't feel any different in the way I run my process.
Do you see yourself perhaps returning once more to Les Miz in time, perhaps to play Thenardier?
I'd quite like to be the first man to play all five principal male parts but that's something for the future. I'm really enjoying what I'm doing now. This is something I have wanted to do for 20 years, and I am getting the opportunity to do it.