Kyle Soller's callback for The Inheritance was one for the books. He walked into a London audition room in late 2017 with a great desire to play Eric Glass, the lead role of the new play. An American actor finding success in the U.K., something spoke to him about the 400-page script, which he'd already leapt headfirst into for an earlier seemingly successful audition for esteemed director Stephen Daldry. That afternoon, he was called back to read for playwright Matthew Lopez.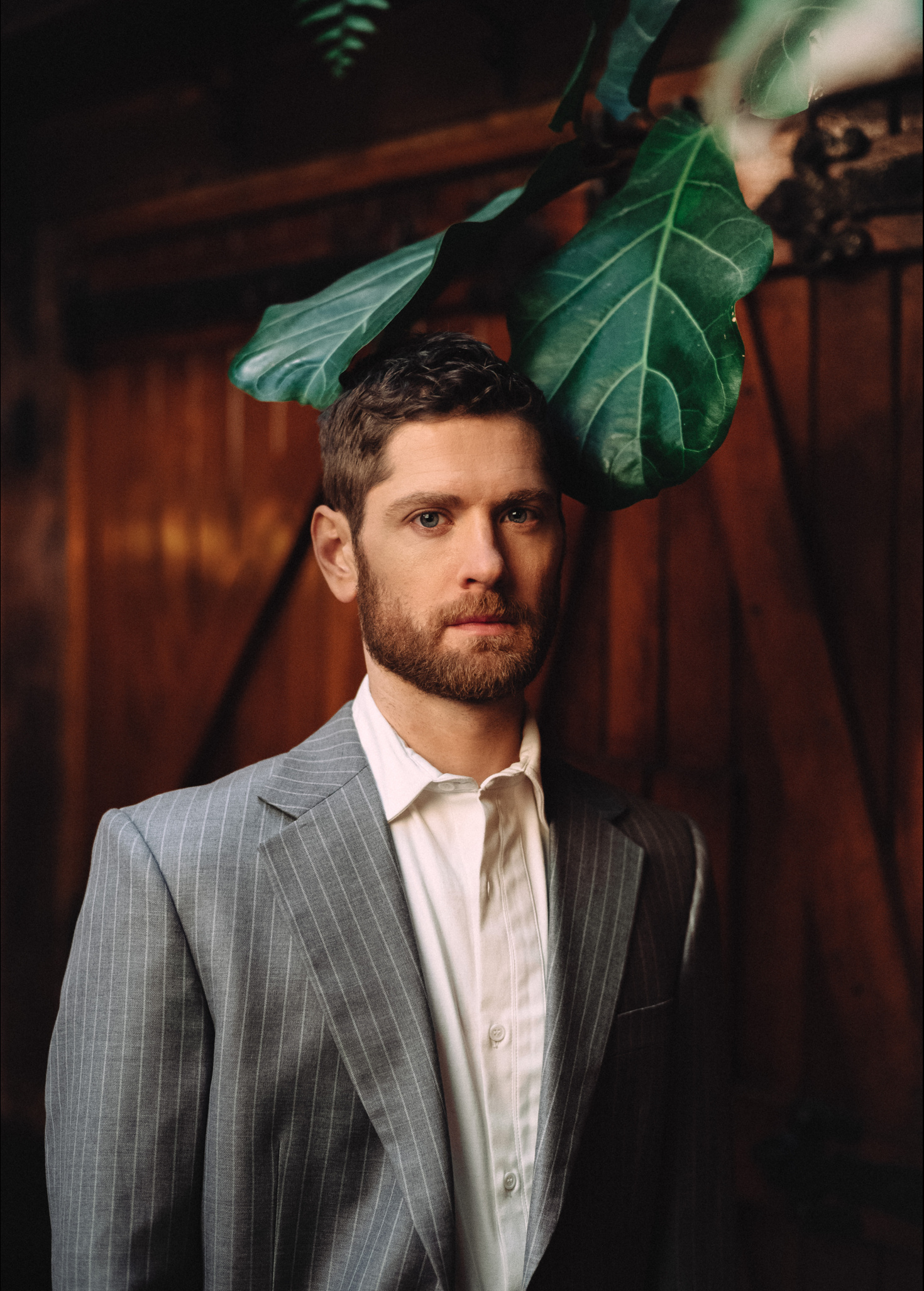 "I wore a retainer at the time," the boyishly handsome 36-year-old reveals. "I was doing the break-up scene and I was acting so hard that my retainer flew out of my mouth and hit the table and fell on the floor." So engrossed in the moment of Eric passionately accusing his lover of being a fraud, Soller didn't miss a beat: "I picked it up, put it back in my mouth and finished the scene. Apparently, Matthew later said, 'Well, that's our guy!'"
The playwright was indeed wowed by how cool Soller remained under pressure, a necessary quality for a performer who must be a commanding presence for six hours of stage time in a six-and-a-half hour story. What Soller didn't know was that Lopez was rattled as he entered the audition that afternoon, reeling from an interaction with an actor who had just performed the role of Eric Glass in a 10-day workshop of the play.
"[The actor] was really fighting me on a lot of the language that I used for Eric," Lopez remembers. "The way Eric employs language, uses it to express himself. He was completely at odds with it. He became very resistant to it, and on that very day of Kyle's audition, told me I've written a role that no one could play." Truthfully, it wasn't the first time Lopez had heard the complaint: "I'd been told by a lot of people—actors, producers, people who read the play—that I was putting an unplayable character at the center of my play, a character who was really inactive and passive and uninteresting."
---
"[At 'The Inheritance'],
the theater becomes a place of learning, a place of healing, a place of grieving."
---
Since Soller performed the break-up scene promisingly—airborne retainer and all—Lopez dug into his hefty script and slid a page across the table, containing one of the allegedly unplayable monologues, asking the hopeful actor if he minded giving it a go. Soller remembered the words from the script and started: "The car turned away, and Eric stood by the hedgerow that protected the property from the road and he stepped for the first time onto the grounds." The monologue, which closes out Part One of The Inheritance, is one of Lopez's richest—filled with beauty in its detail of the moment the character first lays his eyes on the upstate colonial clapboard home he's long dreamed of visiting. Soller finished: "Eric breathed and filled his lungs with the past. It stretched before him now, limitless—the past and the present, mingling together inside this house, inside him."
"He read it cold," Lopez remembers. "And he did it brilliantly and understood it. I knew in that moment I found the right actor to play Eric Glass. Suddenly, in Kyle's hands, all these giant warnings about the role vanished. I believe that Kyle's performance of that speech is the thing that won him the Olivier."
From its Young Vic Theatre debut a few months later, to a smashing West End run and current Broadway transfer, which opened in November at the Barrymore Theatre, Soller's performance in The Inheritance has earned him acclaim, including the 2019 Olivier Award for Best Actor, besting British stage giants Simon Russell Beale and Ian McKellen. (Soller was previously nominated in 2013 for playing Edmund in Long Day's Journey Into Night opposite Laurie Metcalf.)
At the start of the play, Eric radiates warmth and intelligence, and comes off as a kindly, modern New York City gay man. He's also a character with incredible fortune, like a seven-year relationship with a successful author boyfriend and, more remarkably, a sprawling rent-controlled apartment on the Upper West Side that has remained in his family for 68 years. "Eric thinks of himself as a clued-up gay New Yorker," Soller explains. "He has a strong gay community of friends, knows about the Stonewall riots…" But, Soller points out, what he does not have is a sense of place and ownership. When Eric's settled life begins to crumble, Soller says, "He figures out exactly who he's supposed to be."

Key to that discovery is a chance meeting with another gay man: Walter Poole (portrayed by the great Paul Hilton), an older neighbor who shares a deeply personal account of the devastation the AIDS epidemic laid bare on his circle of friends in the 1980s. "Eric says to Walter, 'I can't imagine what those years were like. I can understand what it was, but I cannot possibly feel what it was,'" Soller says, "I think that's true for a lot of people. It's incredibly difficult to imagine walking down the streets of Manhattan thinking, 'When?' not 'If…' It's just staggering."
Those emotions, and the profound friendship between Eric and Walter, are key to Lopez's intentions in crafting Broadway's latest gay epic. Although E.M. Forster's 1910 novel Howard's End offers The Inheritance much of its structure, with Eric standing in for heroine Margaret Schlegel (and Walter for Ruth Wilcox, owner of the titular estate), the notion of generations of gay men (including Forster) listening and learning from the pain and passion of each other's lives is what makes the play poignant.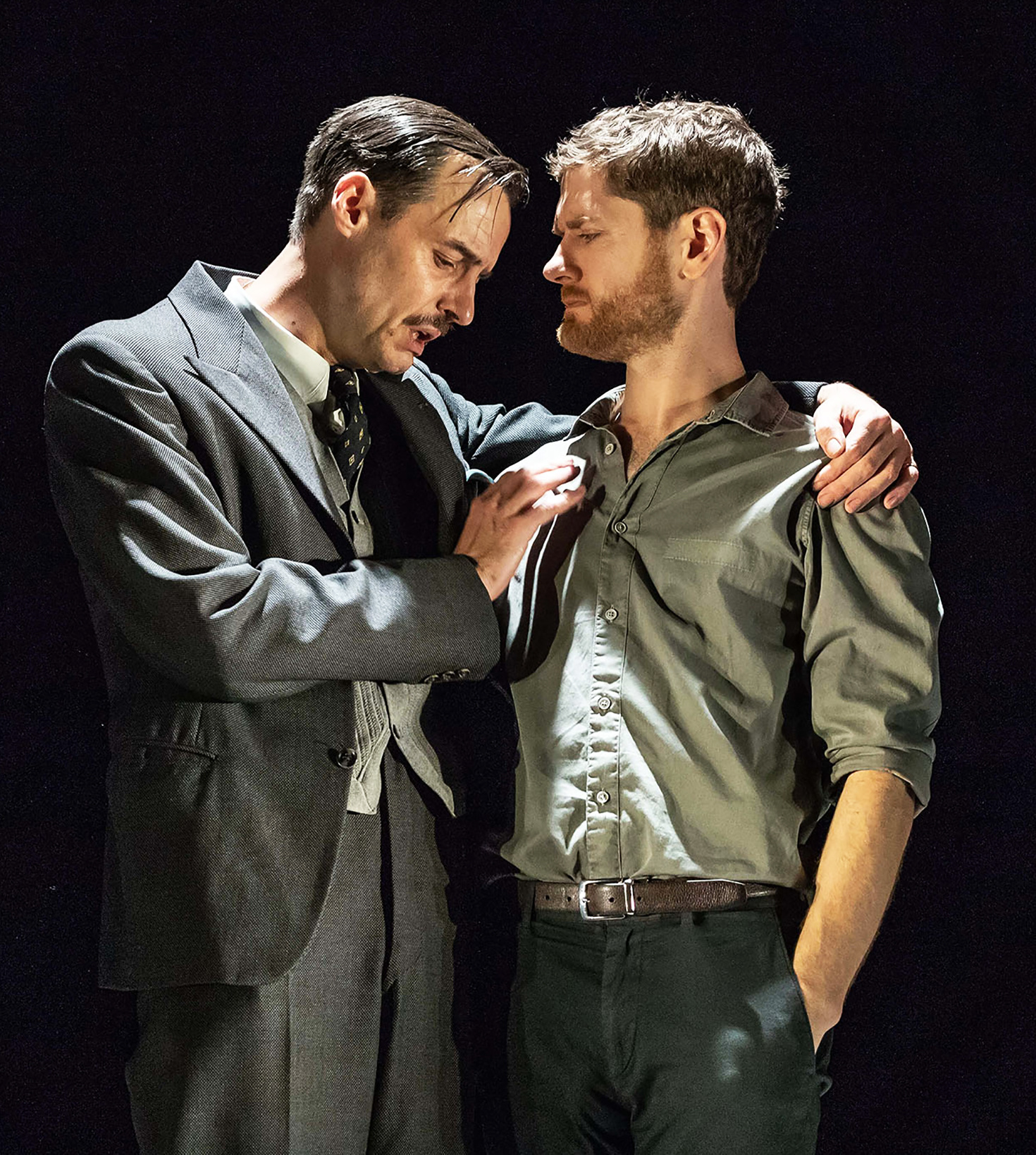 Soller and the entire cast of the show have met many Walters at the stage door after performances of The Inheritance, and have witnessed, according to Soller, the beautiful sight of "20-year-olds holding 60-year-old men." During the show, "the theater becomes a place of learning, a place of healing, a place of grieving," he says. "When we get to the stage door, there's just this outpouring and it's amazing, and also hard. But honoring these people and learning from them, helping them heal, is vital to moving forward as a city, and a community, but also as a people. You're only as strong as the people who are suffering the most."
Although he's become a passionate LGBTQ ally, Soller himself isn't gay. Since 2010, he's been married to British actress Phoebe Fox, an acclaimed stage star known who appeared on Broadway for director Ivo van Hove's 2015 production of A View from the Bridge by Arthur Miller. Soller says his wife would probably prefer to be married to Eric over Kyle, who comes home from the theater spent and needy—"[Eric] probably picks up after himself a lot better than me."
When he landed the role, Soller spent a month immersing himself in the lives of Eric and the other characters. "I did all the things we talk about doing in the play—I went to the Whitney, the Film Forum, the Jewish Museum, gay bars. I spent a lot of time in Sheridan Square [located across the street from the Stonewall Inn] just trying to be a sponge for what was going on and trying to tap into the history of the city." He also devoured a list of movies and books that Lopez offered him and walked West End Avenue, deciding which apartment building Eric lived in. "I got swept up in the play completely," he reveals.
Born in Connecticut and raised in Alexandria, Virginia, Soller enjoyed a childhood filled with the arts, adventure and brotherhood. "I've got five brothers—I'm in the middle—and a large extended family, so I burned myself out trying to please people all the time!" Soller exclaims. Suffice to say, surrounding himself with the mostly-male cast of The Inheritance feels natural thanks to his testosterone-filled adolescence.
Playing with his siblings, Soller became a risk-taker at an early age, and paid the price. "I was in the hospital five times a year," he laughs. "I've got stitches all over my body. There was a game that involved rocks the size of grapefruits being thrown at me while I was running up a hill. It was a really cool game actually! I was really good at it."
Athletics were always balanced with the arts. Soller says he had to learn how to be funny, or "make a lot of noise," to stand out in such a large family. Performing in community theater came naturally and was applauded by his parents, who also encouraged him to pursue an International Baccalaureate Diploma in high school. Sports had to take a back seat when Soller had a baseball accident, breaking both of his wrists. "It was a real universe moment," he remembers. "Things are going to be different after this."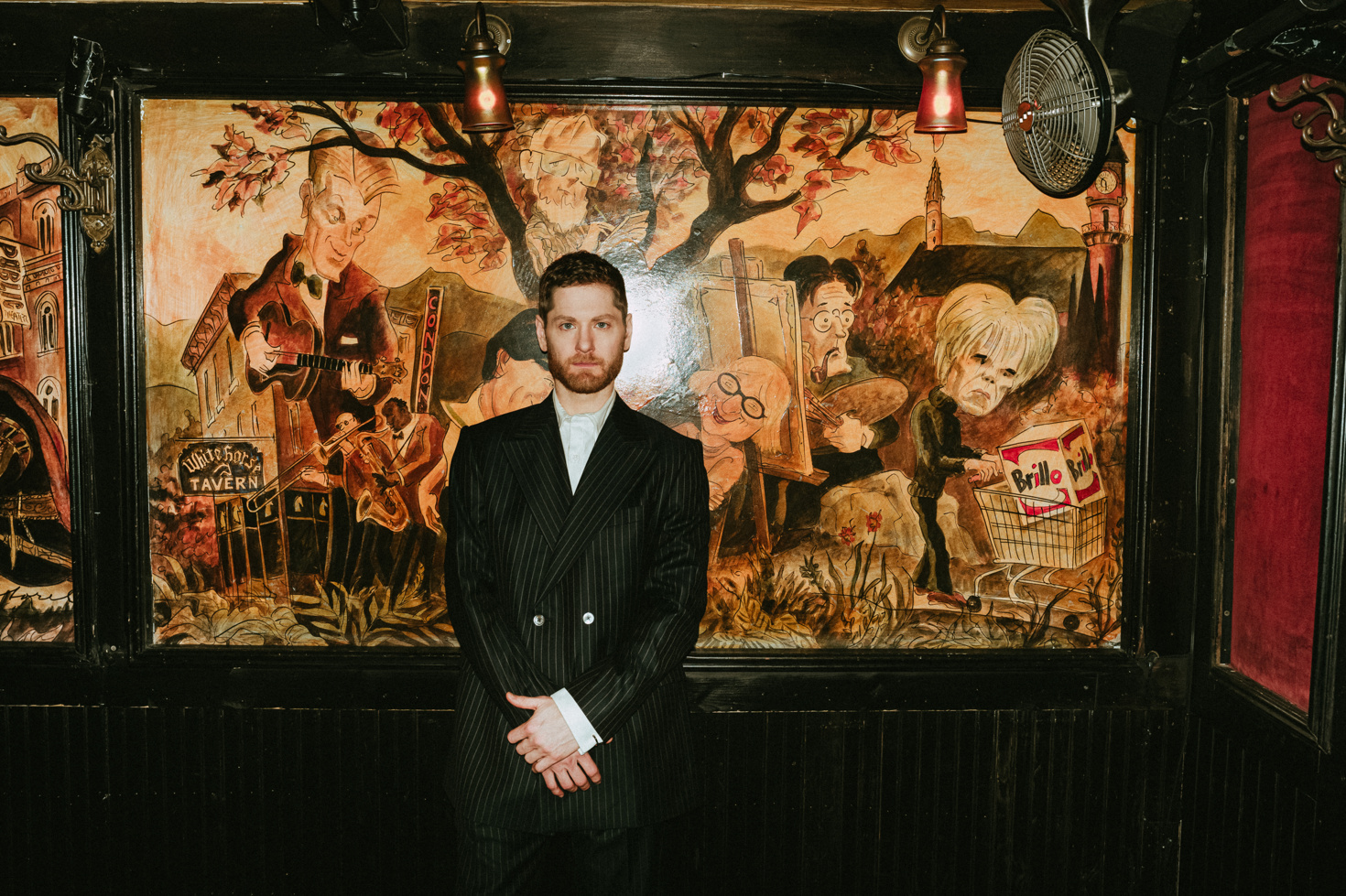 Visits to New York City brought inspiration to Soller when he was a teen. At age 15, he took a summer art course at Parsons School of Design, which inspired him to study art history at Virginia's College of William & Mary after high school. But it was an earlier trip in 2000, that really inspired Soller's future. On that visit, he was lucky to catch David Leveaux's Tony-winning staging of Tom Stoppard's The Real Thing at the Barrymore Theatre (now home of The Inheritance), direct from London.
"It made me really interested in British actors and the heritage of stage acting in the U.K.," he says. "So I did a course at RADA [Royal Academy of Dramatic Art] in London between my second and third year at William & Mary, and it was another sort of universe moment. Something clicked and said, 'This is what you're supposed to be doing, and maybe this is where you're supposed to be doing it.'" Soller also admits, "Bush had also just gotten re-elected and I felt really embarrassed to be an American."
So, off to London he went. "I had kind of gone over without a plan," he says. "Maybe the plan was to come back and try to make it in New York, but things started happening really quickly. When you fall in love, that makes everything easier."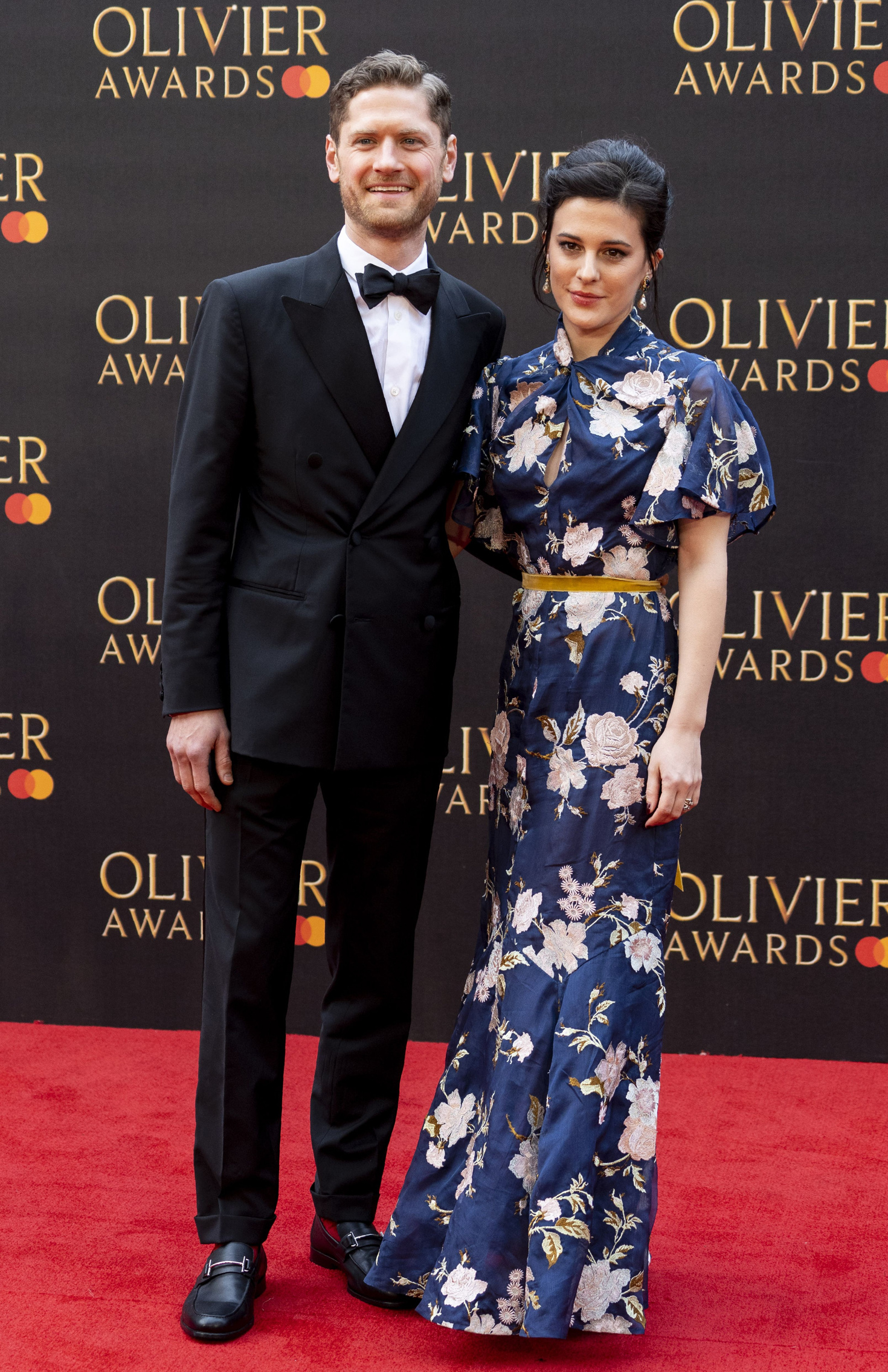 Phoebe Fox was part of the new RADA class in 2007, as Soller was entering his third and final year. When photos of the new students were revealed over the summer, he was immediately smitten. "I saw her headshot and was like, 'Wow.' As did every other guy in my year."
Happily, the wow factor was present for Fox as well. After ushering a performance of Frank McGuinness' Dolly West's Kitchen that Soller appeared in at RADA, she made her move. "She just marched right up to me in the pub afterwards," he remembers. "I was having a very deep and meaningful talk with an ex at the bar and [Phoebe] sort of pushed her aside and it was just like, bam! There she was."
With Soller in The Inheritance in New York City and Fox filming the upcoming Hulu miniseries The Great in England, face-to-face time is replaced with FaceTime and planned visits—Fox was on hand for opening night in November, and Soller just returned from a vacation across the pond. The happy couple is approaching their 10th anniversary this summer. "We make it work day to day," he says.
Soller still considers London his home and plans to return when his time with The Inheritance is done. But there's little doubt Eric Glass will stay with him forever. Absorbing the words of the script every night, consoling weeping theatergoers after the show, learning a haunting history that isn't taught in schools—these things stick with a performer long after the final curtain.
He now often thinks about the older gay men who worked alongside him in community theater when he was a kid, looking after him in ways he didn't see at the time. And he thinks about all of the young men who lost their lives early to AIDS—and speaks passionately about how society should be honoring their sacrifice, just as we remember victims of great wars with holidays. It brings to mind a pivotal line from Howards End, which has become a touchstone for The Inheritance: "only connect."
"This play has broken open my heart," Soller says, "and made me try to be a better person. I think forever, there will be my life before The Inheritance and my life after The Inheritance."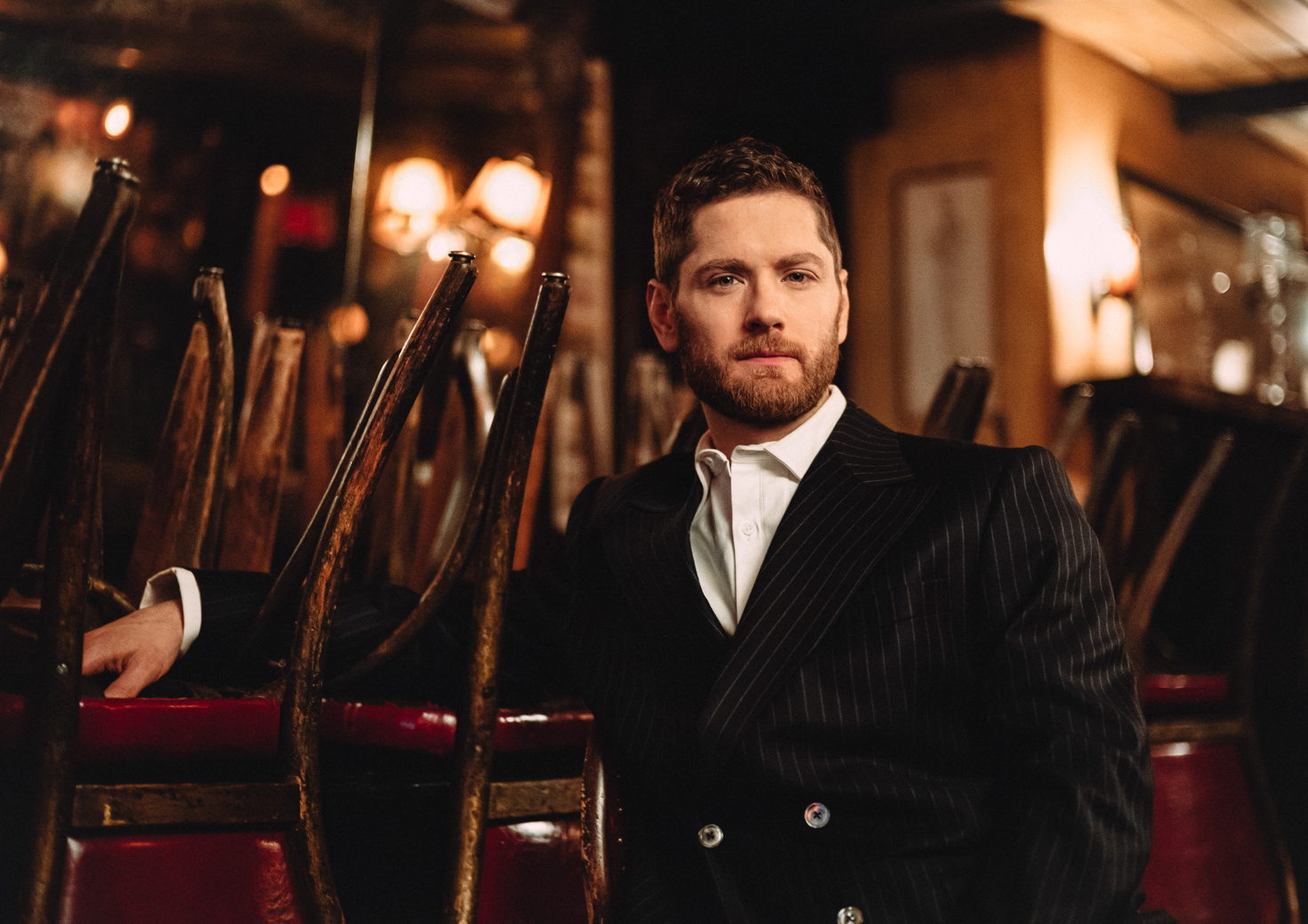 Shot at The Waverly Inn and Garden NYC | Produced by Lindsey Sullivan | Photos by Emilio Madrid | Photo Assistant: Sydney Goodwin | Video Directed by Mark Hayes | Additional Camera: Kyle Gaskell | Styling by Scott Shapiro | Hair and Makeup by Rachel Estabrook