"West Side Story" director Ivo Van Hove, designer Jan Versweyveld & choreographer Anne Teresa De Keersmaeker
(Photos by Emilio Madrid for Broadway.com)
"West Side Story changed my life," said Harolyn Blackwell, who played Francisca, a Shark girl, in the 1980 Broadway revival. On February 20, Blackwell was on the opening night red carpet of the musical's new incarnation, dressed in an original letterman jacket from the Jerome Robbins-directed production. "It was the ultimate thing for me as a young performer, and it's the ultimate show for any young performer," she said.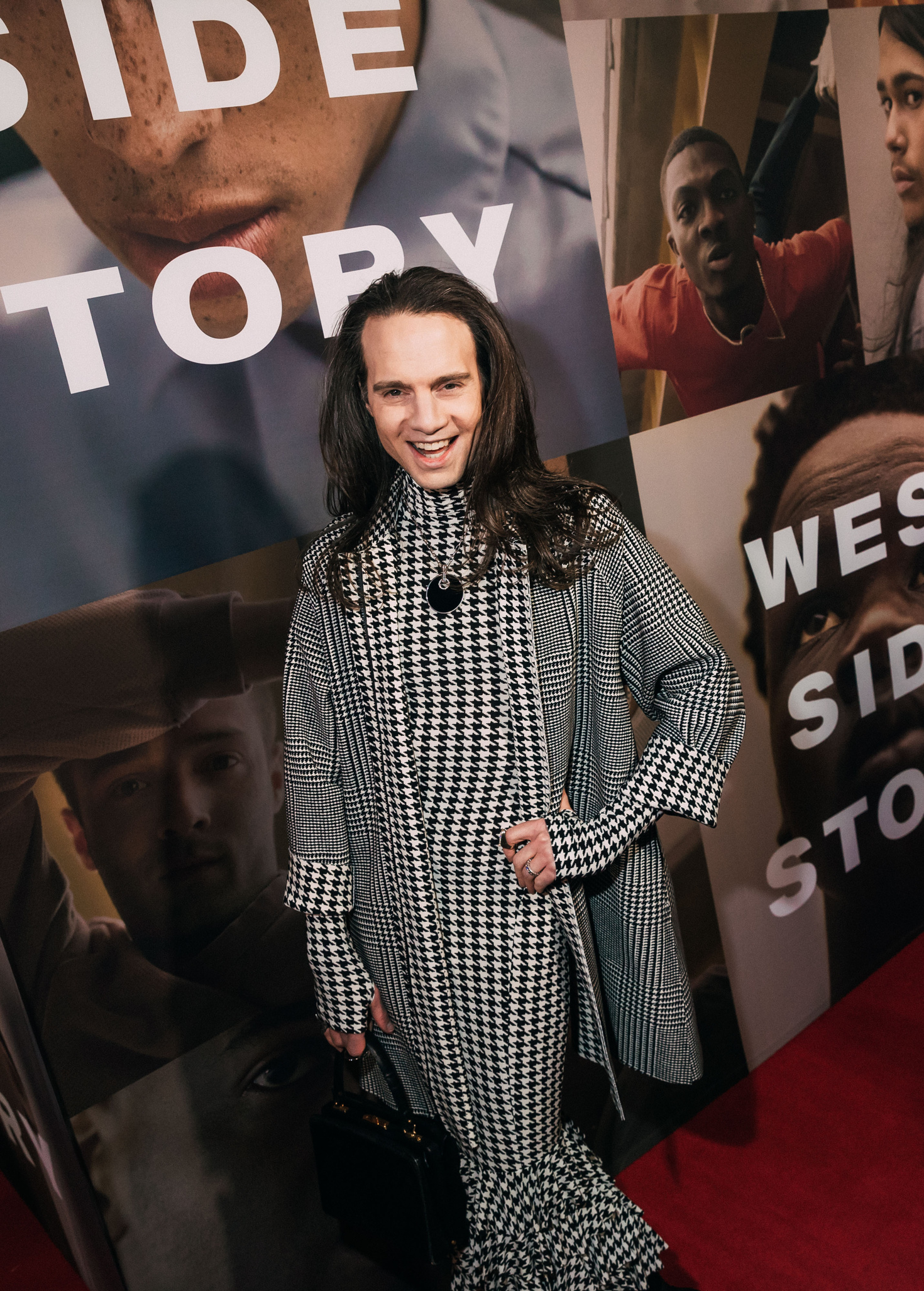 The Ivo van Hove-directed revival of West Side Story, currently running at the Broadway Theatre in a radical reimagining that uses video to expose the raw energy of young Americans battling on the street and falling in love, is giving 33 actors their Broadway debut. On the red carpet, many Broadway alums—including Vanessa Hudgens, Santino Fontana, Liev Schreiber, LaTanya Richardson Jackson, Corey Stoll, Kate Baldwin, Andrea Martin and Joshua Henry—arrived to witness the spectacle of a newly revised West Side Story and to share their own memories of the seminal musical. "We were young, many of us 17, 18 years of age when I did it," said Blackwell. "This was our first job—and to be on Broadway, working with Robbins everyday, [composer] Leonard Bernstein and [original cast member] Chita Rivera coming in and out—was a thing of dreams. In some way, I'm sure that's how this cast is feeling now."
The first time David Cromer saw West Side Story was on screen. He saw the Oscar-winning 1961 film adaptation of the musical, and he remembered feeling, "a little turned on," said the Tony-winning director. "I saw it on television in the 1970s. I didn't know what Broadway musicals were, and you couldn't watch television in my house. We were punished if we did, so we were invited across the alley to a neighbors. I didn't know what New York was either, and the opening shots of the island were dazzling. To see that world-building was incredibly influential to me, far more than anything in real life."
For Jujamcyn Theaters president, and six-time Tony-winning producer, Jordan Roth, "I don't think there was ever a moment where I didn't have some consciousness of West Side Story, which is a blessing," he said. Actor Wesley Taylor echoed the sentiment, saying, "It runs deep. It's a timeless piece about hatred, acceptance, race relations and love trumping everything." He then add, with emphasis, "Maybe a little relevant?"
Jessica Vosk, just off her turn in the recent concert production of Joseph and the Amazing Technicolor Dreamcoat, said she remembered, "dancing in my bedroom to 'I Feel Pretty,'" she laughed. "I would put my little dress on, sing 'I Feel Pretty,' and wish that I had six other friends with me to sing the harmonies." Her favorite aspect of the musical is the friendship between Maria, the main character, and Anita, saying, "I'm a big fan of women supporting women, and I think that the themes between Maria and Anita were special to me as a kid. There's something about being able to disagree and still have love for somebody, to have different viewpoints and still be able to respect each other."
Sierra Boggess, who was cast in a 2019 BBC Proms concert of West Side Story as Maria but left the project after concerns of whitewashing, was also on the red carpet. She talked frankly about that London concert, saying, "I chose to leave [the BBC concert] because young Latina girls need to see themselves represented on stage, in this role especially. I grew up watching the movie. It was Natalie Wood as Maria. She's a white girl with brown hair. That concert should have been an opportunity to try to right a wrong that has been normalized for so long, and I think this revival is clearly doing that." The revival stars Shereen Pimentel as Maria, who is half Puerto-Rican.
West Side Story also disposes of the source material's Puerto Rican and white rivalry in favor of two multiracial groups, turning the narrative into one of natural-born Americans versus Latino immigrants. To Boggess, the message of tolerance within West Side Story is more essential than ever. "Representation absolutely matters, and in a show like West Side Story, that metaphor can be even bigger than two warring clans. 'Oh, you look different than me. No, you can't go there,'" she said. "That's the type of stuff that needs to be corrected in all of us. We're dealing with so much separation in our own country politically, and to me, West Side Story is about the heartbreak after you decide something is more powerful than love."