Sierra Boggess is the first to admit that she has had an, um, interesting year. Announced as the star of Rebecca opposite her real-life fiancé Tam Mutu, Boggess jumped to Prince of Broadway after Rebecca was postponed due to financing issues. Then the Hal Prince retrospective was also postponed—but by that time, Rebecca had been recast, with Jill Paice and Ryan Silverman. The talented Boggess quickly found another gig, as Fantine (opposite Mutu as Javert) in the London production of Les Miserables. Broadway.com recently caught up with the charming Little Mermaid and Love Never Dies star to discuss the vagaries of show biz and the fun of joining an iconic musical more than a quarter-century into its London run.

After a rather tumultuous year, you have landed on your feet here in London. How does it seem in retrospect?
I feel as if I've been challenged with different lessons in life. I was supposed to be doing Rebecca, and the week before we were to start rehearsals, we got a call saying that they didn't have the money and it wasn't happening, at least not then. Then Prince of Broadway came along [the musical celebrating director-producer Hal Prince's storied career] and I said, "Great, that's what is happening next"—until it wasn't.

How did you react?
I honestly felt so calm about the whole thing. No one ever said that with this [career], you get stability [laughs].

Does it feel odd not to be part of Rebecca now that the musical is finally opening on Broadway this fall?
I'd been involved since 2009 and honored every commitment to it, but by the time they were ready to go again, I was doing Prince of Broadway. And once I knew that wasn't happening until next year, [Rebecca] had recast. I just feel like it worked out the way it needed to; you can't start getting down about it.

The delay on Prince of Broadway must have been a jolt.
My only concern, really, was that Hal was OK. I want him to have his show, and I want to be there in all the ways that I can to celebrate him because he has been there for me.

Well, you're still getting to co-star with your fiancé [Tam Mutu], if not in Rebecca, then in one of the most established of all musicals.
It's as if somebody was telling to me to be in London—that you don't have to be in New York right now. I really believe in life being full of lessons, and the truth is that everything about doing Les Miserables has not been miserable for me; I'm so happy to be part of this show.

Do you have a history with Les Miz, as you did with The Phantom of the Opera, playing Christine in Las Vegas and then in its London sequel, Love Never Dies?
I was in the ensemble of the North American touring company when I was 23 or 24, covering Cosette, which is what I was doing when I got Phantom in Vegas, where I was first directed by Hal [Prince].

The difference here is that you're joining a well-oiled theatrical machine.
That is new to me because with the exception of Les Miserables, I've never been put into a show. Even when I did Phantom, we were opening a brand-new production with the creative team on hand. What's great with our company at the moment is that everyone gives it 110%, which is so attractive. I wouldn't want to be part of a show that takes the work for granted. I really mean it when I say that, for myself, I don't want to be 50 percent good at something.

Fantine has less stage time than some of your recent roles.
It doesn't feel like that, actually, and it doesn't mean I approach it with anything less than the best of my abilities—or at least that's the hope! I've read the parts of the novel that relate to Fantine and have tried to put a new sense of discovery into my 20 minutes on stage; I just try and rediscover her every night.

Do you remember the Fantine with whom you appeared on tour?
Definitely! It was a girl named Joan Almedilla, and she was just incredible. One of the things I got to do each night as an onlooker was watch Fantine's arrest. I have such fond memories of that experience. It was the first massive production I was part of, and everyone was so supportive.

You've picked an amazing time to be in London.
This is absolutely the year to be here! It started with me getting to sing for Queen Elizabeth when Andrew [Lloyd Webber] invited me to Sydmonton [the composer's country estate], and Julian Ovenden and I sang "People Will Say We're in Love" and "If I Loved You" around the piano. I mean, there we were casually singing for the Queen [laughs].

What was that like?
She was just lovely, though I was more worried about what I was going to say! I felt like Eliza Doolittle: It was a crazy-amazing night. Then during her Diamond Jubilee weekend, I was part of a Disney concert in Hyde Park in front of 50,000 people. And now we've got the Olympics and also the Les Miserables movie coming up: I feel as if I'm constantly being recharged!

It must be nice to be part of Les Miz in the lead-up to the long-awaited film [Boggess is contracted until January].
As far as what we do every night on stage, the film doesn't affect us, but it's impossible not to feel part of the buzz. I got to walk around the set with [producer] Cameron [Mackintosh], and you just know that Hugh [Jackman] will be incredible as Jean Valjean; he's lovely in general [laughs]. It does feel good to be part of this show at this time.

You have an unusually named co-star in Geronimo Rauch [the Argentine performer making his West End debut as Jean Valjean].
We first met when Tam was in rehearsals as Javert, and what's amazing is that [Rauch] is doing the show in English having been in two different productions already, in Argentina and in Spain. He's incredible, and his voice is extraordinary: He has vocal cords of steel. And I get to practice my Spanish!

Were you in London for your 30th birthday in May?
I was, and it was a massive surprise. My older sister, who lives with me in New York, flew over, and so did my little sister, who teaches oboe and piano at a school in Afghanistan; it was just incredible!

What about you and Tam: Have you set the date for your wedding?
Not yet because of all the things that have been going on, and it doesn't look now as if it could be until late 2013. Then you think, "Do I want to get married in a '13?" [Laughs] What's been great is for us to be working together in the same show and in the same town.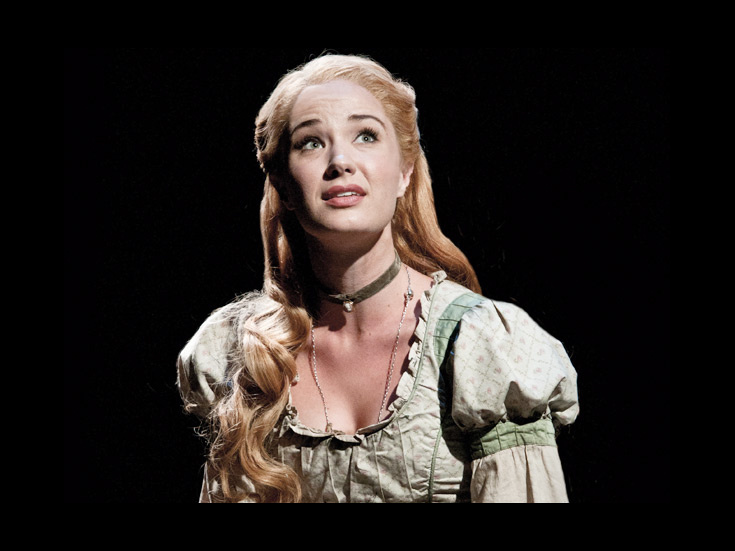 Sierra Boggess in 'Les Miserables'