Antonio Banderas
(Photo: Frank Micelotta/Getty Images; Design by Ryan Casey for Broadway.com)
Antonio Banderas earned his first Oscar nomination this year for playing a film director struggling to reckon with middle age in Pedro Almodóvar's Pain and Glory, a role that's likely earned him the best reviews of his film career. But Pain and Glory isn't the first time Banderas earned acclaim for playing a director with a midlife crisis. He was nominated for a Tony in 2003 for his turn as troubled Italian filmmaker Guido Contini in the Broadway revival of Nine.
This week, Broadway.com is taking a look at the stage careers of a few of this year's nominees, including Adam Driver, Jonathan Pryce, Scarlett Johansson, Al Pacino and Cynthia Erivo. Some started off in theater, others were film stars first, and a few regularly travel between stage and screen. For more on this year's theater-friendly Oscar nominees, look here.
Five, Six, Seven, Eight, Nine!
The Spanish-born movie star made his Broadway debut in David Leveaux's sex-infused, impressionistic revival of Nine, Maury Yeston's 1982 musical based on the film 8½. Banderas bowed opposite Chita Rivera and received rave reviews for his portrayal of Contini, a film director drifting toward a nervous breakdown. While Nine was Banderas' last appearance on Broadway—despite talks in 2010 for the actor to lead a Leveaux-directed revival of John Kander and Fred Ebb's Zorba—it wasn't Banderas' last foray into theater.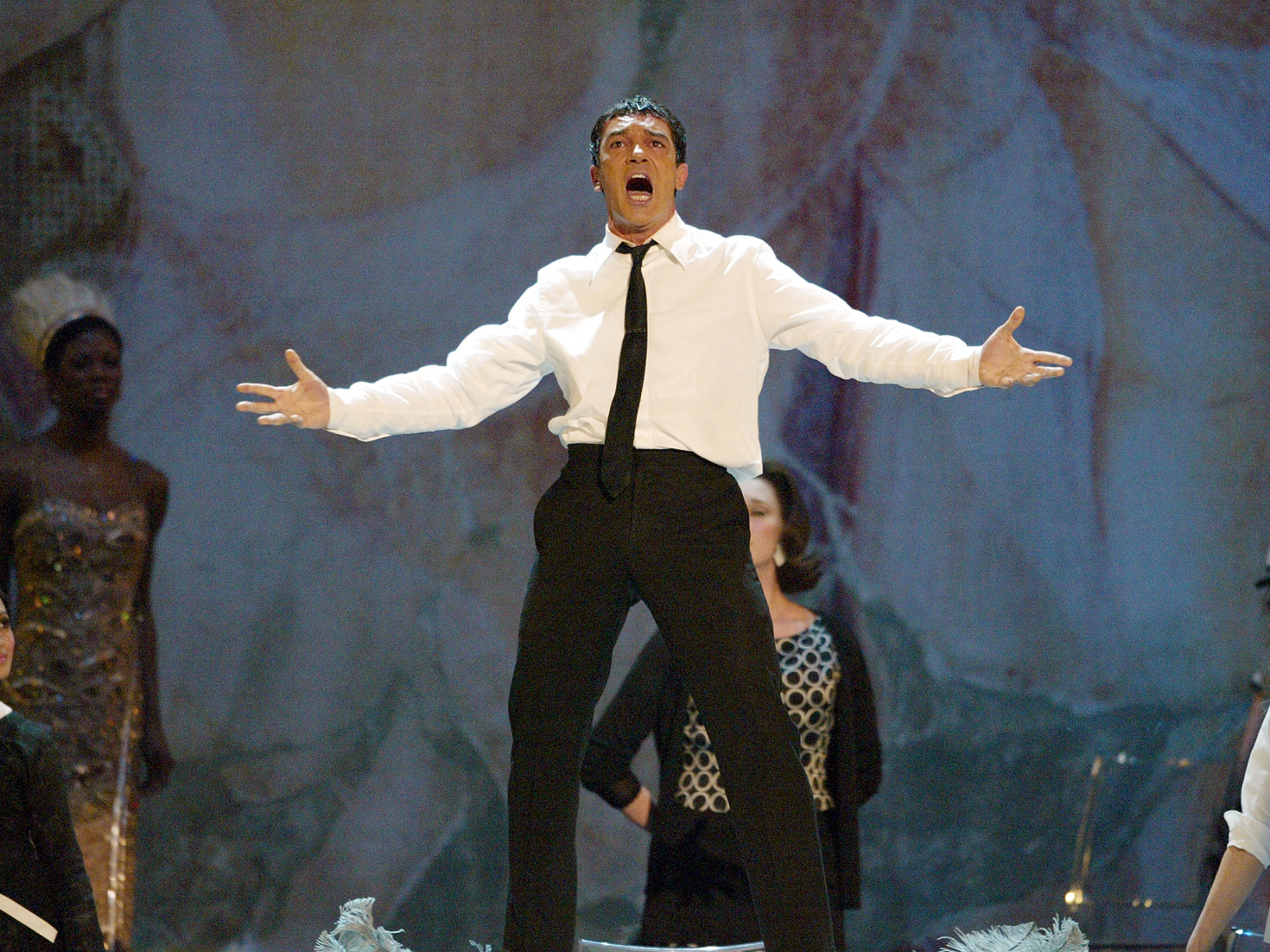 In his youth, Banderas studied theater at the College of Dramatic Art in Málaga, Spain and worked with the Spanish National Theatre soon after. It was during a performance at the Madrid theater when director Pedro Almodóvar first encountered Banderas. Since then, the actor and director have collaborated on eight films, including this year's Pain and Glory.
After suffering a heart attack in 2017, Banderas returned to his roots and launched a theater company in his hometown of Málaga. "Movies became an enormous accident in my career, an accident of over 112 movies, but the thing that I fell in love with in my profession is the theater, seeing actors on the stage," Banderas told Variety in 2019.
His company, called Teatro del Soho CaixaBank, includes a school for 600 students and earned international attention last year when Banderas staged the first ever Spanish production of A Chorus Line. Banderas co-directed the production with original Broadway cast member Baayork Lee. And he is still starring in it as director Zach, who leads the dance audition in the show, high kicks and all.
Recently at the Cannes Film Festival, Banderas said to the French news network French 24 that he was in talks to bring his Chorus Line to Broadway. We're looking forward to seeing Banderas dance again on the Great White Way soon, hopefully with more glory and less pain.