Carson McCalley (Photos by Emilio Madrid for Broadway.com)
Carson McCalley graduated from Carnegie Mellon University School of Drama in 2018. Now, he's making his Broadway debut in Matthew Lopez's two-part play The Inheritance, where he's helping tell a story about contemporary gay life and the legacy of the AIDS epidemic. "I feel like a lot of times I don't get to be in groups or communities of men and try to figure out what that means in this industry and as a queer person," he tells Broadway.com's Paul Wontorek in a #LiveAtFive interview. "It's just been so beautiful as an artist and as a person."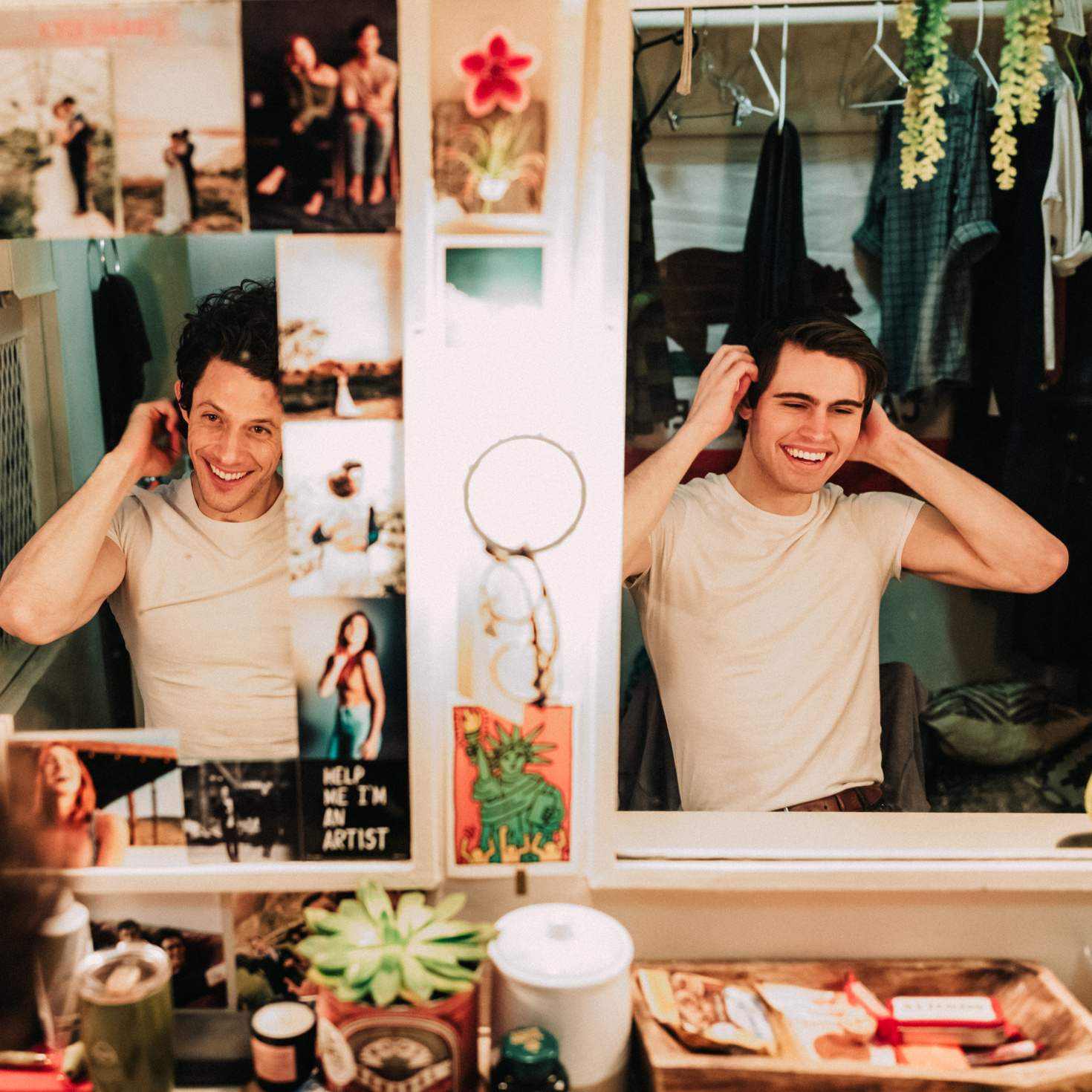 McCalley plays multiple roles in The Inheritance: In Part One, he is listed as Young Man 3, and in Part Two, he plays young Henry, a younger version of Tony Goldwyn's wealthy Henry Wilcox (Goldwyn is taking over for original star John Benjamin Hickey for the next three months while Hickey directs Plaza Suite). "We get to spend the whole first part sort of just being ourselves," says McCalley. In Part One, McCalley and the entire cast is on stage the entire time. When they're not in the center of the stage, they are on the sidelines commenting and reacting to the events. "Young Man 3 is a version of me," McCalley says, "and it's an incredible opportunity that I've never been able to have on stage."
McCalley grew up in San Diego, California, where his one of his earliest theatrical memories was playing the lead in an elementary school production of You're a Good Man, Charlie Brown. "I sharpied the little stripe on a shirt myself," he says. After Carnegie Mellon, he did a couple of regional theater roles, including The Odyssey at the Old Globe Theatre in San Diego and got some work as a television actor in Los Angeles. He soon moved to New York City, working a wide array of day jobs while auditioning. He calls himself the "king of survival jobs." The week he moved to New York City, he got a job at a board game cafe, "teaching Dungeons and Dragons to children," he recalls. He also worked as a nanny and at a fitness studio.
As a relative newcomer to the industry, McCalley considers The Inheritance a "once-in-a-lifetime show," saying, "As a young person it's been so incredible to learn from these people who have spent so many years doing this and I feel like a fresh, you know, fish out of water, but I could not be luckier."
Watch the rest of McCalley's #LiveAtFive interview where he discusses how he keeps his stamina up.