Sarna Lapine and Kate Hamill
(Photo by Caitlin McNaney for Broadway.com)
In Dracula at off-Broadway's Classic Stage Company, a woman walks onto the stage. She wears a cowboy hat and a red leather jacket. "Who are you?" asks one of the characters. She responds: "I am Dr. Van Helsing." The audience cheers. Dracula's come a long way, baby.
Last summer, playwright and performer Kate Hamill got a call from Tony-winning director John Doyle. Classic Stage Company, where Doyle is the artistic director, was planning on programming Dracula and Frankenstein, was she interested in adapting either of those works? She chose Dracula, though not because she felt any love for the material: "When I first read the novel with an eye towards adapting it," she says, "the number one thing I wrote in the margins was, 'Yikes!'" Hamill was appalled by the sexism of the 1897 novel.
In Bram Stoker's gothic horror story, the character of Dracula is trying to spread vampirism from Transylvania to England. It is up to Jonathan Harker and Abraham Van Helsing to figure out a way to defeat him. Meanwhile, the female characters are either victims or vixens. "Most versions of it are super male gaze-y and also very rapey, about naked ladies and the minute the ladies get sexualized, they're evil," explains Hamill. "And Dracula is this sort of tragic figure who eats people and takes away their choices. 'Isn't he an interesting and sad protagonis?' It really pissed me off."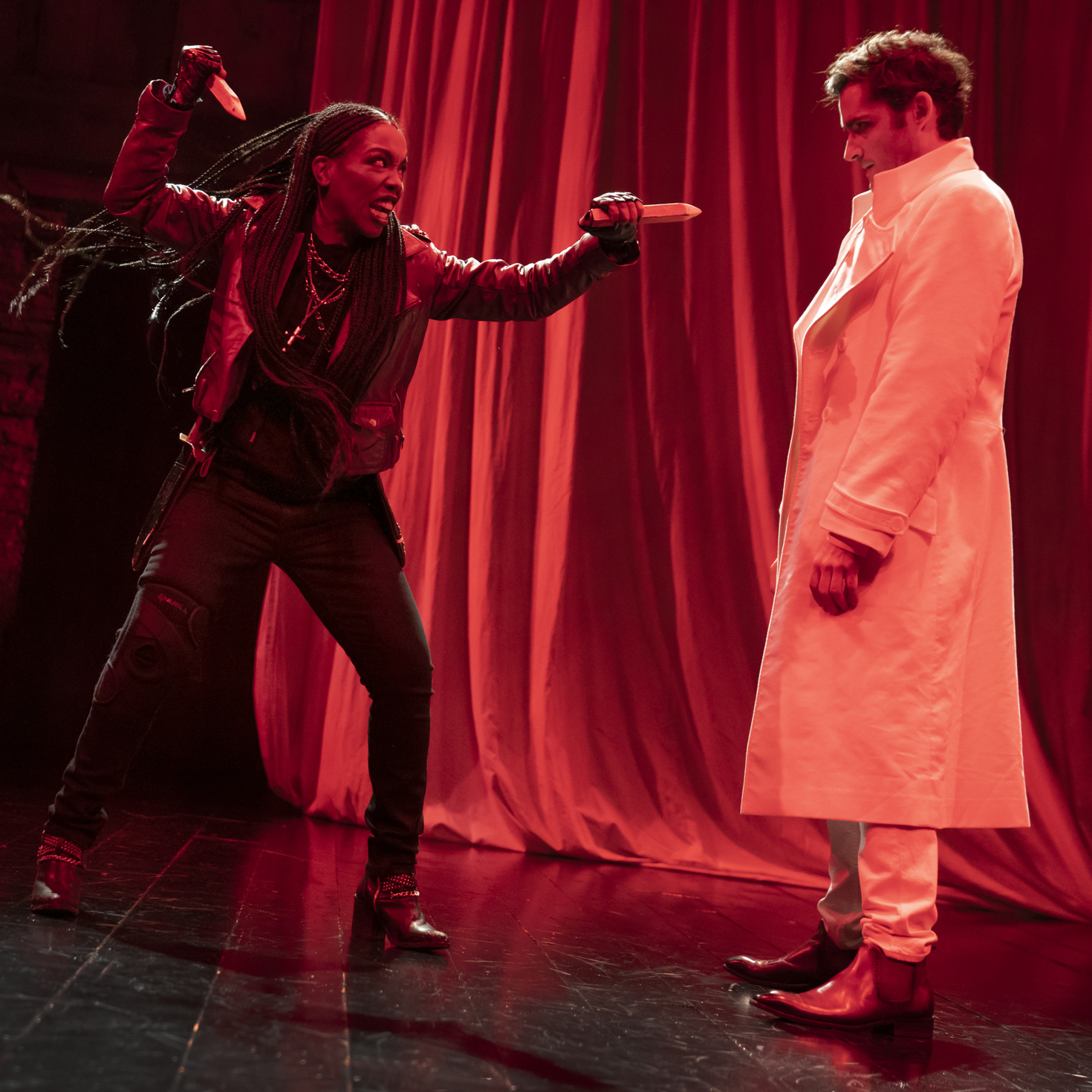 That has led to Hamill writing a feminist adaptation of Dracula with an eye toward staking the patriarchy in the heart. The vampire hunters are now women: Mina (Jonathan's wife) and a female Van Helsing. They also get some help from an asylum patient named Renfield, who in the book was a man, but is now played by Hamill herself. In this version, vampirism becomes, "a metaphor for toxic masculinity and patriarchy," Hamill explains. "That's how Dracula in this version seduces people because they'll feel like they get power—they'll get freedom."
The promises of freedom are particularly appealing to the women in the story. Since the play is set in 1900 when women have very few rights under the law, Dracula (played by Matthew Amendt) offers them the promise of agency. In Hamill's version, the decision to become a vampire isn't outrageous, it's relatable. "All the people who get infected with this disease [of vampirism] gain a lot of power," says Hamill. "Suddenly, the women get to be the sexual aggressors, they get to prey on the men. There's certainly a seduction in wanting to be the predator when you're so used to being the prey."
---
"There's a seduction in wanting to be the predator when you're so used to being the prey."
---
This may initially seem like a fast and loose treatment of the source material, but Hamill has become one of the most-produced playwrights in America by irreverently adapting classic novels (her Pride and Prejudice, Vanity Fair and Little Women also had successful runs off-Broadway). To help her realize her vision, Hamill asked director Sarna Lapine to come aboard. The two did Little Women together and are also collaborating on an adaptation of The Scarlet Letter.
Lapine says, "[Kate was] the reason I said yes because I knew she would have a smart and funny and interesting take on a dusty, old classic. What I find fascinating about Dracula is the universal monster—it has endured, the myth endures. We all have a reference point for it, and I was excited about creating a new frame of reference for a very old monster story."
One way of freshening up the material was to reconceive on Van Helsing (played by Obie winner Jessica Frances Dukes). As Lapine describes it, this Van Helsing is, "a woman who stepped outside of a role that was confining, if not altogether abusive to her. She has discovered a new way of being in the world and has an open-eyed sense of truth and justice that others around her are not prepared to see." Because of her influence, the people in Dracula become a little more skeptical of their gender roles, and Mina (Kelley Curran) in particular learns to fight and not to depend on men to solve the problems, especially not her husband.
It's a somewhat ironic takeaway since Hamill just got married on January 20 while Dracula was in first previews. Lapine is also married, to actor Matthew Saldivar, who is in Dracula. "I don't think this play has changed my skepticism [toward marriage]," says Lapine with a chuckle. "For me, the cautionary tale is about giving away your power and the power of your identity," adds Hamill. "I have been taught, in the same way a lot of women are, to be like, 'I want your approval, I'm following the rules and the system will reward me.' And then you realize the system is rigged, so you will lose."