In this guide, we'll cover all the ways to reach Broadway theaters, whether you prefer to travel by subway, bus, taxi, Lyft or Uber, or by car.
Pro Tip: Times Square is often very congested and 35 shows can be starting at nearly the same time. As showtimes approach, you can often walk much faster than you can drive (literally).
Useful Mobile Apps
Navigating your way around New York City has gotten much easier over the years, especially as phone apps like Google Maps has integrated up-to-the-minute schedule information from the NYC subway and bus systems. In almost all cases, our main recommendation is to check for the best routes from Point A to Point B using a map app (even seasoned New Yorkers do this!).
Google Maps
To most New Yorkers, this is the gold standard. It incorporates walking, driving, subway, bus, train and ride shares options all in one place and uses it's wide adoption to avoid delays in real-time.
Citymapper
If you have an aversion to Google Maps, you might find Citymapper a fun alternative. It also incorporates real-time information from the MTA subway and bus systems, which is a must to avoid route changes or significant delays on subway lines. It has
Exit Strategy
There is a certain type of person who concentrates on maximizing their effieciency or appreciates the finer things in life (a less crowded subway car). For those folks, it may be fun to download Exit Strategy, which has one simple goal; to keep impatient New Yorkers moving through the subway system as efficiently as possible, down to telling them exactly where to stand on the platform and which car to get on. It does cost $3.99 on iPhone, but it works underground - a must in the NYC subway system.
---
Arriving by Subway
The subway is the most cost-effective and (usually) most efficient. If you want to avoid surge pricing or competing with fellow audience members for a cab or driver, hopping on the train is the way to go! Each ride is $2.75 by purchasing a classic metrocard or simply use your mobile phone with Apple or Google Pay.
No Broadway theater is any more than a few blocks from the closest subway stop. With the sole exception of the Vivian Beaumont at Lincoln Center (take 1 train to 66th Street), all Broadway theaters are served by 7 main subway station stops:
Port Authority Bus Terminal
(A, C, E)
42nd Street
(1, 2, 3), (7), (N, Q, R, W), (S)
Bryant Park
(B, D, F, M), (7)
49th Street
(N, R, W)
50th Street (8th Ave)
(C, E)
50th Street (7th Ave)
(1)
7th Avenue
(B, D), (E)
---
Arriving by Taxi
Getting to Broadway theaters by cab is a classic choice. NYC's iconic yellow taxis are a ubiquitous sight, and hailing one is as easy as waving your arm. Just keep in mind that traffic can be intense, especially during peak hours. Every seasoned Broadway theatergoer has a story about being stuck in crosstown traffic watching the minutes tick down before the curtain comes up.
Unlike Uber or Lyft, taxis do not charge surge pricing and there is no charge for extra passengers, luggage or bags, or paying by credit card. However, figuring out pricing in advance might require a spreadsheet...
$3.00 initial charge.
Plus $0.70 per 1/5 mile when traveling above 12mph or per 60 seconds in slow traffic or when the vehicle is stopped.
Plus $0.50 MTA State Surcharge.
Plus $1.00 Improvement Surcharge.
Plus $2.50 New York State Congestion Surcharge

(since all trips to Broadway begin or end south of 96th St in Manhattan)

.
Plus $1.00 overnight surcharge 8pm to 6am.
Plus $2.50 rush hour surcharge from 4pm to 8pm on weekdays, excluding holidays.
Plus tips and any tolls.
The general rule is that you shouldn't expect to pay much more for a taxi than Uber or Lyft, but heavy traffic can sometimes tip the scales.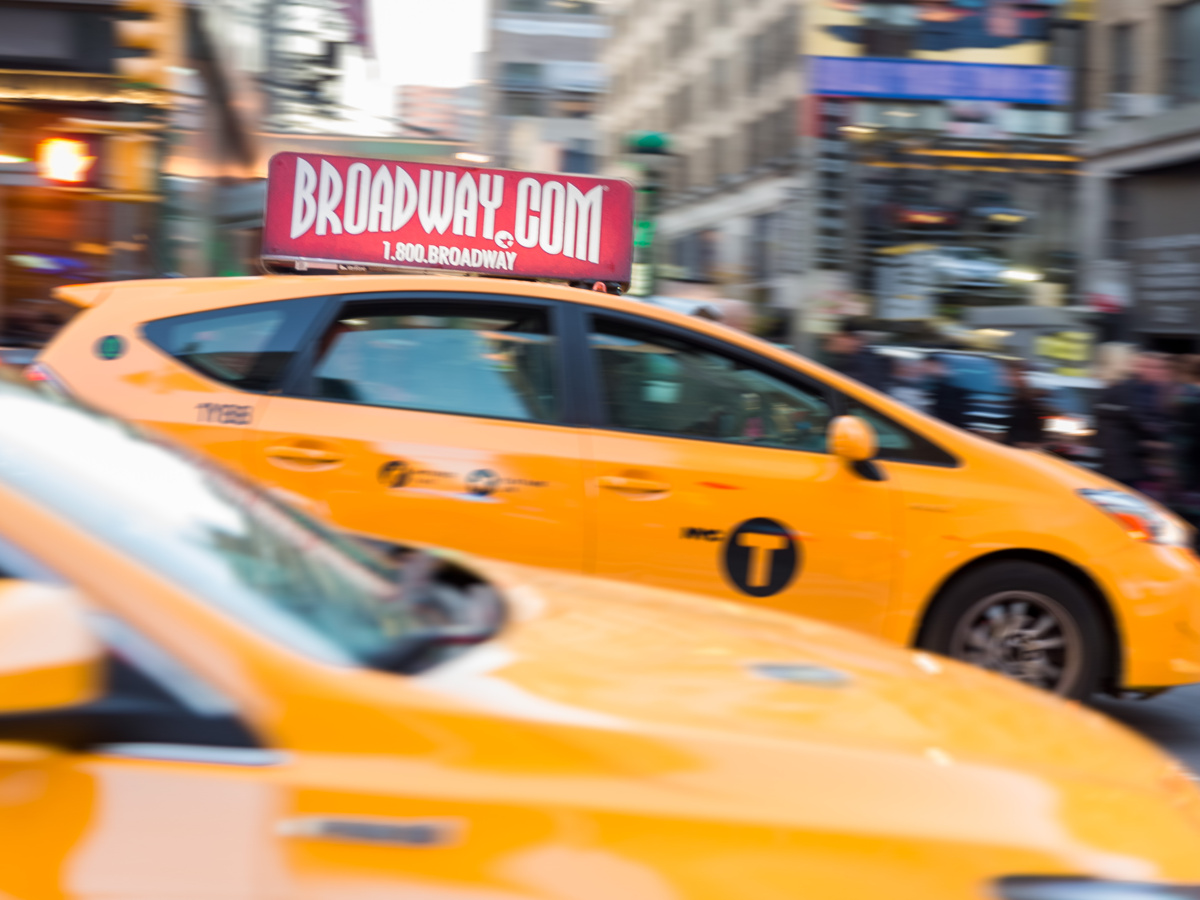 ---
Arriving by Lyft or Uber
New York City has a large network of "ride share" drivers. Lyft and Uber are by far the largest two, although it's worth checking to see if your preferred service also operates in NYC. We find drivers not to be as "talkative" as drivers from other cities and states, but almost all are professional and the cars are generally clean. They also somehow tend to less hectic-feeling than a taxi.
However, as we have previously warned, the last half-mile to your theater can be congested beyond what you might think. Most evening performances start at the same time and most streets in Times Square are one-way, creating a gnarly experience.
---
Arriving by Bus
If you want to stay above ground but still want to feel like a real New Yorker, the MTA operates buses that stop near the Theater District, such as the M7, M20, and M104, M42, and M50. It can be a great way to soak in the city's energy on your way to the show, but expect to stop often (generally every 2 blocks).
Most bus rides will cost you $2.75, while some express buses will cost $6.75.
---
Arriving by Car
If you're traveling from outside of New York City or prefer the convenience of driving, fear not! While navigating the city streets can be an adventure in itself, there are dozens of parking garages scattered throughout the area and most will leave you next to or within 1-2 blocks of your theater. Be sure to have soft, meditating music at the ready and practice your breathing excercises in advance, as those last two blocks might take 15-20 minutes.
Pro Tip: You can find parking garages a few avenues east or west of your theater and walk the last 1/4 to 1/2 mile in order to avoid the congestion of the Times Square area. It's also a great opportunity to grab a quick bite on your way to the show if you're short on time.
For parking information, including a complete list of Times Square parking garages, check out our Parking Near Broadway Theaters guide.