Skeptics who rolled their eyes at the thought of Nickelodeon's hit animated series SpongeBob SquarePants heading to Broadway were quickly silenced when they experienced the talent of triple threat Ethan Slater. In less than a year, the young talent has gone from fresh-faced Broadway newcomer to 2018 Tony nominee, Outer Critics Circle Award winner and two-time Broadway.com Audience Choice Award winner. His energetic performance in the role of SpongeBob SquarePants has wowed both audiences and critics. Not unlike the delightfully zany production he stars in, Slater has proven that the Bikini Bottom director Tina Landau has created at the Palace Theatre is a lot more than burgers and bubbles. This show, boasting 12 Tony nominations, has proven that it's not just a simple Great White Way show: it's a contender and more. Slater recently discussed making the optimistic yellow cartoon his own, learning about loss, counting his blessings and other takeaways on Show People with Paul Wontorek.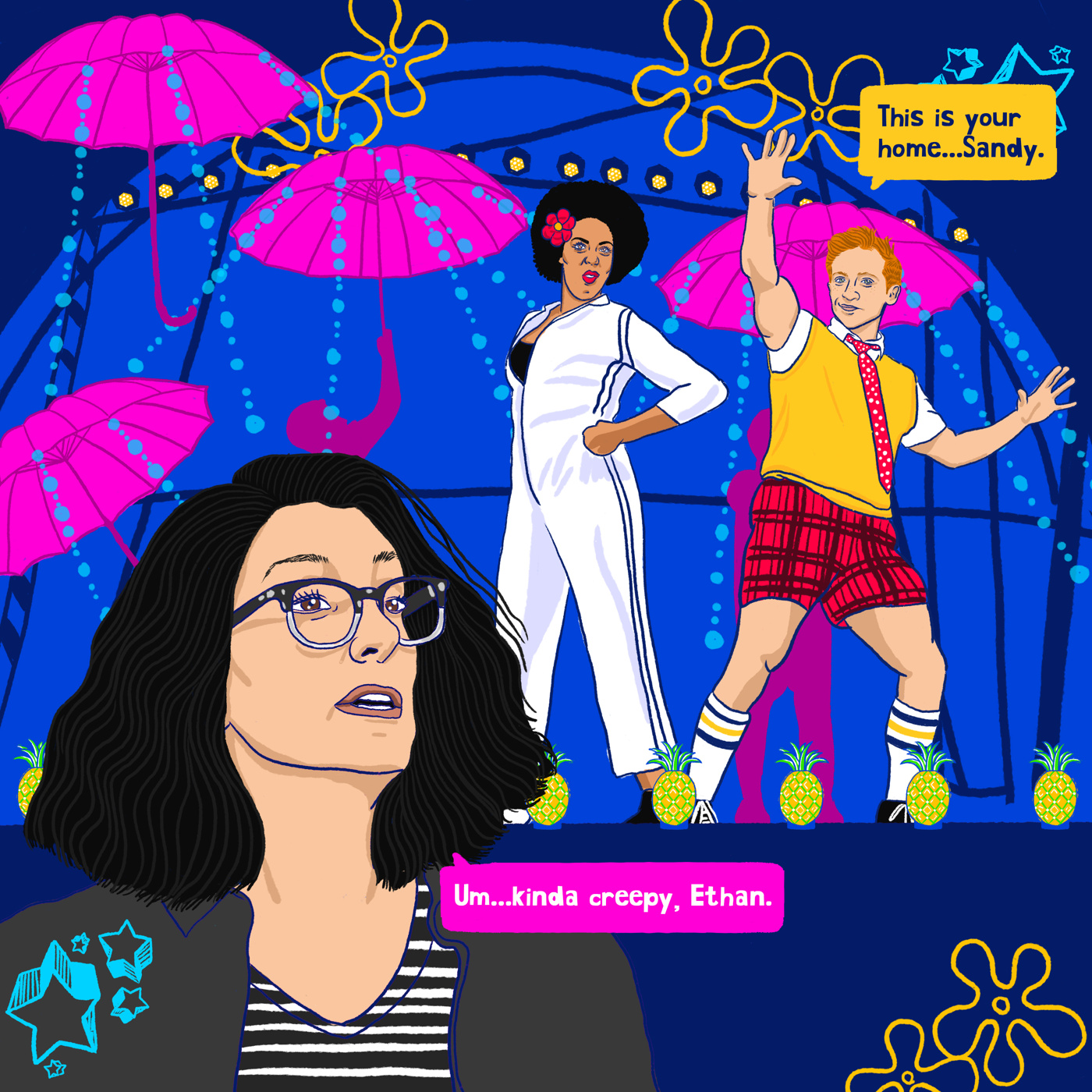 1. TINA LANDAU KEPT HIM FROM MAKING SPONGEBOB CREEPY
"She's one of those directors who you feel like will catch you no matter how high you fall from. Casts get really close and become like families, at least in my experience. She really is an integral part of that little community. There are these little things that change over the course of a run. I was saying this line, and the last word of it was 'Sandy.' I was addressing it to her. When I started, in my mind there was this little beat before I said her name. It felt really natural and normal. And Tina came in a couple of weeks ago and said, 'Hey Ethan, do you know you're saying that line really weird?' And I was like, 'I don't think so, Tina. I think I'm saying it totally normally. Come on.' She said, 'Just say the line right now.' So I said, 'This is your home...Sandy.' I was like, 'Oh, now I hear it. It's very weird. That was creepy.' Having a director's outside eyes to keep you in check is really helpful six months in. She's like, 'You think that sounds really endearing. It sounds really creepy.'"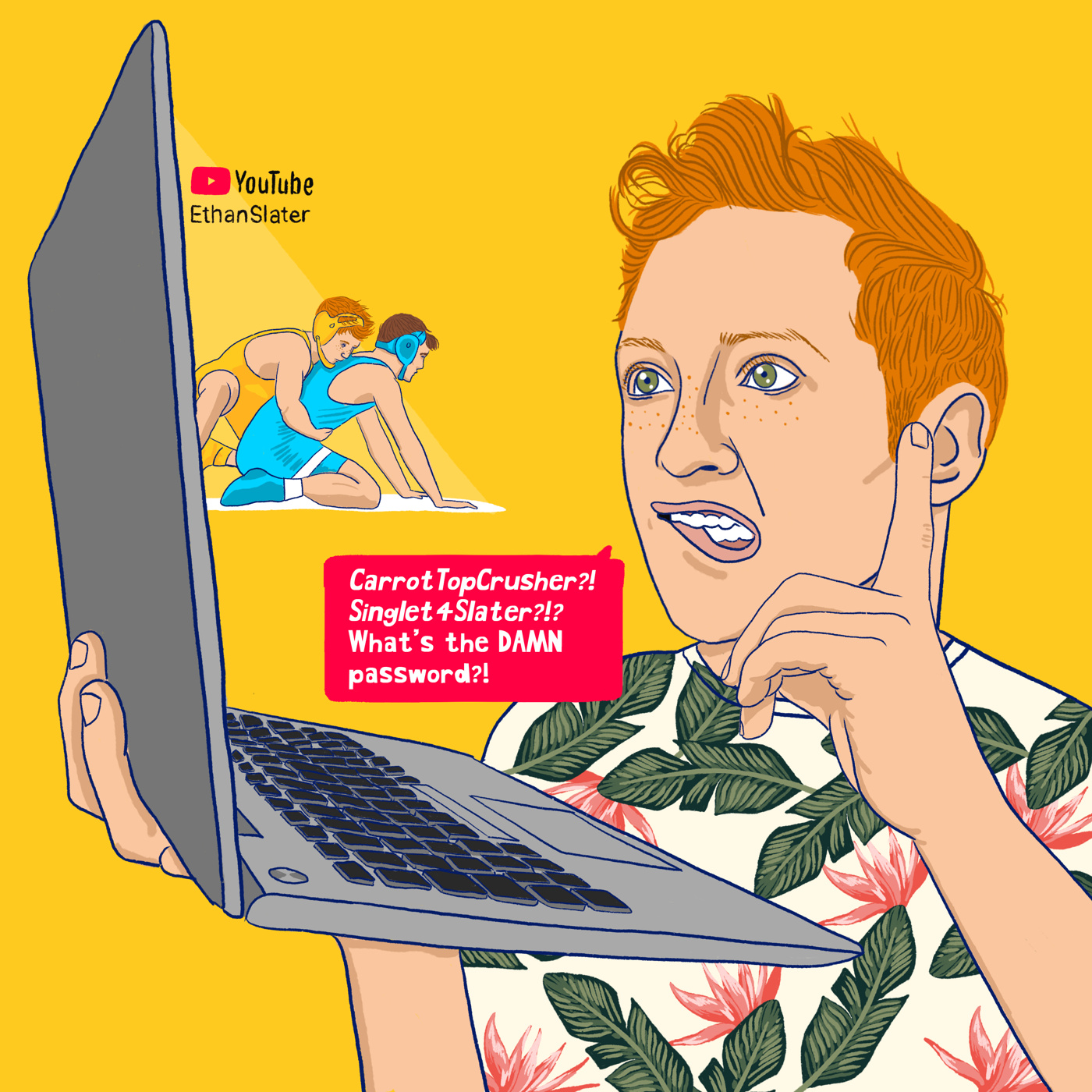 2. THAT YOUTUBE CHANNEL OF HIS WRESTLING CAREER ISN'T GOING ANYWHERE
"I have tried every password that I can remember to get back into that account. I cannot figure out how to get rid of those videos. I thought I was going to be a college wrestler; that was my path. My sophomore or junior year of high school, I started taking these videos and uploading them in order to send to recruiters. That was the goal, but my senior year while I was doing that, I was also realizing that I wanted to pursue theater as more than an extracurricular. They were both my two passions throughout high school and earlier. I like to think I made the right choice. But that YouTube channel is still there."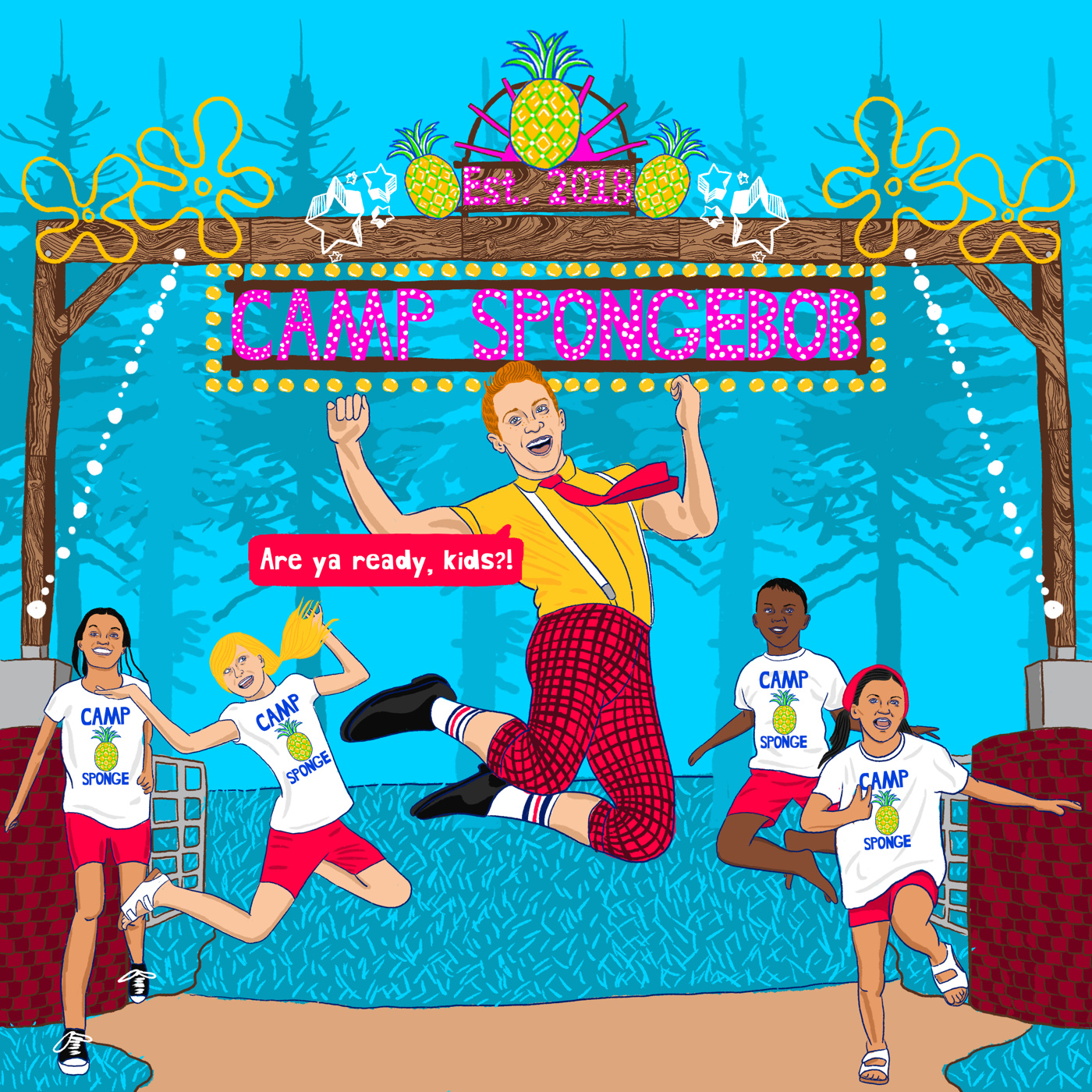 3. HE'S ALL FOR A SPONGEBOB SQUAREPANTS CAMP
"I really think there should be a SpongeBob camp. I think it's a great idea. Certainly there would be aerobic training. There would be the classic singing while running, singing while on a trampoline, singing while doing splits. I actually think there would be contortion training, all of the things that I was trained on [for the role]: contortion, dance, the voice. And taking the voice and making it your own. I think at the end of the day, that is one of the biggest challenges. There will also be s'mores and campfire songs. Fun camp stuff."
---
Other must-read highlights:
ON HIS FANS
"I love the fans. They're awesome people. There's people that tweet at me and the morning and say like, 'I hope you're having a good day.' I'm not so great with Twitter and social media. I'm working on it. It's hard. But I've got to say if you're watching this, I see it. Sometimes I don't wake up super happy, and it makes me happier. There's so many wonderful people I get to meet at the stage door who come by time and time again. One of my favorite pieces of fan mail was a gift that I got. It was a jar filled with handwritten nice thoughts. Like some fact about ducks. It's really sweet, and I still pull out random ones. They're really special people with really thoughtful talents."
ON SPONGEBOB SQUAREPANTS' SURPRISING SUCCESS
"Fortunately, Nickelodeon approached it in the right way. They really led with creativity first. They were like, 'We're not going to do this unless it's really worthwhile to do it. Then Tina Landau came in, and her brain is unlike any other."
ON HIS FIANCEE
"We actually met about a month before we started high school. We met at summer camp. She didn't go to the summer camp, but her brothers did. The story is a little too perfect. She came to visit her brother with her dad. Her brother and all the guys were playing basketball, and I thought, 'I can't play basketball. I'm short and bad. You know what? I'm just going to give them a tour.' So, I gave these relative strangers a tour of the campgrounds. I was in eighth grade. It's possible that there was a little bit of 'Who's she?', but I was like, 'I'm not going to talk to her. Not even once. I'm just going to talk to her dad.' He and I had great conversations, and she and I made brief eye contact. We started school together in September, and it actually took two years to actually become friends, but we've been friends ever since. We started dating within weeks of me doing the first SpongeBob workshop. She's been with me every step of the way."
ON SPONGEBOB SQUAREPANTS' AMAZING ENSEMBLE
"It's a show filled with fun roles for people to tackle. There's Squidward and SpongeBob and Mr. Crabs and Pearl, but every one of those ensemble tracks is filled with the opportunity to be creative and imaginative. You have to be really skilled to do every one of those tracks. It is unbelievable how talented our ensemble is: tap dancing, skateboarding, rollerskating. They're all funny. I think it is more of an ensemble piece than people realize. I'd be lying if I didn't say the nominations and awards are really nice. It feels really special and amazing. But it would be so disingenuous to say that I did it without these people. I am thoroughly indebted every night to the entire ensemble. It is impossible to take one piece out of this puzzle, and for it to still work."
ON HIS MEMORABLE TOTO PERFORMANCE IN THE WIZARD OF OZ
"It was something really special. I just wore like a black t-shirt and black shorts, and I think I had some facepaint on. It implied the DNA of a dog. My sister was Dorothy. As the legend goes, I had one responsibility—other than the occasional bark—which was to [spoiler alert] pull the curtain and reveal the Wizard. I guess I tripped or something. All I remember is that I pulled down the entire thing onto the Wizard himself. I think he was probably very kind about it, but he was an adult. It was a very big deal and very nerve-wracking."
ON HIS SHY SIDE
"Theater was a pretty important outlet for me as a kid who was actually a little bit shy—and still is, believe it or not. There's a social element of me that's pretty reserved. High school was when I was starting to come out of my shell because of the theater community. My wrestling teammates came to see every play and musical that I was in, and my theater friends came to watch me wrestle, so I had a really supportive communities there, which I'm very thankful for."
ON LEARNING ABOUT LOSS AT AN EARLY AGE
"My mother passed away when I was seven. She had a piano in the house that she was teaching my sisters how to play. That was where I first encountered music, through her. She loved singing. She loved dancing. My father got remarried, and I have a wonderful stepmother and two stepbrothers, and so we have a bigger family that grew out of that tragedy. I look a lot like my mom. I'm the only one of my siblings with red hair, and she had bright red hair. I always have felt incredibly connected to her. I do feel like I'm a pretty optimistic, positive guy, but I also feel like I take things really seriously and like anyone else, I have bouts of doubt and sadness. I think I learned what that meant really young."
ON PLAYING SPONGEBOB
"I feel a lot of ownership over every move I do in the show. It's like this weird Slumdog Millionaire thing where you look at each little moment in the show, and I can go back to when I was six years old, and I was starting to take taekwondo. That was a big part of my life for 10 years. Then I do the splits in the show, and I go back to when I was a high school wrestler. I don't want to be doing a role if I don't feel like I have ownership over it in one way or another. I think the thing that's really special about SpongeBob is that even though it feels irreplicable, that's what they said about the cartoon. We figured out how to take this cartoon and create something new that is still identifiably the show but onstage, and that was all about taking ownership over it. I don't think it's an easy task, but I think that it's the most rewarding approach."
Watch the full episode of Show People with Paul Wontorek below!

Interview has been edited and condensed for clarity.

Did you know Show People is available as a podcast? Listen to your favorite stars talk Broadway and beyond on your way to work, the gym, the theater and more on iTunes and Spotify.