Priscilla Lopez
(Photos by Caitlin McNaney for Broadway.com)
Last year, Tony-winning actor Priscilla Lopez got a call from Mandy Greenfield, the artistic director of the Williamstown Theatre Festival in Massachusetts. The summer theater was producing a Broadway-bound play by Bess Wohl called Grand Horizons; would Lopez be interested in being a part of it? Being a fan of Williamstown, "I said, 'Yes!'" Lopez recalled to Broadway.com's Imogen Lloyd Webber in a recent #LiveAtFive interview. "She said, 'Well, maybe you should read it first.' I said, 'No, no, no, no! Of course, I'll just do it!'"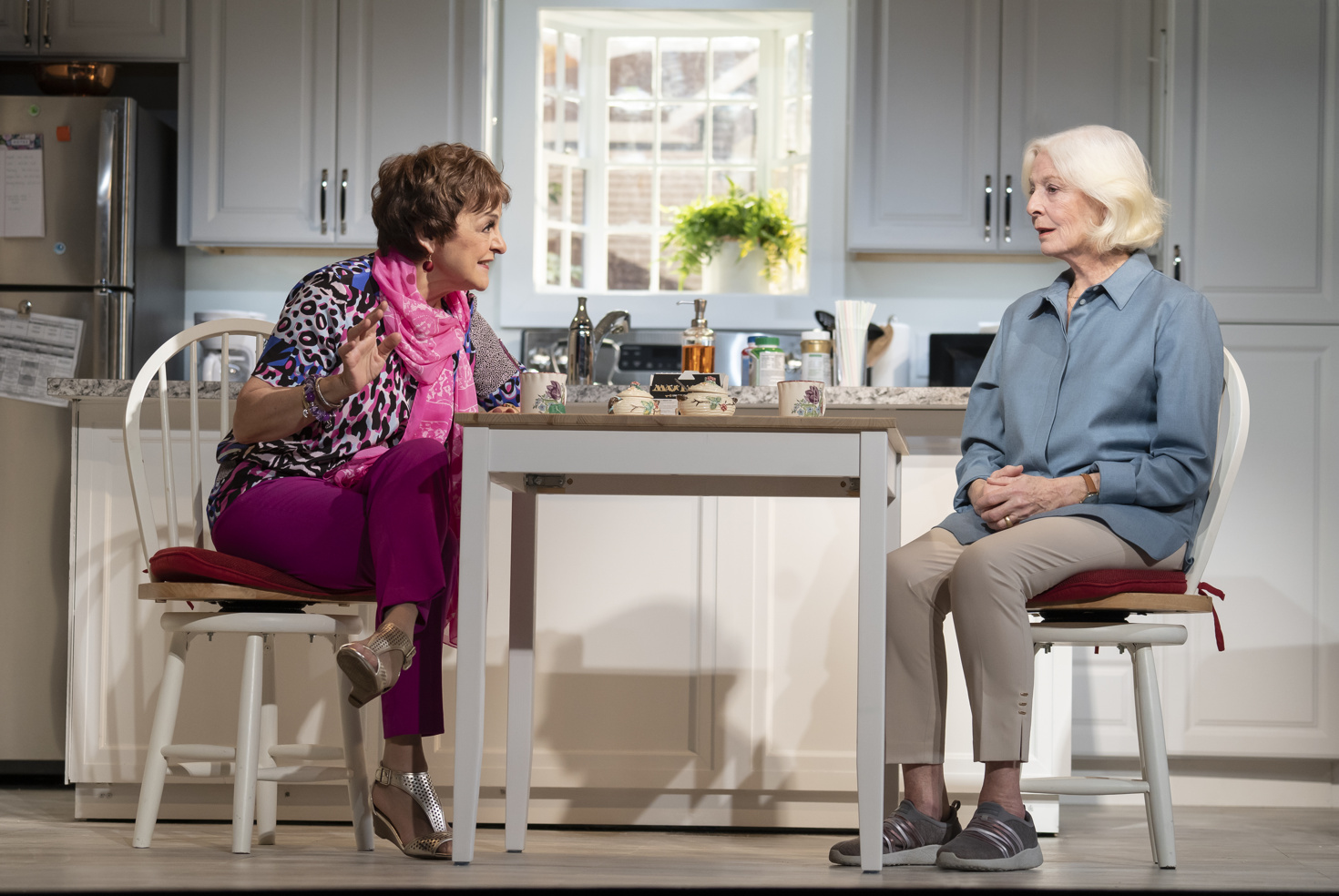 Lopez got the script and she checked to see how many lines she had. She then found out that her character, Carla, doesn't come in until the second act. "It was a nice little part, but it was a little part,'" she said. "And I thought, 'What am I gonna do?'" She had given her word to do the play so she stuck with it. Of course, Carla and Grand Horizons has developed and changed greatly since that initial script. Lopez still arrives at the show during the second act, but she has much more to do, including a hilarious monologue about aging and vibrators. "The play itself and all of the individuals involved are getting such incredible response that I never imagined it. I never imagined that it would be so perfect."
Grand Horizons is a contemporary comedy about a couple named Bill and Nancy, played by James Cromwell and Jane Alexander, who decide to divorce after 50 years of marriage, and the havoc that ensues after they tell their family. To Lopez, whose illustrious stage résumé includes being in the original cast of In the Heights and A Chorus Line, it's been a privilege to share a scene with Alexander. "I signed her [show] poster, and I said, 'Working with you is a master class, so happy for the privilege.' Because I've learned so much," Lopez said.
In her long career, Lopez has had her share of flops and hits. Her first Broadway show, Breakfast at Tiffany's, didn't even make it to opening night; it closed in 1966 during previews. She's learned how to tell whether or not a show will be a hit. For example, when she was working on In the Heights with Lin-Manuel Miranda, Lopez knew it was going to be a sensation. "You can just feel it," she said. "Because there's a sense of order when things are right, you know? There's not chaos. When things are chaotic, nobody knows what's happening and people start panicking. There was order, and people in charge knew what they were doing." It also helped that it was a show with an all-Latino cast. "That whole culture comes with you. Everybody's being very touchy-huggy. It's real."
Watch the rest of Lopez's #LiveAtFive interview below.