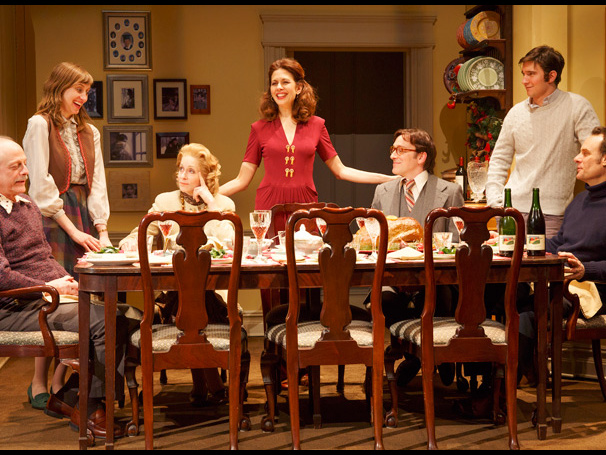 Opened:
April 17, 2013

Author:
Richard Greenberg

The Story:
Act One is set in 1980 during a Christmas dinner party in former movie star Julie Bascov's sprawling Upper West Side apartment, where the guests include her steely sister-in-law Faye and Julie's son's college buddy. Act Two picks up 20 years later as the re-assembled guests face the crumbling reality of their seemingly picture-perfect lives.

Based On:
Playwright Richard Greenberg said he was inspired to write The Assembled Parties after being struck by the idea of being able to "walk around" while watching a play. "[I]t seemed to me that if these scenes to which I was being subjected were enacted in, say, a house that I could wander through, pausing and listening at will, I might have...a delightful experience. I've written the play so that the audience possesses the information, and the characters don't completely," he wrote in an essay for Broadway.com.

Show History:
The Assembled Parties made its world premiere at the Samuel J. Friedman Theatre

Producers:
Manhattan Theatre Club (Lynne Meadow, Barry Grove, Mandy Greenfield and Lisa McNulty)

Other Honors:
—Broadway.com Audience Choice Award nomination for Favorite New Play
—Drama Desk Award nomination for Outstanding Play
—Drama League Award nomination for Outstanding Production of a Broadway of Off-Broadway Play

Fun Fact:
Playwright Richard Greenberg wrote the play with actresses Jessica Hecht and Judith Light specifically in mind for the roles of Julie and Faye.