Click Here to Vote For the Winners!

After a week of fan voting, nominations have been announced for the 13th Annual Broadway.com Audience Choice Awards, the only major theater prize chosen by Broadway theatergoers.

Topping the list of this year's nominees is the musical Newsies, which received a total of 11 nominations including Favorite New Musical. Leading man Jeremy Jordan received the most nominations for an individual performer with four, including nods in the categories of Favorite Actor in a Musical and Favorite Onstage Pair (with co-star Kara Lindsay). Jordan also received a Favorite Breakthrough Performance nomination for his star turn in Bonnie & Clyde, as well as an additional spot in the Favorite Onstage Pair category with Bonnie & Clyde co-star Laura Osnes.

Nice Work If You Can Get It, the musical composed of classic tunes from George and Ira Gershwin, received five nominations including Favorite New Musical and three nominations each for stars Matthew Broderick and Kelli O'Hara. The musical revival of Evita also earned five nominations, including nods for stars Elena Roger and Ricky Martin.

On the play front, the Peter Pan prequel Peter and the Starcatcher earned five nods (including Favorite New Play), as did the revival of Death of a Salesman. Both shows' leading men, Adam Chanler-Berat and Christian Borle (Peter and the Starcatcher) and Philip Seymour Hoffman and Andrew Garfield (Death of a Salesman), were recognized in the Favorite Actor in a Play category. Garfield, Hoffman and Borle also earned additional nominations for Favorite Breakthrough Performance (Garfield), Favorite Onstage Pair (Garfield and Hoffman) and Favorite Funny Performance (Borle).
Last year's winner for Favorite Revival of a Musical, How to Succeed in Business Without Really Trying, received four nods with show stars Nick Jonas, Darren Criss and Beau Bridges all earning nominations for Favorite Replacement; the show also picked up a nomination for Favorite Long-Running Show.

The Broadway.com Audience Choice Awards will be presented at a swanky affair at the Allen Room at Jazz at Lincoln Center on Sunday, May 13.

Broadway.com readers can now vote for the winners by clicking here. Polls close at 11:59PM on Wednesday, May 9.

A complete list of nominees follows.

Favorite New Musical
Bonnie & Clyde
Ghost
Hugh Jackman, Back on Broadway
Newsies
Once

Favorite New Play
End of the Rainbow
One Man, Two Guvnors
Peter and the Starcatcher
Seminar
Venus in Fur

Favorite Musical Revival
Evita
Follies
Godspell
Hair
Jesus Christ Superstar

Favorite Play Revival
A Streetcar Named Desire
The Best Man
Death of a Salesman
Master Class
Wit

Favorite Long-Running Show
The Book of Mormon
Chicago
How to Succeed in Business Without Really Trying
The Lion King
Wicked

Favorite Tour
Les Miserables
The Lion King
Next to Normal
West Side Story
Wicked

Favorite Actor in a Musical
Matthew Broderick, Nice Work If You Can Get It
Hugh Jackman, Hugh Jackman, Back on Broadway
Jeremy Jordan, Newsies
Andrew Keenan-Bolger, Newsies
Telly Leung, Godspell
Ricky Martin, Evita
Hunter Parrish, Godspell

Favorite Actress in a Musical
Jennifer Damiano, Spider-Man, Turn Off the Dark
Caissie Levy, Ghost
Patti LuPone, An Evening with Patti LuPone & Mandy Patinkin
Audra McDonald, Porgy & Bess
Kelli O'Hara, Nice Work If You Can Get It
Laura Osnes, Bonnie & Clyde
Bernadette Peters, Follies

Favorite Actor in a Play
Christian Borle, Peter and the Starcatcher
Adam Chanler-Berat, Peter and the Starcatcher
Hugh Dancy, Venus in Fur
Andrew Garfield, Death of a Salesman
Philip Seymour Hoffman, Death of a Salesman
James Earl Jones, The Best Man
Alan Rickman, Seminar

Favorite Actress in a Play
Nina Arianda, Venus in Fur
Tracie Bennett, End of the Rainbow
Kim Cattrall, Private Lives
Stockard Channing, Other Desert Cities
Celia Keenan-Bolger, Peter and the Starcatcher
Angela Lansbury, The Best Man
Cynthia Nixon, Wit

Favorite Diva Performance
Tracie Bennett, End of the Rainbow
Kim Cattrall, Private Lives
Capathia Jenkins, Newsies
Patti LuPone, An Evening with Patti LuPone & Mandy Patinkin
Elaine Paige, Follies
Bernadette Peters, Follies
Elena Roger, Evita

Favorite Funny Performance
Christian Borle, Peter and the Starcatcher
Matthew Broderick, Nice Work If You Can Get It
Kim Cattrall, Private Lives
James Corden, One Man, Two Guvnors
Kelli O'Hara, Nice Work If You Can Get It
Patrick Page, Spider-Man, Turn Off the Dark
Jennifer Tilly, Don't Dress For Dinner

Favorite Onstage Pair
Matthew Broderick & Kelli O'Hara, Nice Work If You Can Get It
Andrew Garfield & Philip Seymour Hoffman, Death of a Salesman
Jeremy Jordan & Kara Lindsay, Newsies
Jeremy Jordan & Laura Osnes, Bonnie & Clyde
Norm Lewis & Audra McDonald, Porgy and Bess
Patti LuPone & Mandy Patinkin, An Evening with Patti LuPone & Mandy Patinkin
Ricky Martin & Elena Roger, Evita

Favorite Breakthrough Performance
Tracie Bennett, End of the Rainbow
Reeve Carney, Spider-Man, Turn Off the Dark
Ben Fankhauser, Newsies
Andrew Garfield, Death of a Salesman
Jeremy Jordan, Bonnie & Clyde
Kara Lindsay, Newsies
Elena Roger, Evita

Favorite Replacement
Corbin Bleu, Godspell
Stephanie J. Block, Anything Goes
Beau Bridges, How to Succeed in Business Without Really Trying
Darren Criss, How to Succeed in Business Without Really Trying
Nick Jonas, How to Succeed in Business Without Really Trying
Adam Pascal, Memphis
Raven-Symone, Sister Act

Favorite Song
"A Freak Like Me, " Spider-Man, Turn Off the Dark
"Brooklyn's Here," Newsies
"Don't Come a-Knockin'/I Never Planned," Newsies
"Something To Believe In," Newsies
"Watch What Happens," Newsies

Productions with Multiple Nominations
Newsies – 11
Death of a Salesman – 5
Evita - 5
Nice Work If You Can Get It – 5
Peter and the Starcatcher – 5
Bonnie & Clyde – 4
End of the Rainbow - 4
Follies – 4
Godspell - 4
How to Succeed in Business Without Really Trying – 4
Spider-Man, Turn Off the Dark - 4
The Best Man - 3
An Evening with Patti LuPone & Mandy Patinkin – 3
Private Lives - 3
Venus in Fur - 3
Ghost - 2
Hugh Jackman, Back on Broadway – 2
The Lion King– 2
One Man, Two Guvnors - 2
Porgy and Bess - 2
Seminar – 2
Wicked – 2
Wit – 2

Performers with Multiple Nominations
Jeremy Jordan – 4
Tracie Bennett - 3
Matthew Broderick – 3
Kim Cattrall - 3
Andrew Garfield - 3
Patti LuPone - 3
Kelli O'Hara – 3
Elena Roger - 3
Christian Borle – 2
Philip Seymour Hoffman - 2
Kara Lindsay - 2
Laura Osnes – 2
Bernadette Peters - 2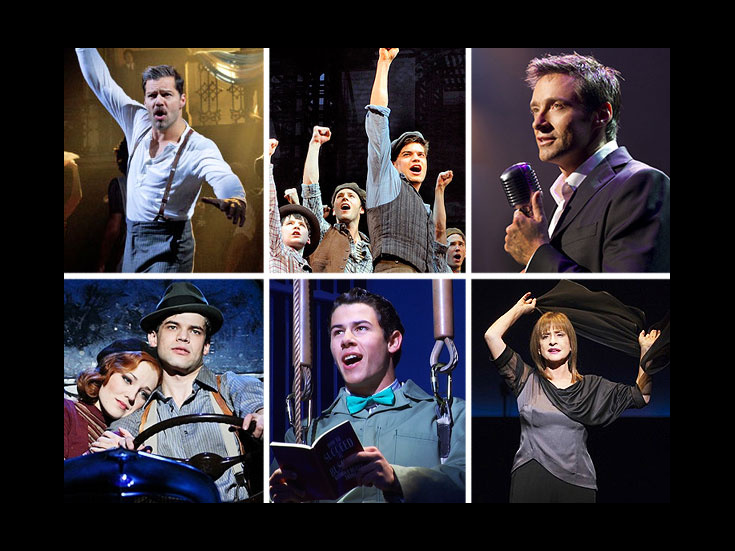 Clockwise from top left: 'Evita,' 'Newsies,' 'Hugh Jackman, Back on Broadway,' 'An Evening with Patti LuPone & Mandy Patinkin,' 'How to Succeed in Business Without Really Trying' & 'Bonnie & Clyde'